Add a classic, clean look to interior walls and ceilings with the sleek lines of Timeless nickel gap shiplap. The lasting appeal of this ultra-smooth shiplap provides design, texture, and dimension to any room. Timeless shiplap pairs especially well with Modern Farmhouse and Coastal interiors, but is not limited to those select styles. Designed to withstand the test of time–it's timeless.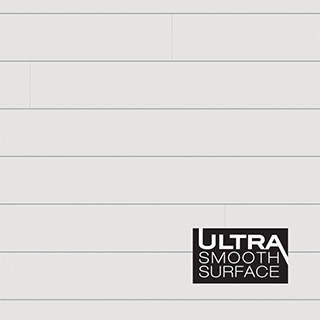 Ultra-Smooth
Factory applied gesso coating provides an ultra-smooth surface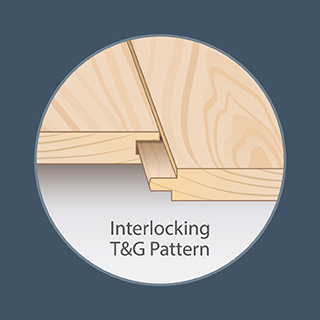 Tongue and Groove
Interlocking wood pattern requires fewer exposed fasteners when installing.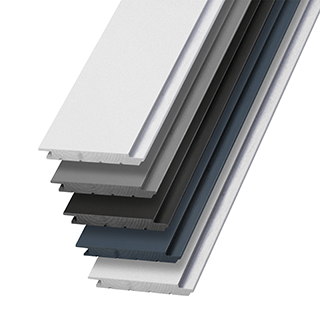 Prefinished Colors
Boards come primed or prefinished to suite your design preferences.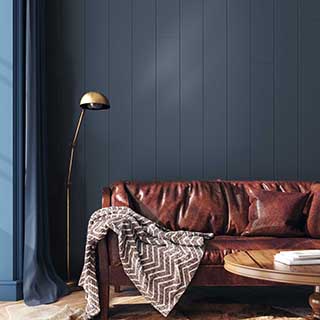 Interior Use
Use in a variety of interior applications, horizontal or vertical.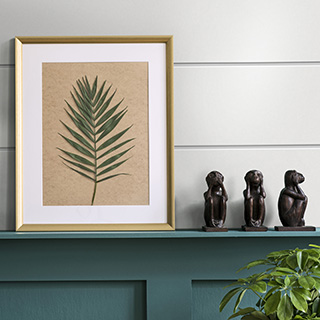 Consistent Nickel Gap
When boards interlock, a classic 1/8 inch. nickel gap is created for consistent clean lines–no nickels needed.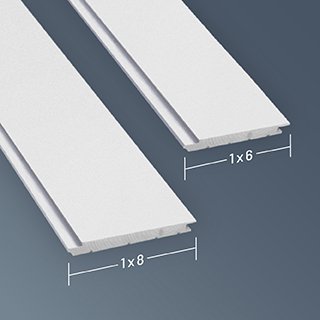 Various Widths
Available in 6 inch. and 8 inch. widths.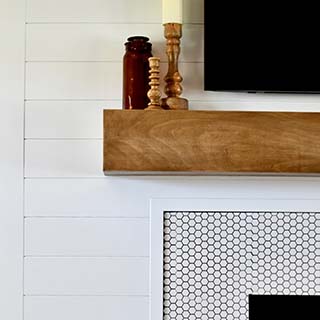 Matching Trim
Choose from a variety of 1x trim.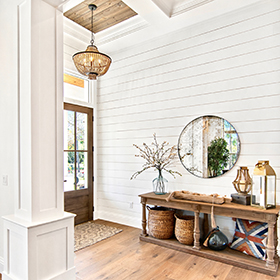 Straight and Stable
Relief grooves help increase stability and reduce cupping

| | | | | | |
| --- | --- | --- | --- | --- | --- |
| Nominal Dimensions | Actual Dimensions | Exposed Face | Sq. Ft. Per Piece | Sq. Ft. Per Pack | Boards Per Pack |
| 1 in. x 6 in. x 6 ft. Shiplap | 9/16 x 5-1/4 x 8 | 4-5/8 | 2.31 | 13.88 | 6 |
| 1 in. x 6 in. x 8 ft. Shiplap | 9/16 x 5-1/4 x 8 | 4-5/8 | 3.08 | 18.48 | 6 |
| 1 in. x 8 in. x 8 ft. Shiplap | 9/16 x 7-1/16 x 8 | 6-7/16 | 4.29 | 17.16 | 4 |
| 1 in. x 4 in. x 8 ft. Trim | 9/16 x 3-1/2 x 8 | 3-1/2 | 2.33 | 4.67 | 2 |
*Job pack quantities by special order
What are the shiplap and trim specifications?

The width of the 1x6 shiplap board is 5.375 in. with a thickness of .5625 in. and an exposed face of 4.625 in. The width of the 1x8 shiplap board is 6.4375 in. with a thickness of .5625 in. and an exposed face of 4.625 in. The width of the trim board is 3.5 in. with a thickness of .5625 in.

What's the benefit of the interlocking profile?

The interlocking profile creates a secure installation with less exposed fasteners and minimal touch-up required. See our installation instructions and install video under our technical information section.

Is the board smooth on the opposite side?

Timeless shiplap is painted on one side and has relief grooves on the other to prevent cupping.

Can I use Timeless shiplap on my bathroom walls?

Yes, these boards can be used on bathroom walls. We recommend you seal the boards with a wood protector sealant to protect them from any moisture.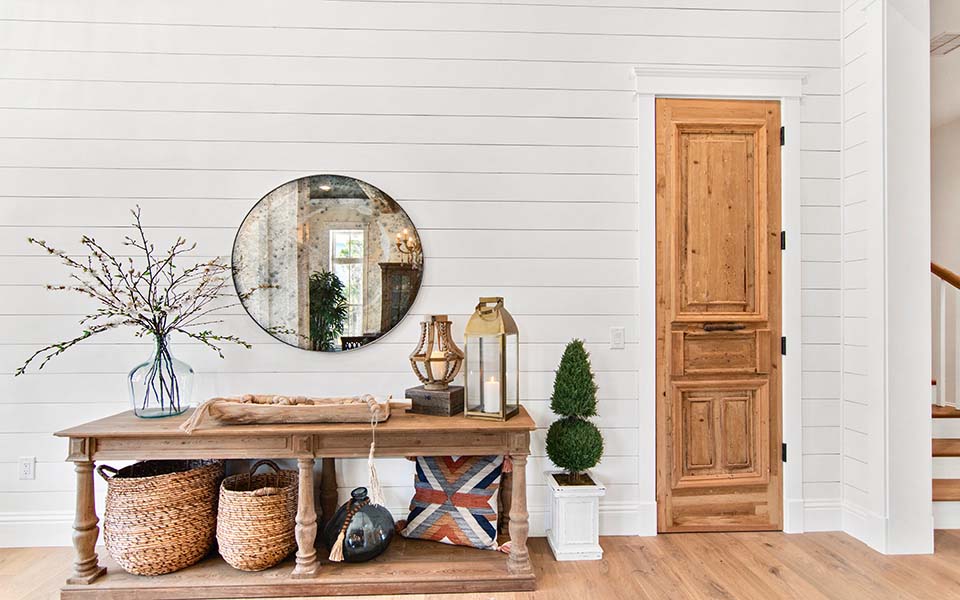 Palm Grove Farmhouse
We collaborated with Stephanie Wilson from Palm Grove Farmhouse to showcase our shiplap products in her beautifully designed and built modern farmhouse.
Project Inspiration
Browse our gallery of Timeless Nickel Gap Shiplap projects for inspiration.
"UFP-Edge's Timeless Shiplap was perfect for our modern farmhouse. Very impressed with UFP-Edge, we can't wait to add more shiplap from them around our house!"
Jennifer g
The Flowering Farmhouse
Join our Community!
Thanks for signing up!
There was an error with your request, please try again later.