What is the difference between pressure-treated and thermally modified lumber?
Posted 5/30/2023 by Amanda Hall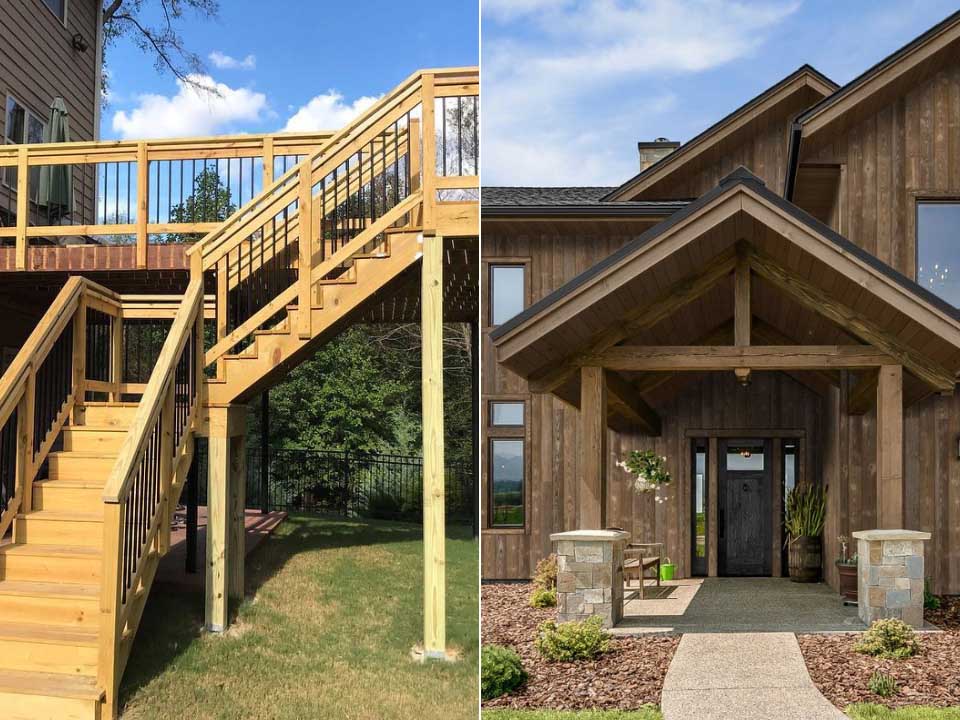 Are you planning an exterior project that requires wood? If so, you may be wondering which type of wood will best suit your needs. Two popular choices are pressure-treated wood and thermally modified wood. Although they are both great options for outdoor applications, there are some key differences between their treatment process, where you can use them, and their appearance.
The treatment process
While both pressure-treated lumber and thermally modified wood undergo treatment processes that enhance their resistance to rot, decay, and insects compared to standard wood, the methods used for each are distinct.
For pressure-treated lumber, the process involves drying the wood and then pressure-treating in an EPA registered liquid preservative. Air is removed via a vacuum, and then the preservative is forced into the pores of the wood's fibers in a pressurized cylinder. A final vacuum is used to pull off excess solution before storing material to ensure the product is drip-free before leaving the plant.

Treatment chemicals may vary based on intended use. Our sister brand, ProWood ®, uses micronized copper azole, because it meets major model building codes for structural applications via American Wood Protection Assoc. standards and is third party inspected and verified to meet codes. It also creates a more natural looking wood and is less corrosive to fasteners than most other preservatives on the market.

Thermal modification utilizes an all-natural process of heat, pressure, and nitrogen to alter the wood fiber at a cellular level. This treatment not only makes it resistant to rot and decay, but also makes the wood dimensionally stable, lighter weight, and its thermal insulation properties are improved.
Areas of application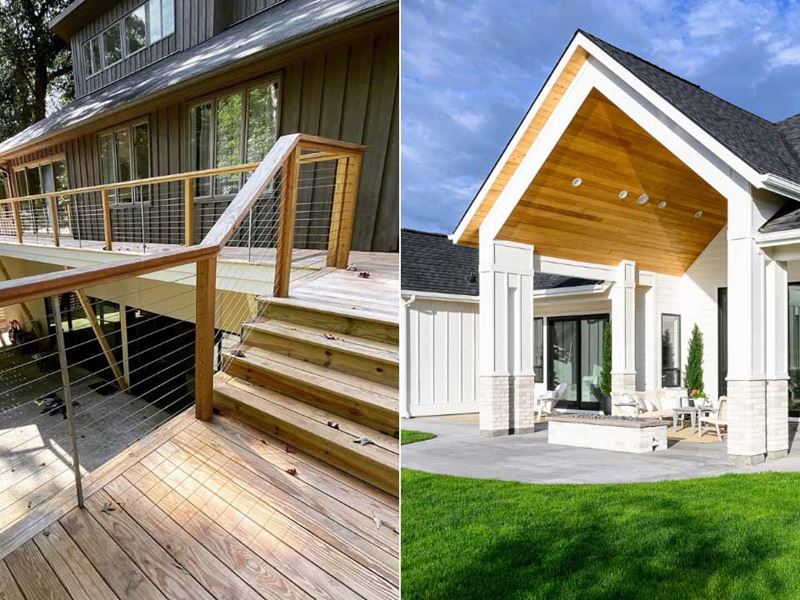 Pressure-treated lumber was used for the deck application whereas Thermally Modified Wood Collection was used for the covered porch ceiling.
MCA (micronized copper azole) pressure-treated wood can be used for above-ground and in-ground, fresh water, and structural applications (based on AWPA Use Category and treatment level). Common areas of use include decks, docks, fence posts, pergolas, retaining walls, balusters, furring strips and building posts. It can be used indoors for several applications, but should not come in contact with food, i.e. counter tops, cutting boards, garden beds (use a liner), or any place a pet could possibly chew because of the chemicals used to treat it.
Thermally modified wood can be used for exterior and interior applications. Common areas of application would be siding, soffits, and covered porches. Where ground contact or load bearing is necessary, pressure-treated lumber is an ideal choice. For above-ground application and non-structural support, thermally modified wood is a natural alternative with a beautifully aesthetic allure.
Appearance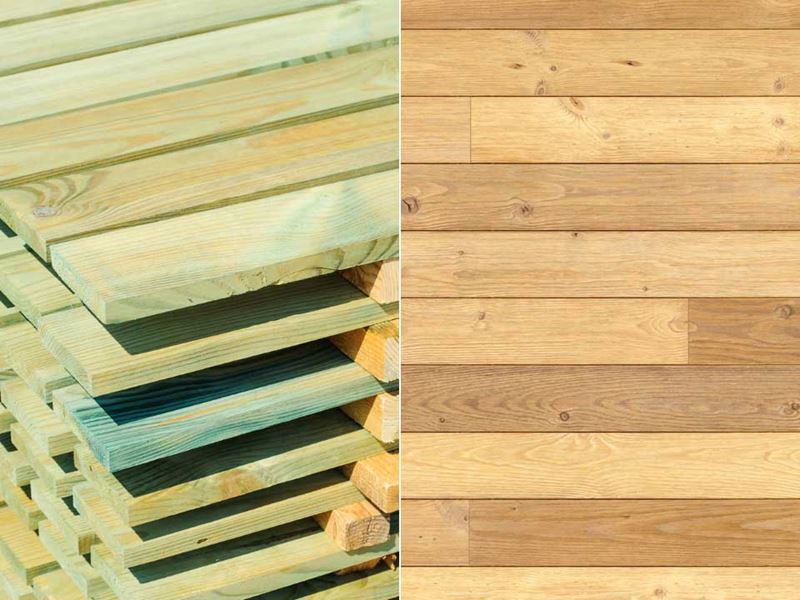 The difference is a slight green tint of pressure-treated lumber alongside the natural caramel color of thermally modified wood.
The treatment preservative for copper based pressure-treated lumber results in a green patina. After some environmental exposure, it will fade to a natural tan color. To achieve the desired natural wood aesthetic right away, pressure-treated lumber can be stained, sealed or have in-cylinder colors pressed into it at the factory.
The thermal modification process essentially "bakes" the wood which results in a deeper and more vibrant color than standard brite wood. Over time, the warm wood color will fade to a driftwood gray if color preservation is not desired, due to UV exposure. Thermally modified wood is often sold in its natural color, which is extremely popular, but for differing exterior designs, we have created more options. Our Thermally Modified Wood Collection is composed of two natural options and seven on-trend prefinished (painted) colors. To preserve color, a UV-resistant clear sealant is recommended upon installation as well as prefinishing every 3-5 years.
Thermally Modified Collection prefinished (painted) cladding reduces the variables weather may have on the finish and eliminates the varying moisture levels that adversely affect unfinished siding products stored outdoors before being finished.
Whether you choose pressure-treated lumber or thermally modified wood for your next project depends on what type of performance characteristics are required, the material application, and what kind visual aesthetics are desired.