What Are The Differences Between MDF and Real Wood?
Posted 2/10/2021 by Amanda Hall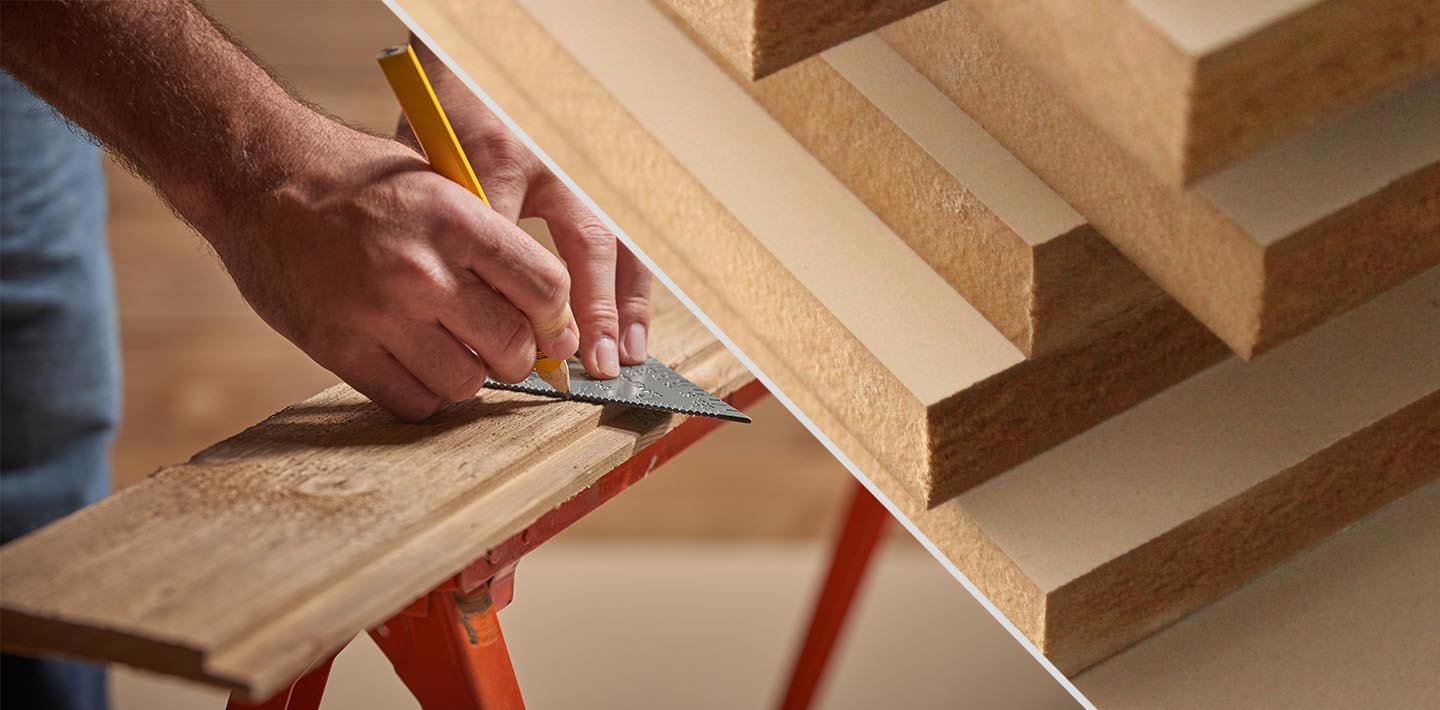 Once you have a wood project in mind for your home, you may need to choose whether to use MDF or solid wood. Both have their pros and cons, so it's important to understand the differences before making a purchase.
What is MDF?
Medium-density fiberboard is an engineered wood made from thin panels of wood fiber, resin and wax. MDF is considered to be an upgrade from plywood and particle board and is used as a real wood alternative.

You can see from the edges of these medium-density fiberboards that the engineered wood is a composite of material.
Pros:
Affordable and often cheaper than real wood
Easier to paint and seal because there are no knots or texture
Hard to crack and won't warp
Looks very similar to wood when painted


Cons:
Greatly affected by moisture
Vulnerable to extreme heat
Can easily get scratched
Heavier than real wood
Prone to more dust when cutting – wear a respirator or work outdoors to avoid inhaling dust
Less weight-bearing than real wood


What is real wood?
Real wood or solid wood refers to natural lumber that only consists of wood. It's a natural resource that doesn't go through a manufacturing process like MDF. Wood can be broken down into either hardwood or softwood species. Typical hardwoods are Oak, Walnut, Birch and Ash. Typical softwoods are Pine, Acacia, Poplar, and Cedar.

Our Rustic Natural shiplap clearly shows the small knots and grain of the pine wood it's made from.
Pros
Beautiful natural wood grain
Increase the home value
Strength and durability
More eco-friendly than MDF


Cons
More vulnerable to seasonal expansion and contraction
More expensive
Can become victim to pests
Wood characteristics will never be completely uniform, but for some, this is an advantage


Choose what works for your home application
Depending on your home project, you may favor one over the other. For example, you wouldn't ever want to put MDF in a bathroom because it cannot get wet. Wood is a safer choice. Your choice between the two options will come down to your personal aesthetic preferences, your budget, and how you intend to use the materials. Install what works for your home and your lifestyle.
Real Wood Products
If you are looking to use genuine wood, check out our selection of products which are all made from real wood with varying species. We choose high-grade lumber, free of wane with small, tight knots that highlight the warm characteristics of natural wood. We value the quality real wood brings to the home and the beauty of natural wood grain.
Shiplap and Accent Boards
Our shiplap and trim feature a variety of styles with unique textures, clean lines, and prepainted colors. These shiplap and accent boards are perfect for upgrading your walls and ceilings.

This accent wall features our Charred Wood Smoke White shiplap, known for its unique wood grain.
Pattern Boards
Out pattern products provide a decorative finish to both the inside and outside of homes. Pattern boards come in several profile options as well as different finishes, species and sizes. With a wide range of options to choose from, you'll be able to create a room or project that perfectly captures your vision.

This covered porch features our 1x4 square edge shiplap in a natural finish.
Primed Trim and Fascia
Our primed trim and fascia is perfect for adding the finishing touch to your home. Our pre-primed exterior wood trim and fascia are sure to provide years of low-maintenance beauty and enhanced curb appeal.
This door frame features our True™ finger-jointed trim–the premier exterior wood trim product on the market.
Wood Siding
Each of our exterior cladding pieces are meticulously crafted for functionality and design. Choose from several profiles, finishes, and wood species.
READY TO START YOUR PROJECT? FIND WHERE TO BUY.