Relax Outdoors This Summer With Your Own She-Shed
Posted 7/10/2019 by Cassie Klitzke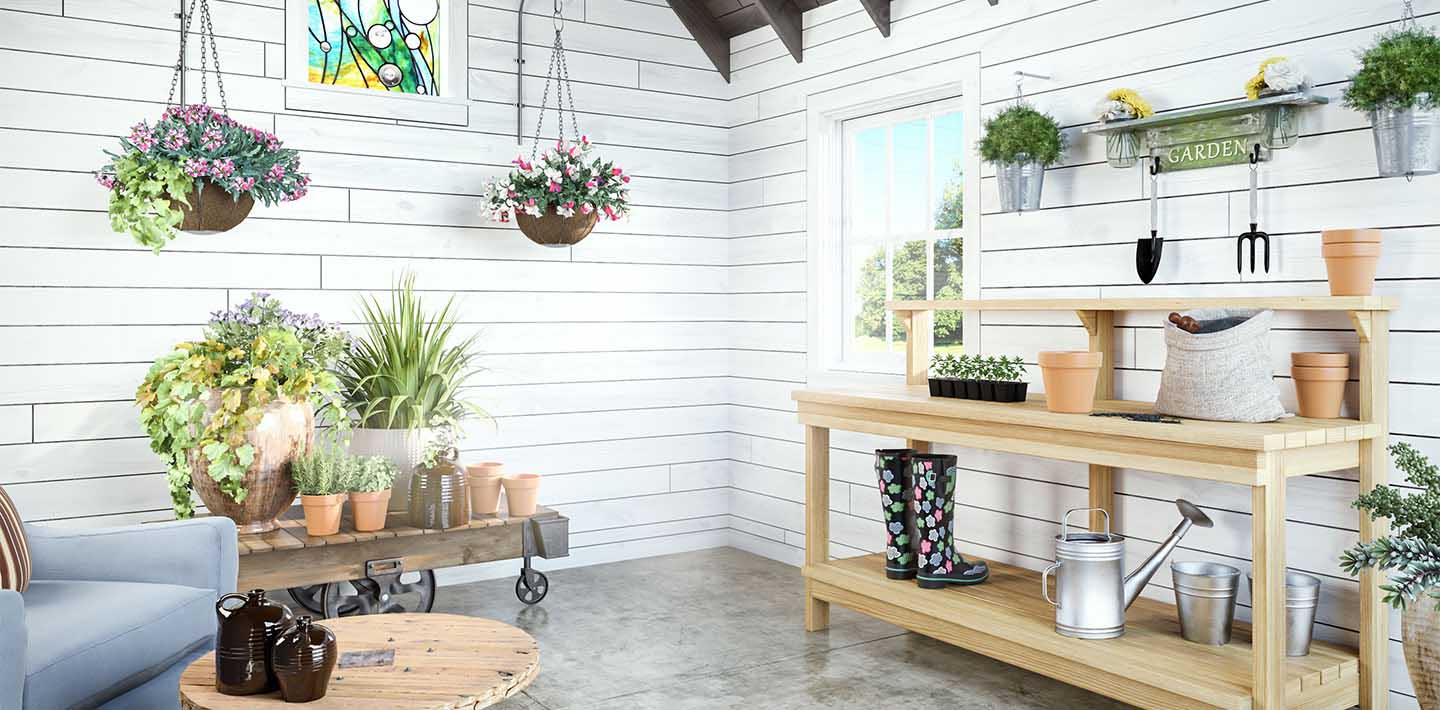 Maximize your time outdoors this summer by converting your shed into a she-shed.
What is a she-shed?
A she-shed can be anything you want it to be. It can be a space for relaxing on a sunny afternoon, for creating colorful crafts, a place to hone in on your gardening skills or for catching up on emails in an outdoor office. Ultimately, they are meant for you to enjoy some peace and quiet in your own backyard oasis.
How do I create my own she-shed?
If you want to create your own she-shed, one of the first things you should look into doing is decluttering. This means going through your shed and giving it a good deep cleaning. Once you have removed all the spiders, dust and dirt, you can begin defining the type of she-shed that best suits your needs.
She-sheds have no defining theme or style. You can decorate the space anyway you desire. Create a space that looks minimalist, rustic or modern, or one that feels as though you have your own personal vacation cabana in the backyard. The amount you want to spend on your she-shed is entirely up to you and your budget.
Since she-sheds are small, decorating them can be relatively easy. These decorations can come from repurposing things around the house, thrifting or treating yourself to something new. You can add a sofa or daybed for the perfect area to cozy up with a book or for a mid-afternoon nap.
Decorating your she-shed can go beyond furniture and accent pieces as well. You don't need to leave the shed walls uncovered. Adding smooth shiplap or rustic shiplap to the interior of the shed can give the space a more finished look and can be the perfect touch for creating something that feels a bit more homey.
When creating your oasis, don't forget to think outside of the space. If you want to use your she-shed in the evening or at night, some string lighting or paper lanterns can both a practical and decorative touch.
Including some outdoor seating can give you the option of stepping out and enjoying the sun or retreating inside to cool off and relax. This white patio set matches the overall rustic, light and airy theme of this she-shed. We can just picture ourselves relaxing and sipping a cool glass of iced tea in the mid-afternoon sun.
The exterior landscaping can also help improve the overall look and feel. You can add simple flowers and raised garden beds.
Or if you are more confident in your gardening skills, you can create a space that feels like the secret garden.
Creating your perfect she-shed can be a quick and easy weekend project or take time to fully develop depending on your ultimate goal for the space. Whatever your goal, we believe the best part about she-sheds is just taking the time to finally clean out the shed. And if you don't have a shed, don't fret. You can also use a back porch, patio or even an old tree house.

Love the idea or hate it? What are your thoughts on she-sheds?
Ready to start your project? Find where to buy.