This Natural Ceiling Look 'Could Be an Easy DIY for Anyone'
Posted 12/8/2022 by Amanda Hall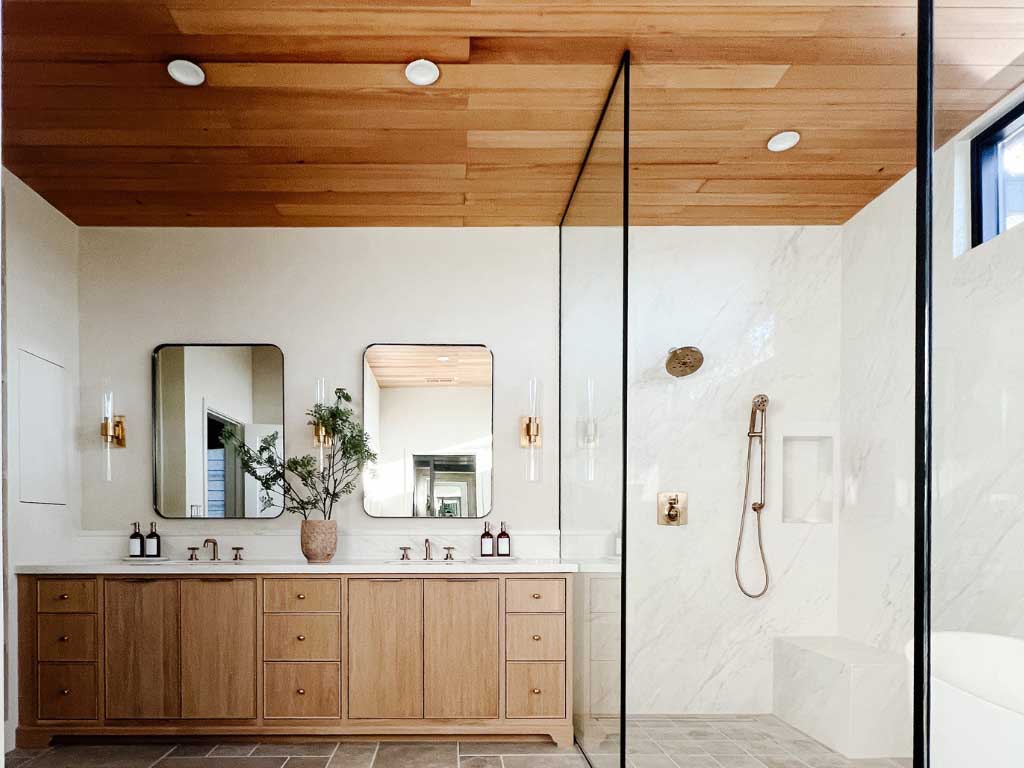 The master bathroom in Lisa Kanegae's southern California home was tiny. Literally, like, 5-feet-by-8-feet.
Then, as part of a multi-year remodeling that gutted the house, the interior designer tore the bathroom down to the studs and pushed the walls out. Now, the bathroom is more than four times larger than it used to be.
And it needed something to tie the huge space together.
"I wanted to add some warmth and texture to the ceiling and thought just adding some wood would make it look very sleek," said Kanegae, the creative force behind LHK Interiors.
Kanegae started googling types of wood and came across the new Thermally ModifiedVertical Grain Hemlock wood cladding. The real wood planks come in a natural color with random variation of the wood grain – a look that caught Kanegae's eye right away.
With wood cabinets in her kitchen and a wood vanity in the master bath, Kanegae saw the knot-free hemlock as the perfect fit for her bathroom ceiling. "I absolutely love the install!" she said. "I like the fact that this one doesn't have too many knots, so it doesn't feel like a wood cabin. It intrigues me with a linear grain and a very rich color."
VG Hemlock is one color option in the Thermally Modified Wood Collection. The thermally modified part of the name comes from an innovative, all-natural heat-and-pressure treatment that alters the wood fiber at a cellular level. The process stabilizes each plank so that it resists rot and minimizes expansion and contraction.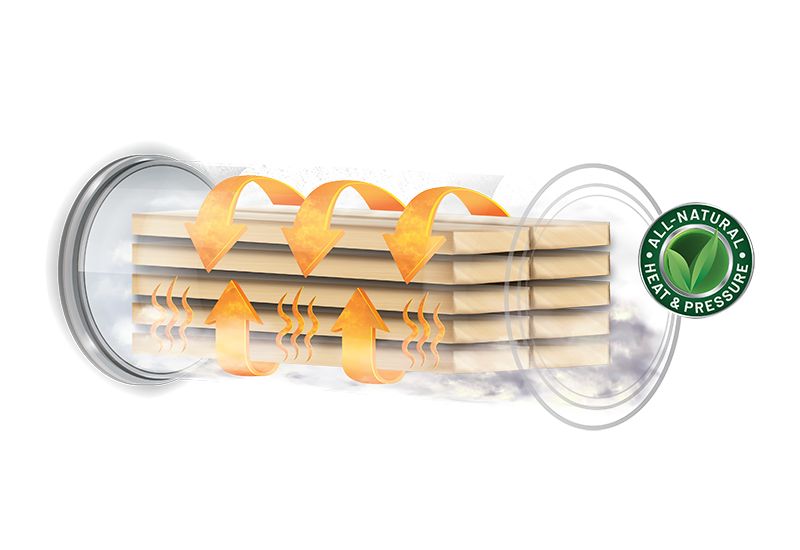 That's important for long-lasting performance in both outdoor settings and moisture-rich indoor environments such as Kanegae's new master bath, which features a tub and two showers in a fully enclosed wet room on one side and a double-sink vanity on the other side. The VG Hemlock ceiling covers both areas.
"Our wood is manufactured by heating the wood to 320 degrees while protecting it with steam," said Chris Fox, UFP-Edge category marketing manager. "The result produces a very stable board without the use of chemicals. "The wood is richer in color, dimensionally stable and its thermal insulation properties are improved."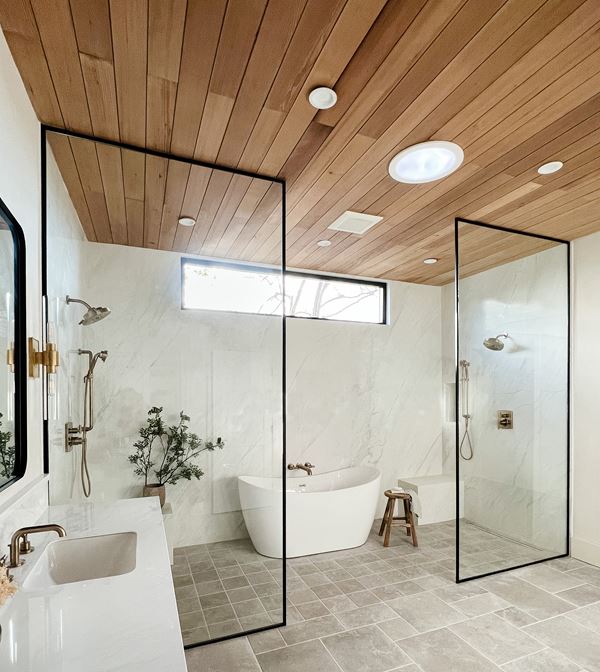 In addition to natural VG Hemlock, the Thermally Modified Wood Collection comes in Ponderosa Pine that's pre-stained a variety of on-trend colors and features a one-of-a-kind brushed finish. The low-maintenance planks install easily with common fasteners in both interior and exterior applications – from the ceilings of covered porches and covered docks on the water to the interior ceiling in Kanegae's remodeled master bath.
Kanegae had a contractor install the VG Hemlock ceiling as part of the overall overhaul of her home. But putting up the wood cladding can be a relatively easy DIY project as well, whether you're using it on a ceiling, wall or exterior siding.
The tongue-and-groove profile of the planks makes for smooth, simple connections from one to the next. And because the planks are end matched, they not only connect side to side but end to end as well – minimizing the number of cuts and the amount of waste.
"It's pretty straightforward," Kanegae said. "It's an easy application since it just clicks in. It could be an easy DIY for anyone.
"It's just beautiful. I'm very excited about it."
Be sure to check out other color options of the Thermally Modified Wood Collection.
Ready to start your project? Find where to buy.