Is it safe to install shiplap in a bathroom?
Posted 6/19/2019 by Cassie Klitzke
Upgrade your home with a shiplap bathroom for added texture, dimension, and style.
Yes, Shiplap is Safe For A Bathroom
Is it safe to install shiplap in my bathroom? Many DIYers want to know if it is safe to install shiplap in their bathroom or in other areas often associated with high levels of humidity or moisture. No one wants to worry about mildew, decay or a peeling paint surface.
Our shiplap is a fantastic addition to a bathroom, as long as you are not installing shiplap in an area that is frequently exposed to water such as a shower surround. Tile and shiplap are not interchangeable in that respect.

If you are using primed shiplap, we recommend applying a coat of mildew-resistant paint. For additional protection, apply a clear coat sealer to the boards to safeguard against any moisture. This is not necessary if you are using our prepainted shiplap boards, but we do recommend applying wood sealant on any exposed edges or seams to ensure moisture resistance.
Proper ventilation is most important, but this should be standard, whether you install shiplap or not. Making sure your bathroom is properly ventilated will protect against wear and tear.
Increase Home Value With Shiplap
Shiplap is an added feature in a bathroom when it is applied as a wainscoting application, ceiling, sink backsplash, or accent wall. Not only is it a budget-friendly home project, being that it's a smaller area needing coverage, but it adds a large amount of texture, color, and dimension for a minimum amount of money and time. Shiplap upgrades a bathroom and adds value to your home. Check out some of these unique ways shiplap is used in these bathrooms with our varying shiplap styles and textures. Shiplap isn't just for the modern farmhouse style.
Shiplap Wainscoting
Bria Hammel

Installing shiplap as a wainscoting application or half wall is popular in combination with wallpaper or a painted wall. The shiplap balances the color and pattern with clean lines and a smooth surface. Get this look with our Timeless shiplap.
Go Bold With Shiplap
A bathroom is a great place to try out bold, on-trend colors. This collaboration project with West Lane Company was such a fun powder room transformation. We love going bold in small spaces. Try out this look with our Timeless primed shiplap and paint it the color of your choice.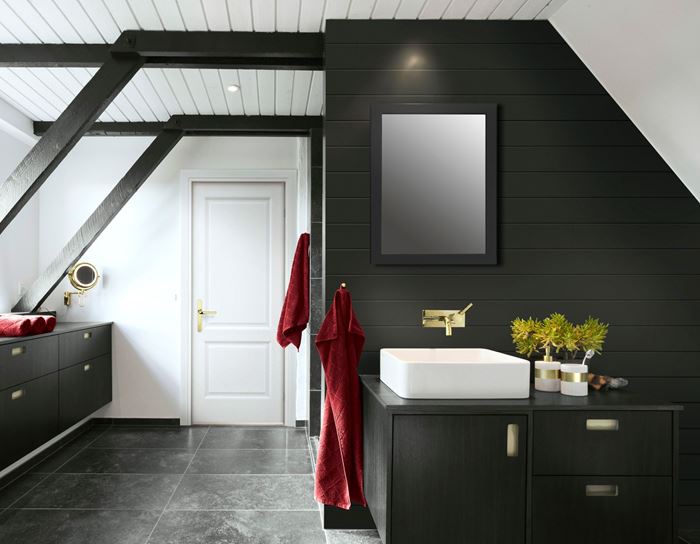 Who says you can't have shiplap on both your ceiling and your walls? This black and white shiplap combination only adds to this modern bathroom look with our Timeless shiplap in Farmhouse White and Midnight Black.
Shiplap Adds Texture and Dimension

This small bathroom comes to life with Charred Wood Smoke White shiplap featuring the look of Japanese "shou sugi ban," which brings immediate character with its rich wood grain.
Bright and White Shiplap Gives Off A Clean Fresh Bathroom Feel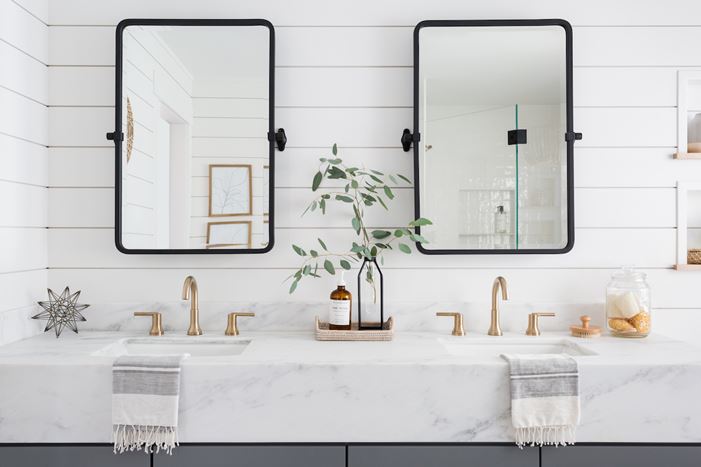 Haven List
Your bathroom is somewhere you typically spend a lot of your life getting ready for your day. Adding white shiplap to your bathroom walls can make your space feel brighter, bigger, and cleaner. Start your day out in a place that's going to make you feel fresh. Get this look with our Timeless Farmhouse White shiplap.
Find Your Style of Shiplap
Whether you decide to install shiplap as an accent wall, on your ceiling, or as a half wall application, shiplap is a great addition for virtually any bathroom. We offer a variety of styles for all different home personalities.
Ready to Start Your Next Project? Find

where to buy

.