This interior design trend is on fire, literally
Posted 9/19/2019 by Amanda Hall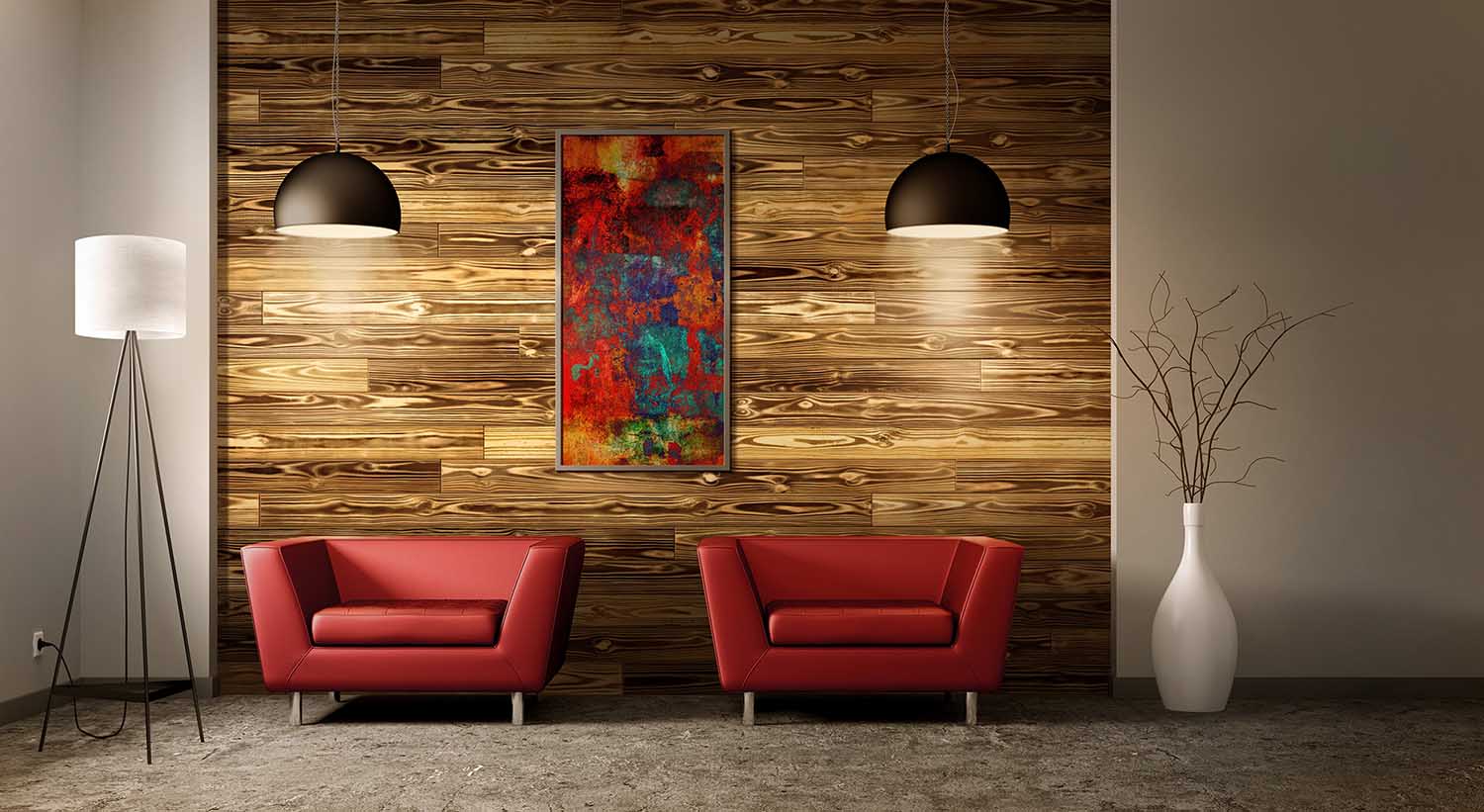 Inspired by the ancient Japanese art of shou sugi ban, the modern trend of expertly charred wood creates a bold look that even DIYers can achieve.
Shou Sugi Ban: The Original Charred Wood
Historically, there's a counterintuitive yet ultra-practical reason that charred wood became popular in Japanese architecture. It turns out that if you lightly burn wood, that actually makes it more difficult to catch fire in the future.
For example, after burning to the ground in the 7th century, the pagoda of the Horyuji Temple in Japan was rebuilt with wood charred in a process called shou sugi ban and it remains standing today – more than 1,300 years later!
But the centuries-old Japanese practice now is enjoying a modern resurgence in the West for a totally different reason: It looks amazing.
Charred wood has a certain rustic, homespun appeal that creates a striking, yet natural aesthetic for your home, making it one of the hottest trends in interior design.
And the good news is you don't have to hire a specialist in shou sugi ban or mess around with a burning-hot flame yourself to achieve the look. You can buy charred wood in shiplap or board profiles that are bold, versatile and easy to install on your own.
Now, with Charred Wood, DIYers can give their home or project this beautiful look.
Charred Wood is crafted with high-quality lumber that has been expertly burned to highlight its distinct wood-grain pattern and texture. The process takes the striking character of wood and makes it even more remarkable. Plus, every piece of Charred Wood has a satin clear-coat finish for long-lasting beauty.
With shiplap and board profile options, Charred Wood is perfect for anywhere in your home, including accent walls and ceilings, column and beam wraps, wainscoting and home décor projects. The clean, simple design of 1-inch-by-6-inch shiplap allows for easy installation on virtually any interior wall or ceiling, while matching 1-inch-by-4-inch trim are perfect complements for shiplap framing or to be used alone for custom DIY projects.
In addition to a natural look, you can also get Charred Wood comes in a few different prefinished colors : Canyon (brown), Ash (gray), and Smoke (white).
Although Charred Wood hearkens back to an ancient architectural technique, it's quite at home as a contemporary design feature. In fact, it's becoming increasingly popular in large part because it can create either a modern or rustic feel.
Check out the images below for some inspiration on how you could use Charred Wood in your home: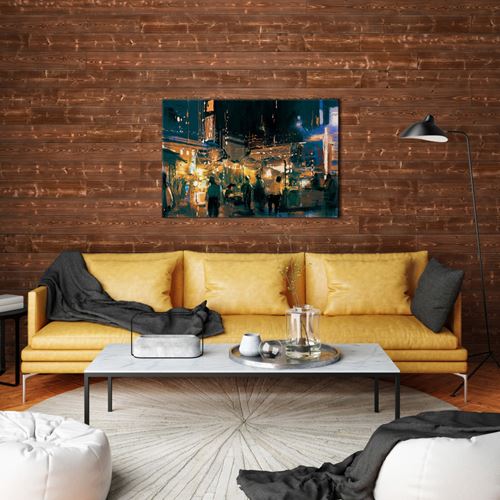 Create a warm accent wall in your living room with the Canyon Brown color option of Charred Wood. You'll welcome its warm, modern look and the conversations it inspires ─ all while appreciating its unique charm.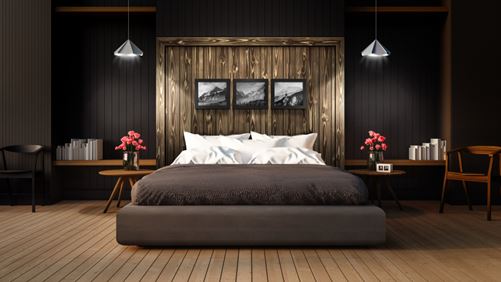 Jazz up the headboard in your master suite with natural Charred Wood. The complete process of charring wood requires many steps of burning, cooling, cleaning and sealing the wood, but ready-to-install kits of Charred Wood are perfect for DIYers.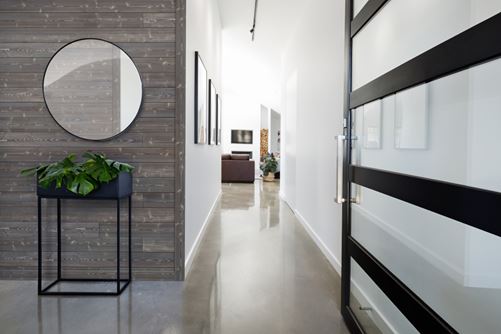 Although charring wood is a centuries-old technique, it's quite at home in a modern setting like this one with the Ash Gray color option of Charred Wood.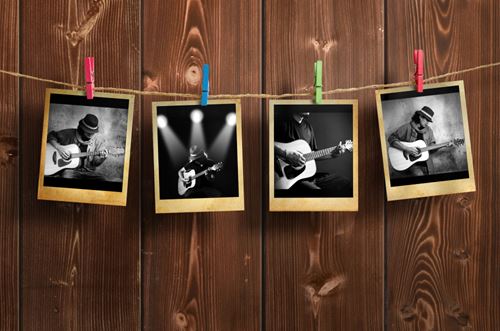 Charred Wood is carefully packaged in kits of shiplap, project boards and trim boards. The design of the 1-inch-by-6-inch shiplap material makes it easy to install on virtually any wall surface both vertically and horizontally.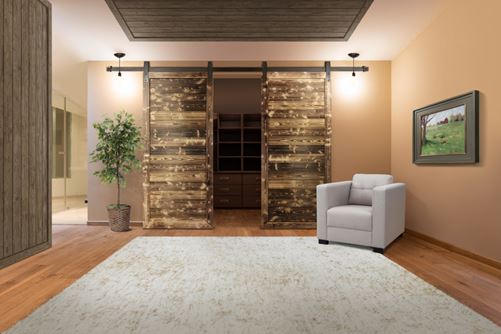 Charred Wood can be used to build sliding barn doors.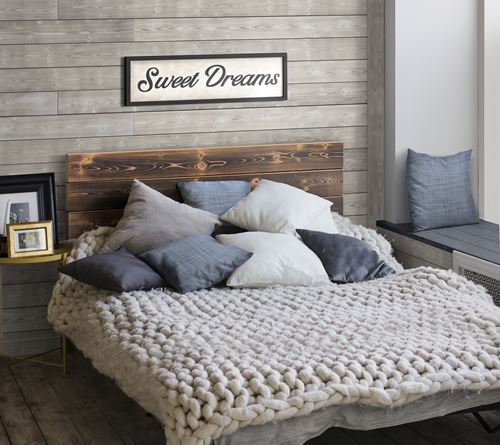 Whether you're remodeling, renovating or building new, Charred Wood shiplap and trim boards will make an understated addition to your interior living space. Here's a look at the Smoke White shiplap and natural options.
READY TO START YOUR PROJECT? FIND WHERE TO BUY.