The Flowering Farmhouse Project
Posted 6/3/2020 by Amanda Hall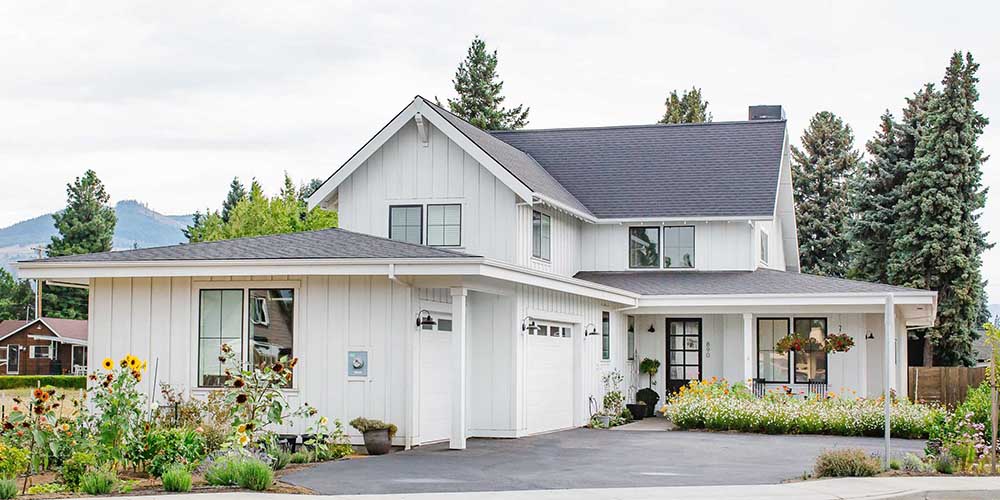 Jennifer Gulizia is the face behind The Flowering Farmhouse, a beautiful modern farmhouse built in Hood River, Oregon. Jennifer is a professional photographer, home blogger, wife, and mother who has a passion for growing flowers (she has her own greenhouse!) and interior home design.

Jennifer started her home build in 2017 when the Modern Farmhouse style just started growing in popularity. Jennifer is an excellent collaborator and networked with several interior designers to get the look she wanted for her home. Since their build, Jennifer has continued to liven up their modern farmhouse with several do-it-yourself projects that further strengthen her home's style.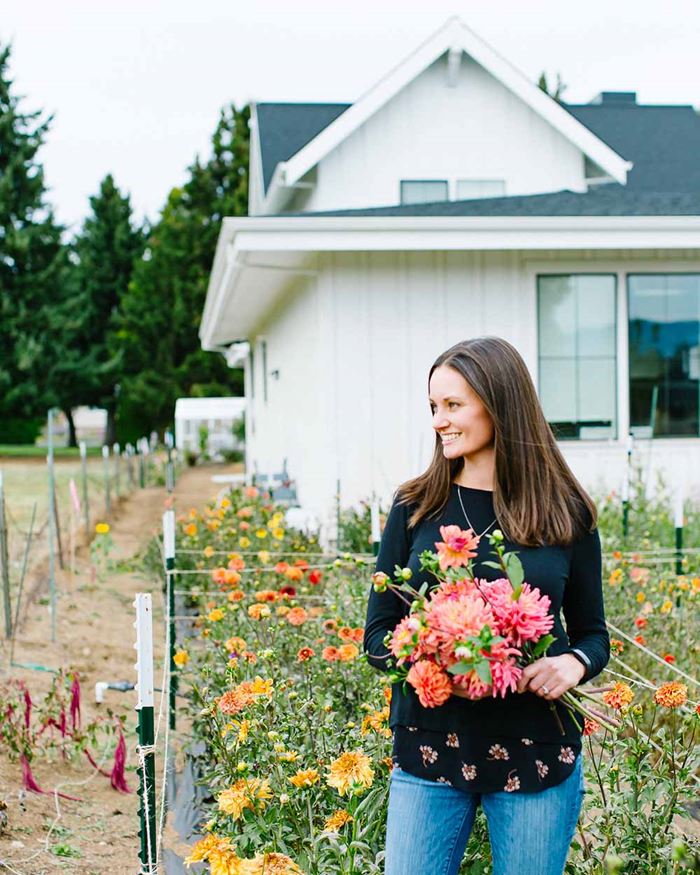 We recently teamed up with Jennifer to redesign two new beautiful spaces within her home that showcase our Timeless Farmhouse White shiplap. In a recent interview, Jennifer shared that shiplap is an essential piece to a Modern Farmhouse style. She also talked about her design decisions and how she chose to use our shiplap.


An Interview With Jennifer Gulizia From The Flowering Farmhouse
Where did you get the inspiration for your home?
Pinterest and Houzz. There wasn't much for modern farmhouses like there is now. Now, you look on Instagram and, oh my goodness, there's so much more! I think people's designs have come a lot further now because there's a lot more information to glean off of.


How did you create your Modern Farmhouse style in your home?
In the kitchen, I wanted a white kitchen with white subway tiles, butcher block, and white-oak-looking floors. In the family room, we tied in the Modern Farmhouse look with the shiplap fireplace surrounded by built-ins. We now have shiplap accent walls in our master bathroom. We worked with a company called Future Folk Supply, and they took reclaimed beams from an old train depot and turned them into our mantle and our floating shelves in our kitchen.
I would love some beams in our house, but that was not in the budget! Our laundry room has slate floors, a butcher block countertop, and shiplap. On the outside, we have a white farmhouse with black doors and black windows. We have a back covered porch and a front covered porch.


What would you say are some of the top trending Modern Farmhouse essentials?
I would say shiplap, barn lights and/or industrial light pendants, subway tile, wood flooring, and barn doors. It's all about adding a touch of rustic with a bit of modern.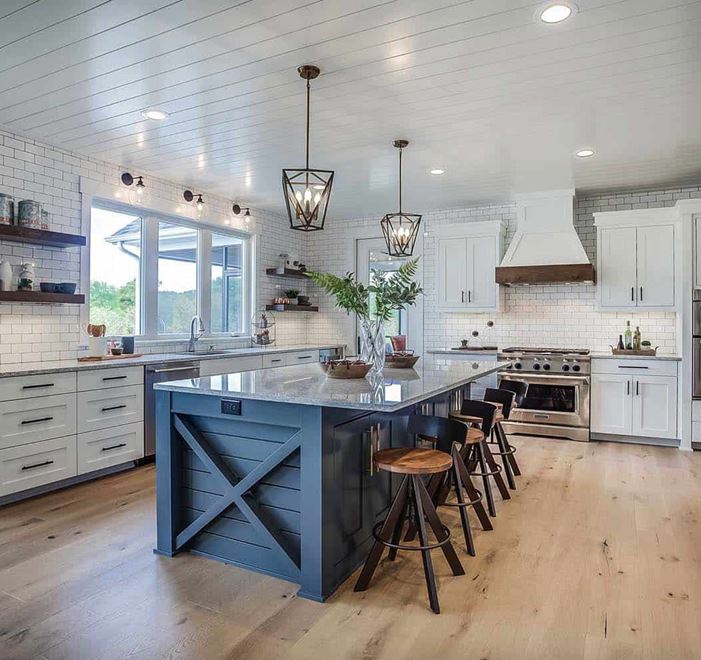 This kitchen by One Kindesign showcases some of the essentials Jennifer talks about in a Modern Farmhouse style: shiplap, industrial lighting, butcher block shelves, and light wood floors.
How do you like to keep up with design trends?
Instagram these days. I really like to watch Becki Owens and Studio McGee and see what they are doing. I think they really set the trend right now as well as, of course, Joanna Gaines. But I think the big thing to remember is that "Comparison is the thief of joy." I try to remind myself that you are building your house for yourself and designing your home for you and your family, so at the end of the day it's not about what's trending right now, it's about what's going to make you happy and make your house feel like a home. It's great to incorporate what's trending, but make sure it's something you like and what's going to give your home a timeless feel that you are going to be happy with. It's more about you and your family than your next social media post.


How did you come up with the vision for your shiplap entryway and bathroom?
My friend Kristen from Revival Home Design has a gorgeous modern farmhouse and a shiplap entryway. When I walked into her home, it just set the tone for the whole house, so my initial thought was that I was going to shiplap that whole space. But when West Elm design team came out to our house to help us furnish our living room area, they suggested putting shiplap on just one wall. They thought it might be a bit too much for doing the whole space.
I started visualizing just one wall and I turned to Instagram. I saw my friend Kylie from Truman's Treasures has a shiplap entryway that's about the same size as ours. She has it decorated very cute with some coat racks, a sign that says, "stay awhile," and some hanging baskets. I showed it to my husband and said, this is exactly what this space needs! I wanted people to immediately get a farmhouse feel when they walked in.

For my bathroom, I just wanted it always to have a really good farmhouse feel. I thought the shiplap would tie in nicely with the rest of the house. And it was the perfect width of a wall to do the shiplap. The shiplap made a nice, statement accent wall that now is the perfect spot that I can decorate. I put some rustic floating shelves up with my plants, and it is visually very inviting when you walk in. The first thing you see is that accent wall.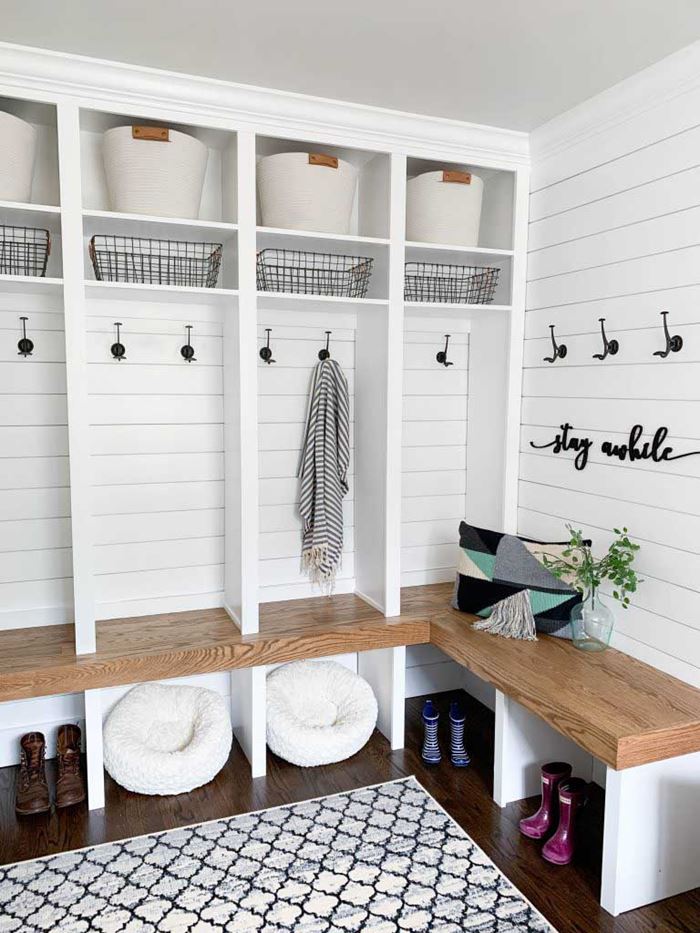 This shiplap mudroom by Clark + Aldine depicts that clean Modern Farmhouse style with white smooth shiplap, wood bench, and industrial black accents.
What do you enjoy most about having shiplap in these new spaces in your home?
I can't tell you how many smiles I've given myself from looking at that shiplap wall when I come out of the shower. I don't even have it fully decorated yet, but it really transformed our bathroom and makes it feel cozy now. It's not just this bleak, bland space, but it's an inviting room to walk in. I feel like it adds a cohesive feel to our house and really pulled the rooms together.


How did the install process go?
I originally had signed up for a woodworking class to learn a little bit more how to work with power tools. When we couldn't have anyone come to our home because of the stay-at-home order and my class was canceled, my husband and I decided to take the project on ourselves.
It was so much easier than I had thought! My husband and I both felt so empowered, we said we should try to tackle more home projects. We were able to complete both of the projects in one day and in time to make dinner!


What tips would you suggest when installing shiplap?
Make sure you order an extra 10% and measure your walls beforehand. We found out that our walls weren't exactly the same size and had to make a few centimeter cuts for the boards to fit.
Watch here to see how to install Timeless Nickel Gap Shiplap.
How did you find out about UFP-Edge shiplap and what did you like about it?
When we first moved into our house, we paid to have shiplap put up in our laundry room. Having never used shiplap before, I didn't realize there was wooden shiplap and MDF shiplap. It looked amazing, but when they reinstalled our washing machine, they didn't fully hook it up and there was a very small drip. About a month after being in our house, I realized our shiplap was all swollen and I discovered the dripping. At that point, I realized this should have been wooden shiplap. Going forward, I knew that if I added any more shiplap, I wanted it to be wood, especially in high moisture areas like our bathroom.

I went to Home Depot looking at shiplap options and I can across your Timeless shiplap. When I went online to research your product on your website and Instagram, I was super impressed with the quality, that it came prepainted, that it was easy to install. Those things really attracted me.
The Shiplap Makeover
Jennifer installed our Timeless Farmhouse White shiplap in both her entryway and master bathroom. Watch the shiplap transformation and check out the before and after photos.
Master Bathroom Before Shiplap: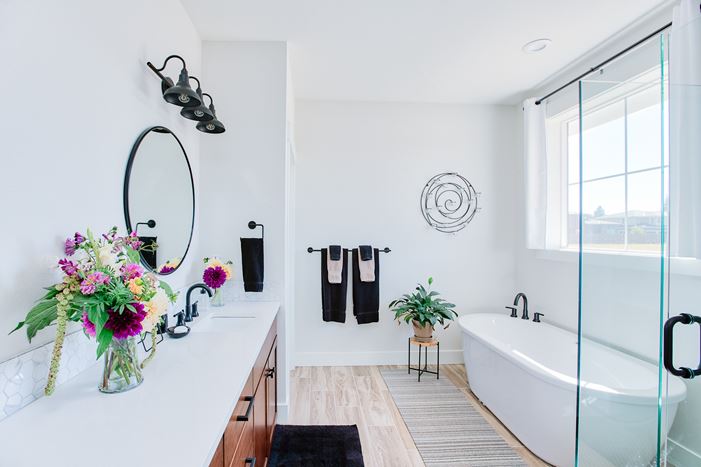 After Shiplap: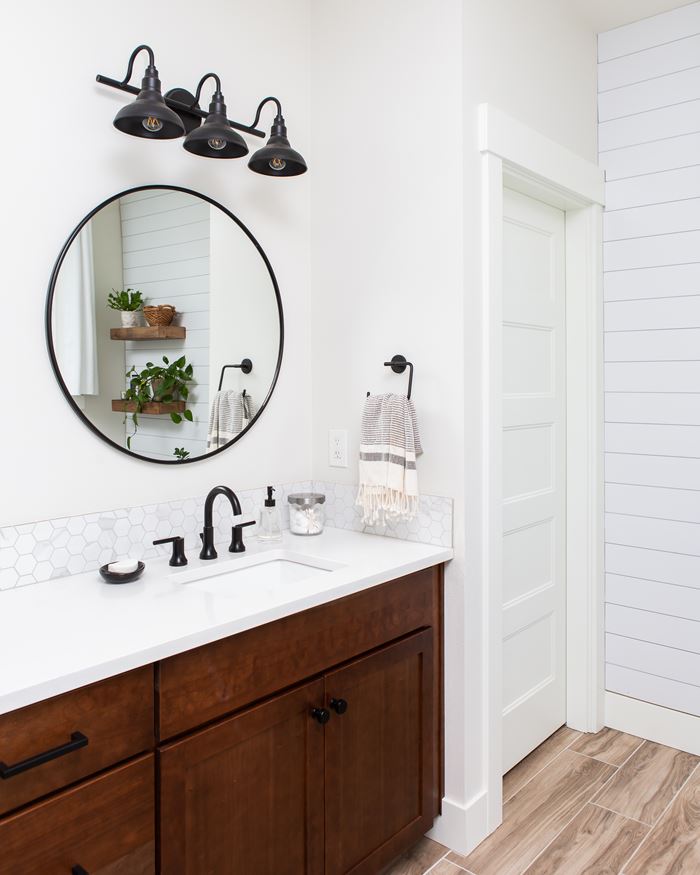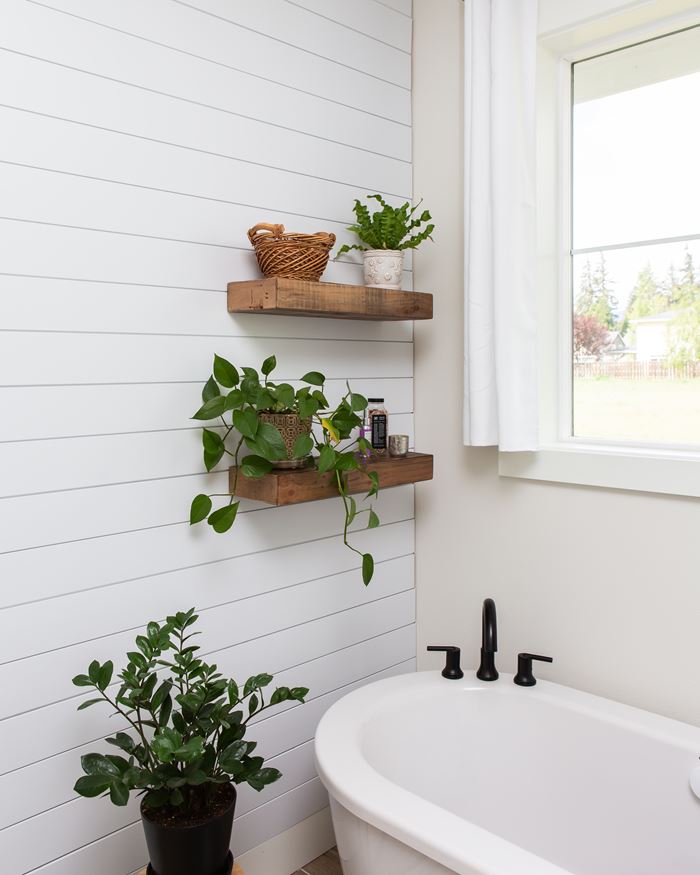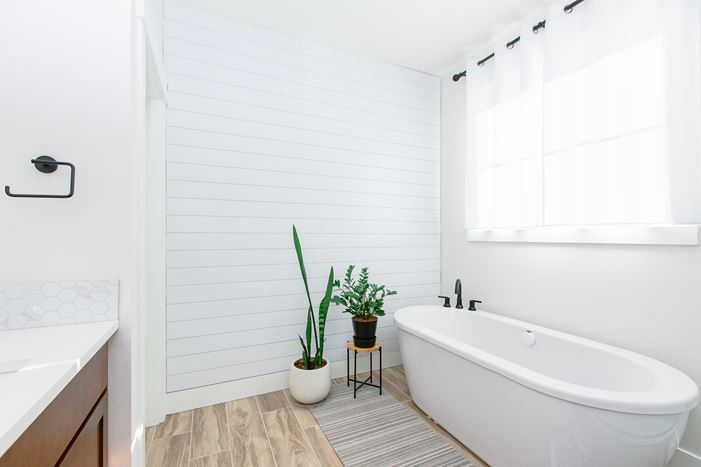 Entryway Before Shiplap: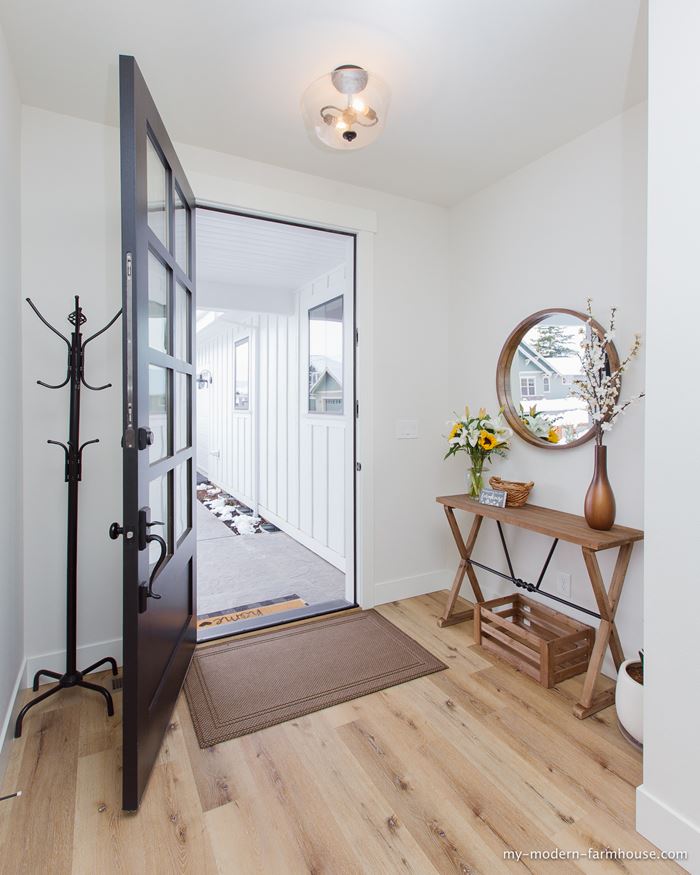 After Shiplap: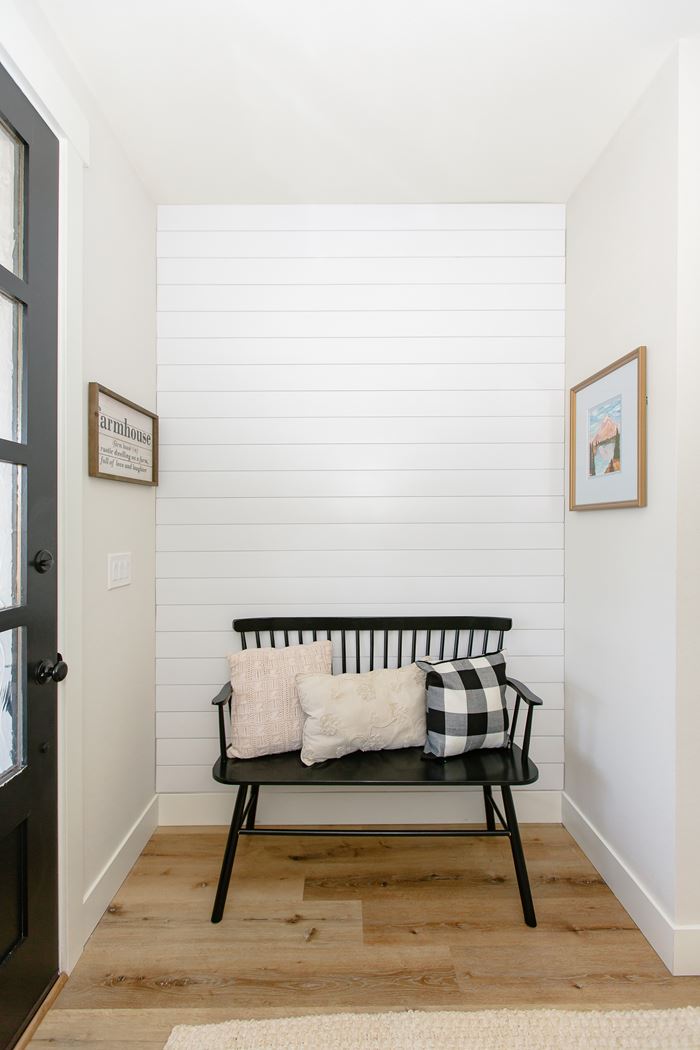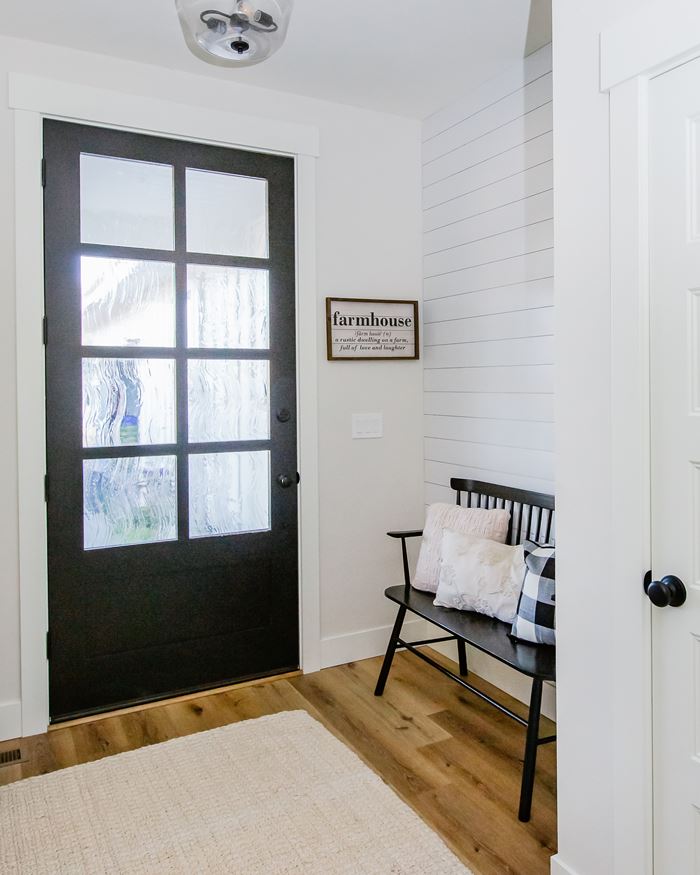 Inspired to start your home project? Find where to buy.