Why Shiplap Works in a Majority of Homes
Posted 1/15/2020 by Amanda Hall
Not going for the modern farmhouse look? No problem. Shiplap is an affordable, do-it-yourself home project with a variety of interior design styles.
Shiplap isn't just for the Modern Farmhouse design
We've all seen how well shiplap works in creating a modern farmhouse look. But even if the interior design of your home doesn't scream "Fixer Upper," that doesn't mean a DIY shiplap project is off-limits for you. Just as shiplap can take on a variety of looks – from the natural beauty of rough-hewn planks to the clean, crisp lines of prepainted nickel gap – so can it complement most any style of interior design.
"It's a detail that works pretty well transitionally, so you can use it in a lot of different style homes," said Alison Sall, an interior designer in Holland, Mich. "You've got to look at everything around it and see how it will fit."
Shiplap comes in a variety of styles

While shiplap with a natural wood look works great with a rustic or industrial design, it's important to remember that shiplap isn't limited to the timeworn boards that Joanna Gaines uncovers beneath the walls of old homes. UFP-Edge offers more than 25 different color and style combinations of shiplap – rustic, prepainted, even charred. That versatility makes shiplap a good match in a variety of interior designs. You'll see Timeless shiplap in waterfront homes with a coastal design and suburban homes with a modern design. Smooth shiplap has become popular in a variety of homes.
"I think you're seeing more and more of the smooth look," said Gilbert, a Grand Rapids, Mich.-based designer. "That's kind of how shiplap has evolved because you can put it in more places, and not everybody's doing modern farmhouse. If you use more of a smoother wood that's painted and doesn't look textured or worn or weathered, it can go in a modern room easily."
Start with a small shiplap area
If you just want to dip your toes into shiplap, try starting with an accent wall in a bedroom, an eye-catching fireplace surround or the side of a kitchen island. There are plenty of in your home. Shiplap also is a "super durable" alternative to drywall in mud rooms, where it stands up better to kids hanging up coats and kicking off boots, said Jessica Fitnich, a Grand Rapids, Mich.-based designer. Plus, it's cheaper to install shiplap directly to your studs than drywalling first before installing shiplap.
Fitnich recently completed a remodel that included shiplap accent walls in the mud room and half-bath of a home with a transitional design. She said the shiplap's weathered look, rough-hewn texture and clean lines added warmth and character to the house, creating a beachy retreat feel.
But just as easily, Fitnich could have used a smooth, prepainted shiplap such as UFP-Edge Timeless Nickel Gap or Charred Wood shiplap to create a totally different feel.
"There are a lot of different finishes available," she said. "Shiplap works in a majority of homes."
What about your home? See how shiplap can be incorporated into each of these styled homes.
Four different interior design styles using shiplap:
1. Scandinavian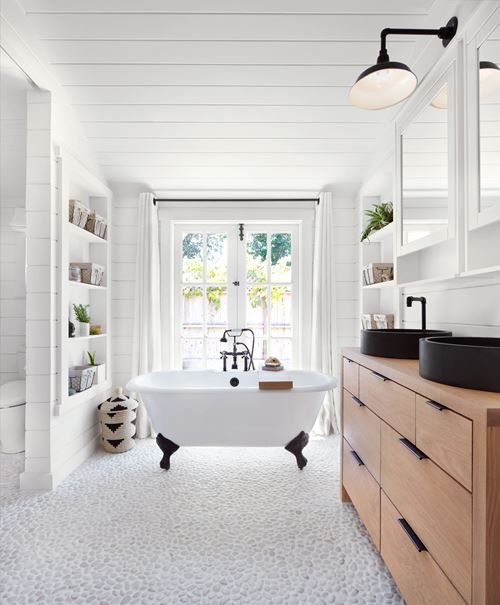 Prepainted UFP-Edge Timeless Nickel Gap shiplap on the walls and/or the ceiling complements the minimalist expression of Scandinavian design. Get more inspiration here for using shiplap with a Scandinavian style.
2. Coastal
The crisp, clean lines of UFP-Edge Timeless nickel gap shiplap are ideal for coastal designs popular in waterfront homes and cottages. The planks come prepainted in Farmhouse White, Cavalry Blue, Midnight Black or Granite Gray, or you can get them primed white and ready to finish in whatever color you prefer. Get more inspiration here for using shiplap with a Coastal style.
3. Mid-Century Modern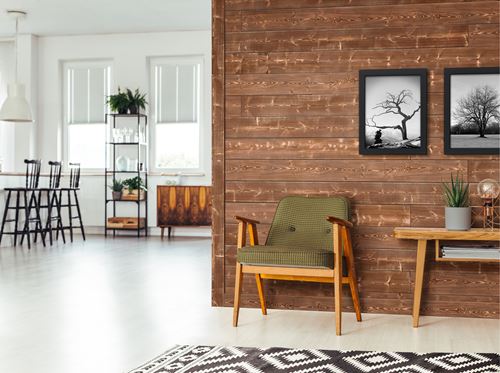 UFP-Edge shiplap comes in so many varieties that it complements many styles of interior design. Here, Charred Wood shiplap creates a striking accent wall that fits the room's Mid-Century Modern look. Get more inspiration here for using shiplap with a Mid-Century Modern style.
4. Rustic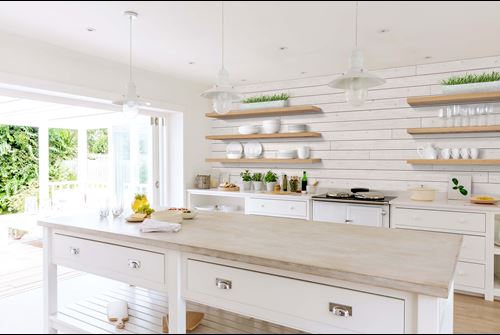 Whether you use it to create an accent wall or just a small craft project, bringing the natural look of barn wood shiplap indoors complements any rustic or shabby chic design style. The UFP-Edge Rustic Collection is new lumber that's been distressed, primed and painted in any of six colors to create the authentic look and texture of vintage barn wood. Get more inspiration here for using shiplap with a rustic design style.
To see more inspiration, visit our gallery of shiplap styles.

If you're ready to start your shiplap project, find where to buy

.