PPG Color of the Year 2019
Posted 1/21/2019 by Cassie Klitzke For this month's inspiration, we are channeling our inner Marie Kondo and looking for inspiration in the simpler things.
Finding a moment of silence in the hustle and bustle of the digital age can be nearly impossible. In a world where screens rule almost every minute of the day, we may find ourselves yearning to get away to something more simple and serene. This desire to disconnect has us turning back to our roots and looking for more moments in or inspired by nature.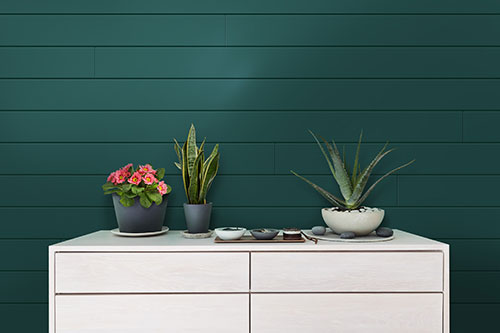 Influenced by just this desire, it is no wonder PPG's color of the year for 2019 is Night Watch: a shade of green that is classic but not any less rich or luxurious. Night Watch's luscious dark green hue is meant to bring to your home the euphoric feeling you get from nature . By emulating the healing power of nature in your own home, you can create a more relaxing atmosphere, perfect for winding down at the end of a long day.
Outside of the feeling of lush relaxing greenery, Night Watch's rich green offers an incredibly versatile range of uses. This versatility makes it easy to incorporate into things like décor pieces, accent walls, full rooms and even ceilings. When applied to primed Timeless nickel gap shiplap, it can take center stage as an accent wall, making it the main focal point within the room. A shiplap accent wall with Night Watch paint can have even greater impact in areas that don't have views of the outdoors.
What are your thoughts on Night Watch? Does it make you want to take the first step to simplify or does it inspire you to get more in touch with nature? Let us know in the comments below.
Ready to start your project? Find where to buy.