Can you put shiplap around a fireplace?
Posted 2/5/2020 by Amanda Hall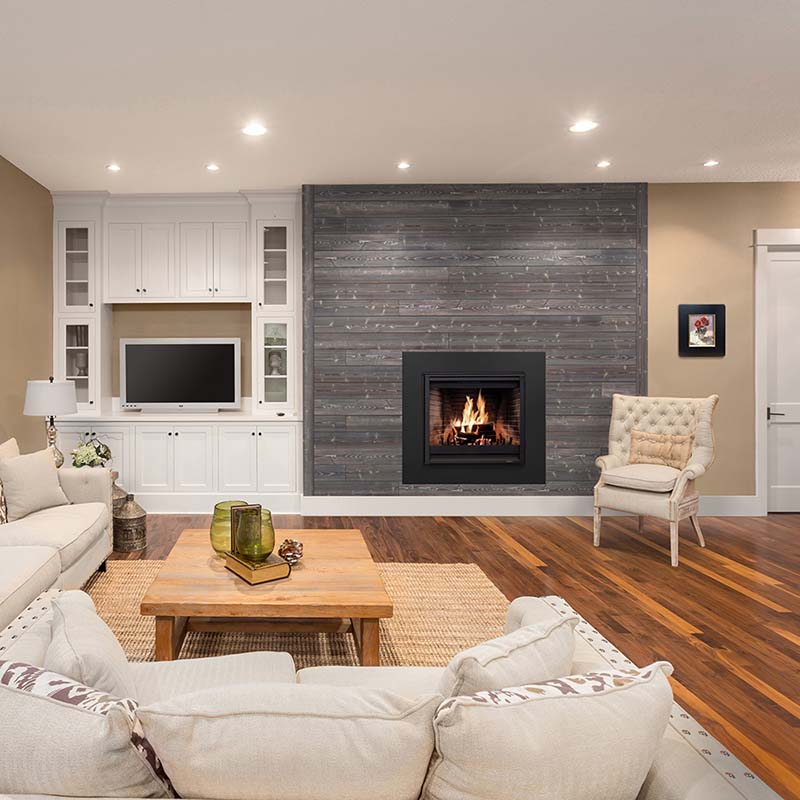 Glow-Up Your Fireplace with Shiplap
Shiplap is commonly used for accent walls and ceilings, but have you ever thought about using shiplap around your fireplace? Many people don't realize that shiplap is perfectly safe to install in your fireplace surround if you follow the correct safety codes. A small amount of shiplap can upgrade your fireplace and make a significant design difference within the room.
Check Local Code When Installing Shiplap Around A Fireplace


Every state varies with its code for fire safety and surround materials. You'll have to check your local code requirements first, but always follow the National Fire Code and the National Standard Building Code when remodeling or designing your home interior.
This ordinance states that all combustible material (wood trim, framing, mantels etc.) must be at least 6 inches from the fireplace opening
For every 1/8 inch of protruding combustible material, an extra inch of clearance is required


All combustible materials and trim must be at least 6 inches from the firebox opening.
If more than 1 ½ inches (38mm) of material projects from the face of the fireplace, you will need additional clearance equal to the length of extension beyond 1 ½ inches.
For maximum security, consider using a noncombustible material in your fireplace surround before adding shiplap. Many people will use tile, marble, stone, brick, or steel as surround materials directly around the fireplace opening for their gas or wood-burning fireplaces.
Shiplap Fireplace Inspiration
Take a look at some of the different shiplap fireplaces we think really nailed it (pun intended).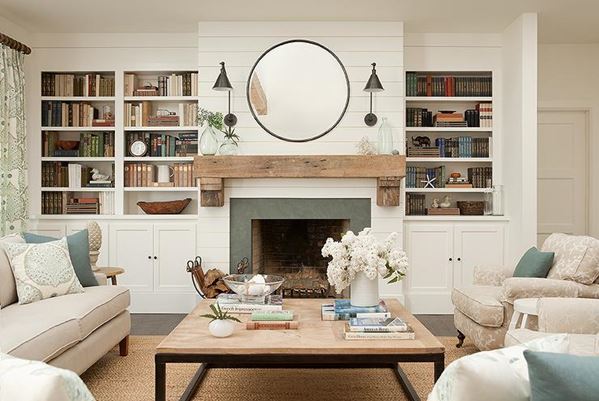 Image c/o Ann Chessins Designs
Get this look: Timeless Farmhouse White shiplap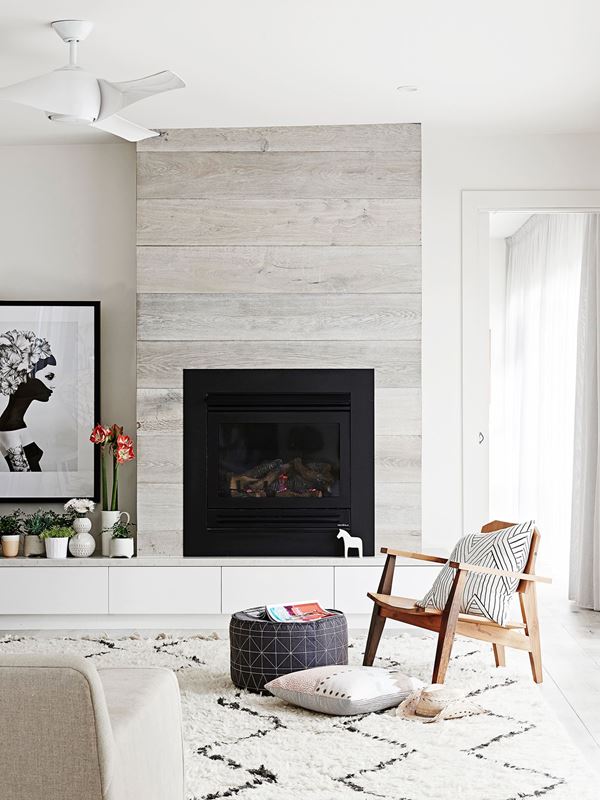 Image c/o Homes to Love
Get this look: Charred Wood Smoke White shiplap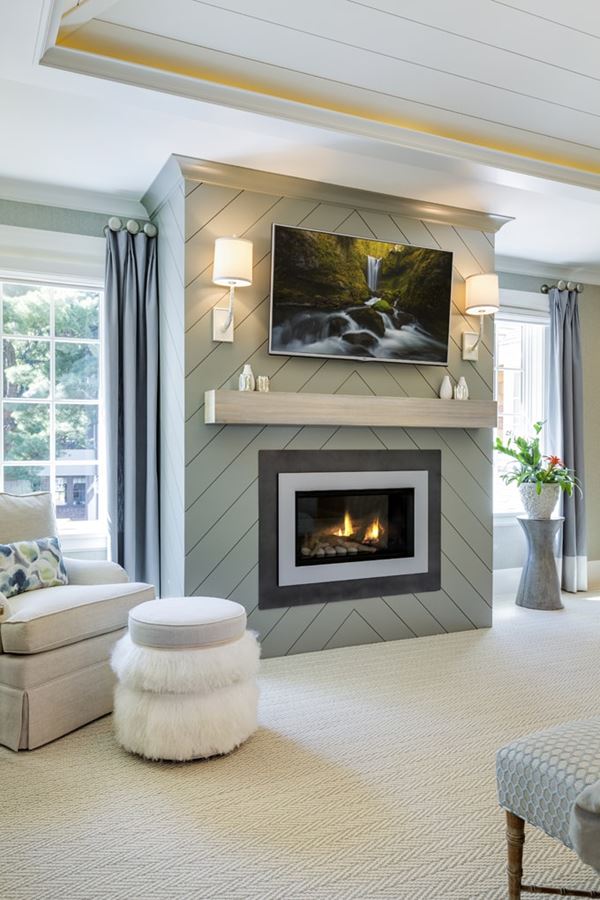 Image c/o House of Turquoise
Get this look: Timeless Primed Shiplap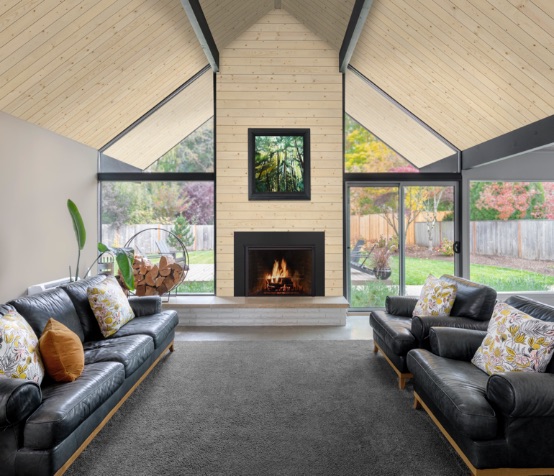 Get this look: Native Woods Shiplap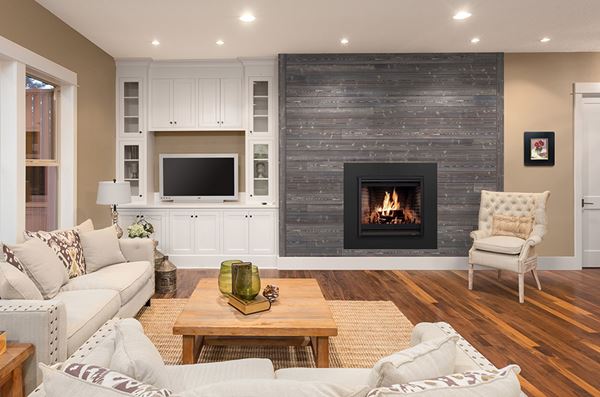 Get this look: Charred Wood Ash Gray Shiplap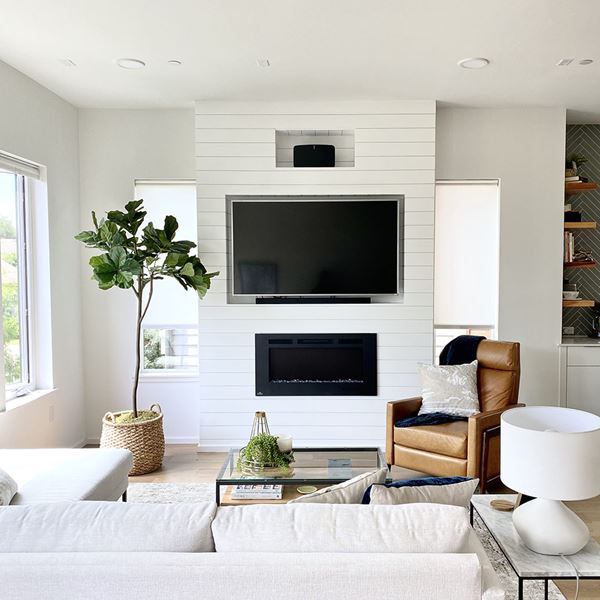 Get this look: Timeless Farmhouse White Shiplap
Adding shiplap to a fireplace surround accentuates it as a focal point within a room. Choose from a variety of prepainted shiplap collections to fit the personality and style of your home. For tips on how to install shiplap, check out our product pages for install instructions and install videos.


Ready to start your next project? Find where to buy.