The true history of shiplap, before Chip and Joanna
Posted 1/29/2020 by Amanda Hall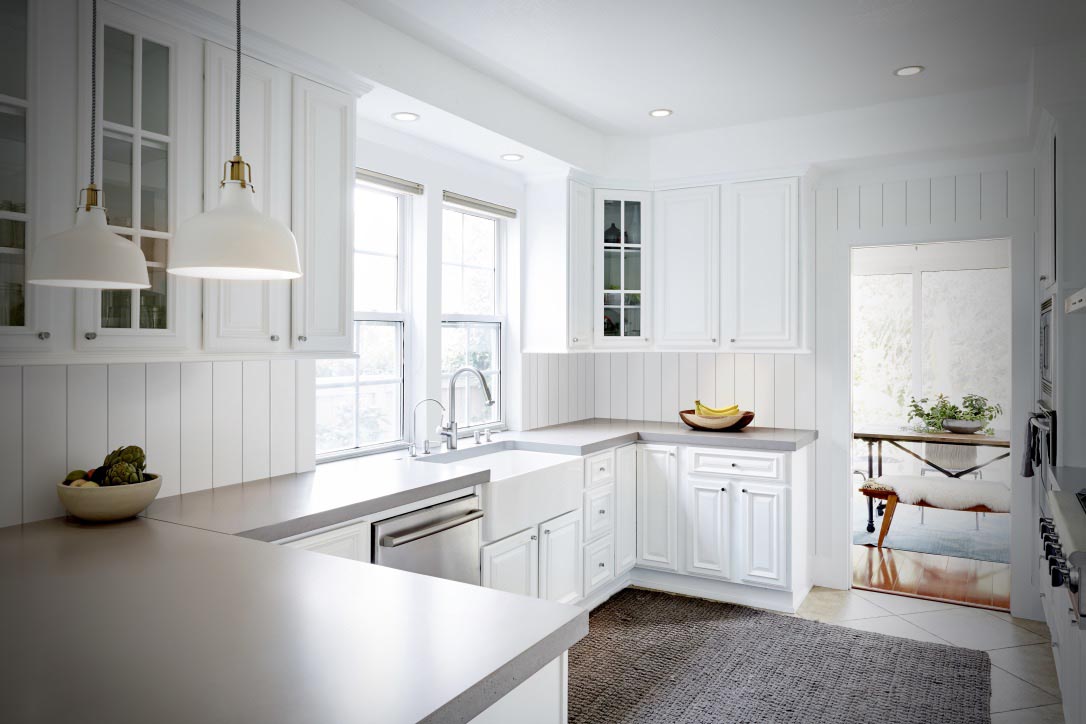 From sea to kitchen, shiplap has transitioned to be a popular decorative wall application. This kitchen features Timeless Farmhouse White shiplap.
Shiplap has become a hot trend over the past several years, but its origins have nothing to do with interior design.
It was during the TV show's inaugural season in 2013 that Joanna Gaines first revealed to "Fixer Upper" viewers the wood paneling that's commonly found beneath wall coverings in many older houses. To limit renovation costs, Gaines told the prospective home buyers that she would paint the shiplap instead of covering it with drywall.
Although leery, the couple featured in that episode gave Joanna and her husband, Chip, the go-ahead to turn the so-called "Catastrophe House" into their home. The restoration was a huge hit.
"Boy, I'll tell you what, I had my doubts about the shiplap," homebuyer Chuck Codd said on the show. "I wasn't exactly sure how it was going to turn out, but this looks really, really great."
With that, shiplap's epic rise was launched, and Joanna Gaines soon became known as the "Queen of Shiplap" for her use of the material in subsequent episodes. Today, the interior design trend continues to surge and remains as popular as ever.
Of course, shiplap was around long before "Fixer Upper" made it a must-have feature in homes with the Modern Farmhouse style and other design styles. After all, it was used in the "Catastrophe House", which was constructed in 1911.
What does UFP-Edge and Vikings have in common? Shiplap!
The concept of shiplap actually goes back much, much farther than the 1900's. Like, at least 1,700 years– around the time of the Vikings!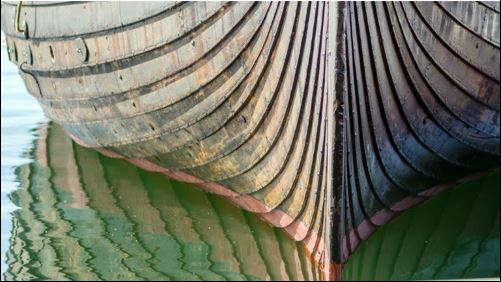 Shiplap originally used on the sides of a ship.
An ancient boat unearthed in northern Europe more than a century ago is the earliest example of clinker construction that uses overlapping wood planks called lapstrakes – a precursor to shiplap that created a watertight seal. The Nydam was a 24-meter long rowboat with 15 sets of oars that was built around the year 320, way back when Constantine was Roman emperor!
In the centuries that followed, the practice of overlapping wood planks to keep out moisture evolved and produced shiplap. Technically, shiplap consists of boards that overlap at rabbeted edges to create a snug, watertight fit. It became a common exterior siding material for barns and sheds.
Shiplap traveled from sea to home, but didn't start as a decorative element.
Eventually, shiplap found its way indoors, but not as a decorative element. It was never intended to be exposed. Instead, shiplap was placed over top of a house's framing to create a smooth backing for wallpaper and other interior wall coverings.
When Joanna Gaines started exposing and painting shiplap and showing the results on "Fixer Upper," it opened interior design to a timeless look that's still trending years later. In houses that don't already have shiplap, people are bringing it in to create accent walls, ceiling features, headboards, fireplace surrounds There are many different places where you can install shiplap, and it doesn't have to be on an accent wall.
Shiplap continues to be in high demand.
"It's just as much in demand now as it has ever been," said Jodi Medina, lead designer with Benchmark Design Studio in Holland, Mich. "Typically, it's painted white. It matches your trim. It's just a crisp, clean look."
Medina uses shiplap in a lot of waterfront homes along Lake Michigan. Sometimes, it's used only in a mud room. Other times, it's used in every room of the house – even on the ceiling.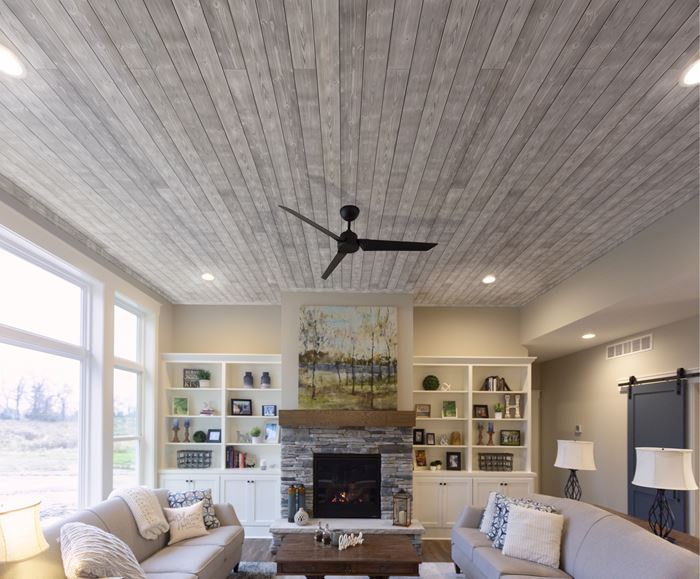 Charred Smoke White shiplap featured on the ceiling in a transitional home interior design style.
"We try to get creative," Medina said. "There's ways to make it feel a little more interesting and different."
Who knows? There may be shiplap in the bones of your house! But rather than tear out your walls to find out, it's easier to install shiplap right on top of your drywall. It's actually a relatively easy do-it-yourself job that can be handled in a weekend.
Need some guidance to get started? Find inspiration for your home here.
Looking for the right style to fit your home? Check out the 25 different styles and color combinations of shiplap we offer.
Want to know more about pricing options? Find w

here to buy

.