Blue Shiplap Bathroom Transformation
Posted 8/30/2021 by Amanda Hall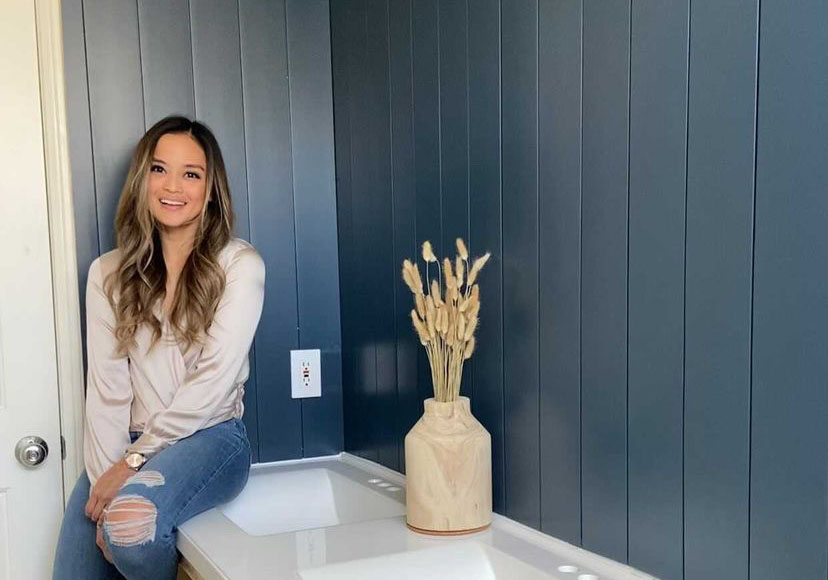 Marga Melo picked up her first power tools in May 2020 and started her Instagram account @wonderwoodmom to showcase her projects. She has been learning how to DIY with different wood projects ever since, making wall art, tables, children's toys, and planter boxes. She also transformed several spaces within her home.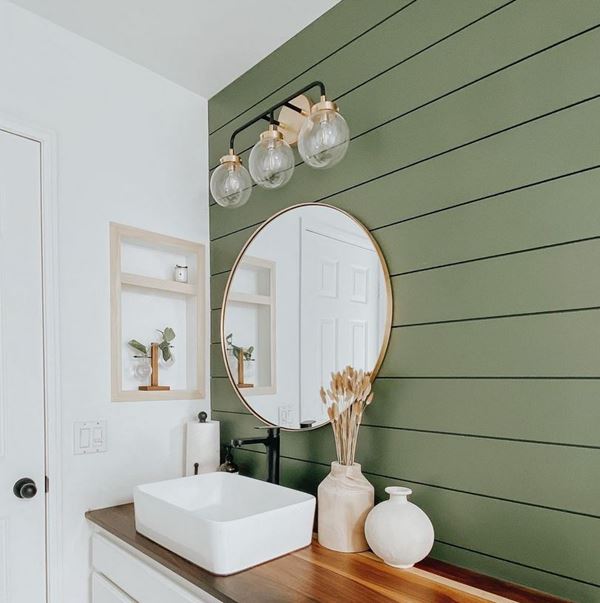 In one of Melo's first projects, she created a lovely green shiplap bathroom. It got so much love from followers and family that she decided to tackle another bathroom project using our prepainted Timeless Cavalry Blue shiplap. Melo took this unappealing, plain white bathroom and transformed it from floor to ceiling into a space with warmth and contrast. She had designed an office space with blue shiplap, and wanted to bring that same look into her boys' bathroom. The dark blue shiplap and black metal accents are the perfect complement to the white countertops, neutral flooring, and caramel wood tones in the cabinetry. A kid's bathroom doesn't have to look kiddish; a timeless design is often longer lasting and cost-effective.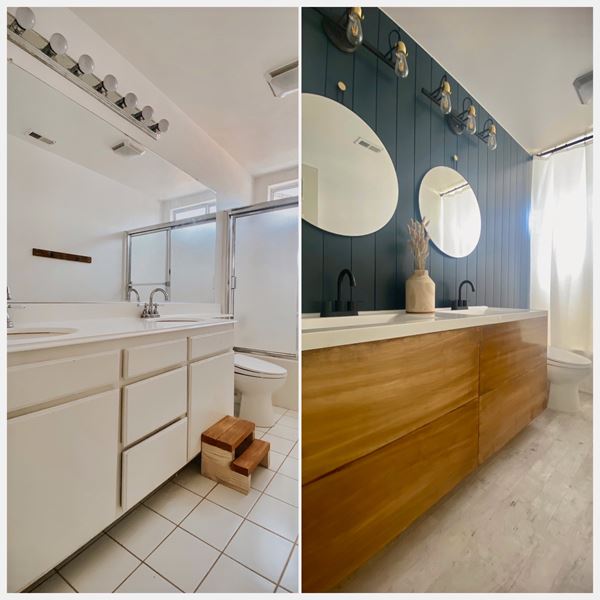 Timeless shiplap features an interlocking pattern that naturally creates a nickel gap between each board so there's no need to use spacers to create straight lines.
"Shiplap is very easy to work with, and the way that UFP-Edge designs their product makes it even easier," says Melo. "It's just like a puzzle. Pretty much you just connect them and then it's done."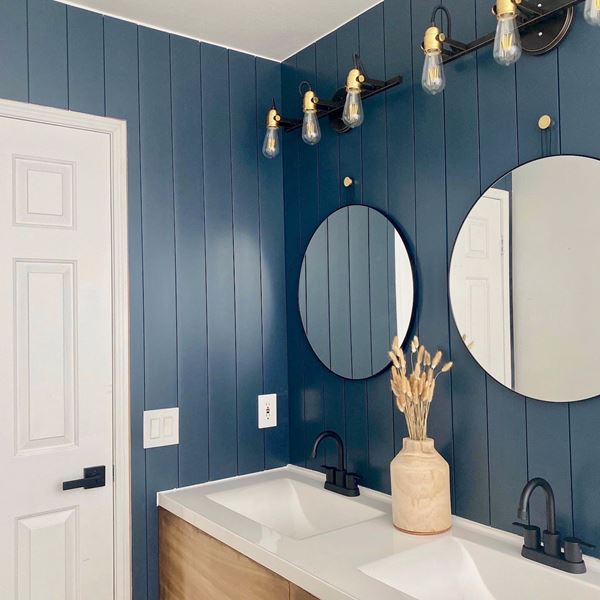 The interlocking pattern is tongue and groove, so boards easily fit together without the need for many exposed fasteners.
"I also love that it's already prepainted to the color of my liking, so it's efficient to use. It just makes my life a lot easier."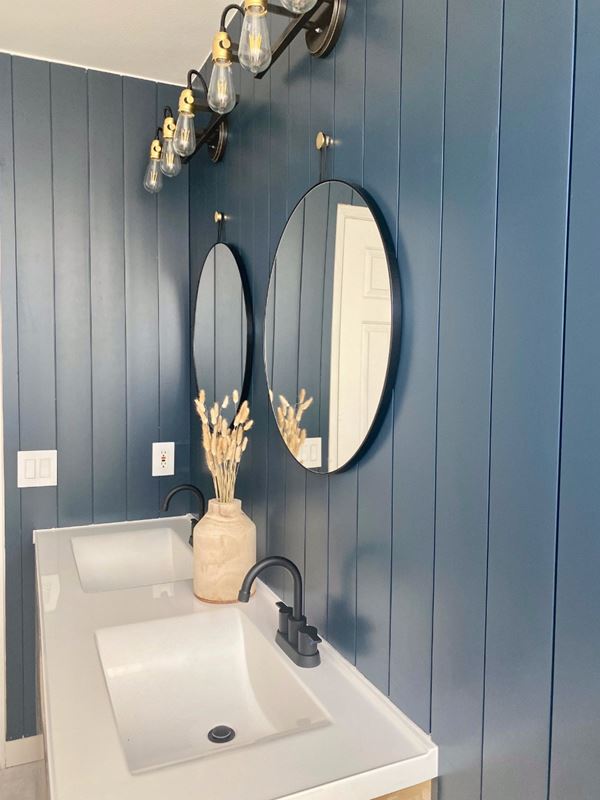 Timeless shiplap comes in four different prepainted colors: Farmhouse White, Granite Gray, Cavalry Blue, and Midnight Black. Many people like the prepainted aspect because it speeds up their installation time, but we also offer a primed option if you have a custom color you're looking for.
Because the shiplap surface is smooth to the touch, it is easy to clean by wiping it down with a wet cloth. If you do happen to nick the boards, we have touch-up paint formulations available, which are listed under technical information on the Timeless shiplap page.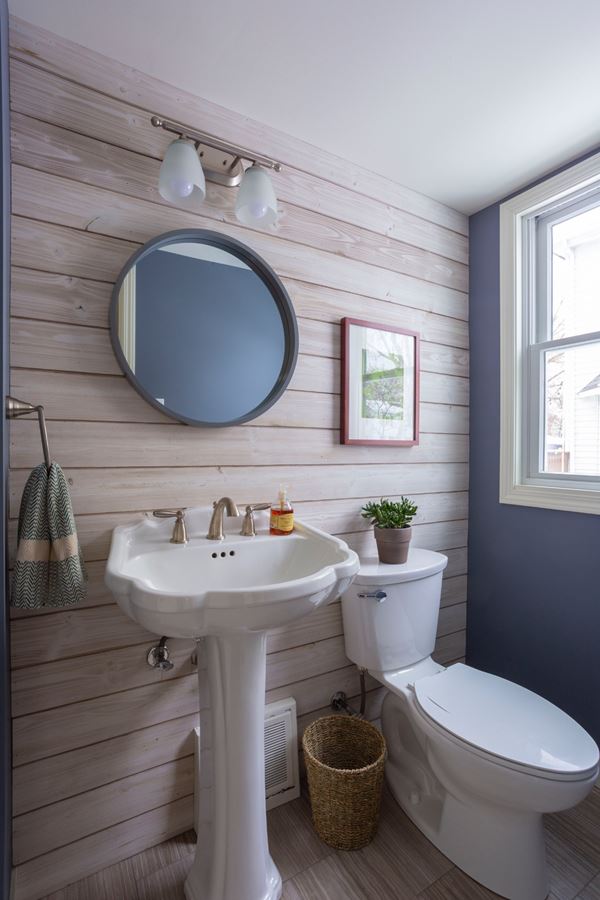 This bathroom features our Charred Wood shiplap in Smoke White.
Shiplap is the perfect addition to a bathroom because in a small space where you don't have a lot of room for décor, the shiplap becomes the decoration, adding both character and color. As long as you are not installing shiplap in a shower surround, where it's frequently exposed to excessive moisture, our shiplap is safe to install in a bathroom. Interested in seeing other styles of shiplap? Check out all our different shiplap lines.
READY TO START YOUR PROJECT? FIND WHERE TO BUY