Create A Nursery With The Future In Mind
Posted 12/7/2020 by Amanda Hall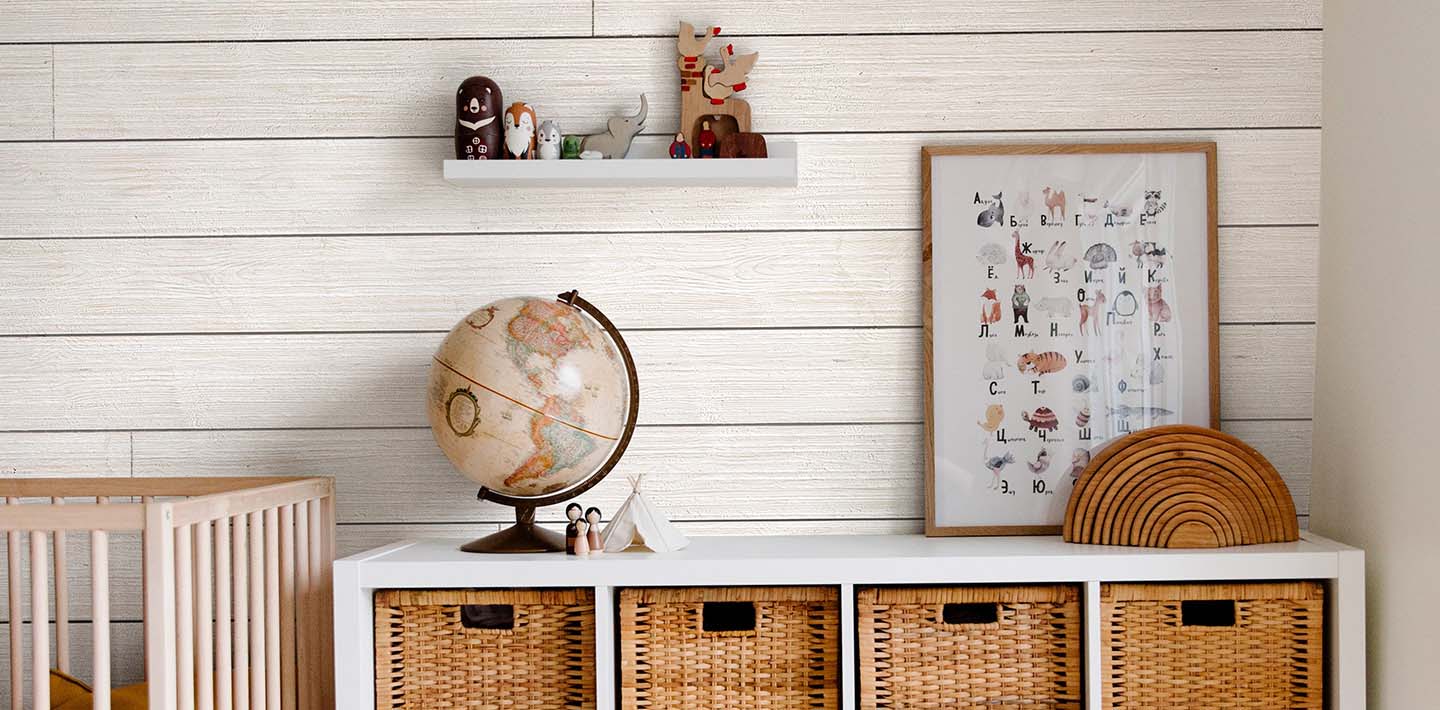 2021 baby boom?
Some doctor's offices are reporting record pregnancies. Could this be a result of the 2020 pandemic and stay-at-home orders? It may be too early to tell, but one practice in Buffalo, New York, says they are expecting an increase in births set for early 2021 based on their number of pregnant patients. If more babies are on their way, parents will be looking for some baby room ideas.
Create a welcoming space for your little one
Creating a space for the newest family addition is an exciting task as a new parent. Whether it's the first baby or the fourth, nesting is a native instinct. It's a way of welcoming your little one into the world and it prepares you for the moments ahead in both a physical, mental, and emotional sense. A baby's room calls for a personalized mix of your family's lifestyle, the practical needs of a new baby, and your design style. Choosing the right look can sometimes be a bit overwhelming, but we hope to give you a bit of inspiration for your baby's new abode.
Shiplap Nursery Inspiration
Shiplap is a great option for a nursery because it's gender-neutral, robust, and transitional with age.
Gender-Neutral
We offer many styles of shiplap that are not gender-specific. Unless you are planning on buying our primed Timeless shiplap and painting it bright pink for your little girl, generally speaking, shiplap is a gender-neutral option for expanding families with differing style preferences. It is much easier to transition a room with neutral-colored shiplap than a room with wallpaper or colored walls. Decorations are more interchangeable than wall treatments. As a rule of thumb, keep the base layer of your nursery gender-neutral in order to easily update it.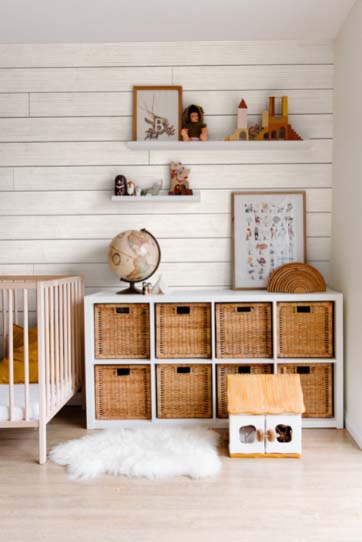 This gender-neutral nursery was created with our Rustic White shiplap which adds texture and depth to a minimalistic style.
Added stability
Hanging décor on shiplap is much more stable than hanging it directly to drywall. If your studs are not right where you want to nail that piece of art over your baby's crib, shiplap offers that bit of stability where drywall will not. Shiplap boards are nailed directly into studs and are more secure for holding wall hangings or décor. The last thing you want is wall art falling into a child's crib.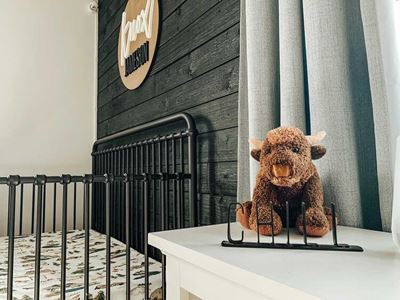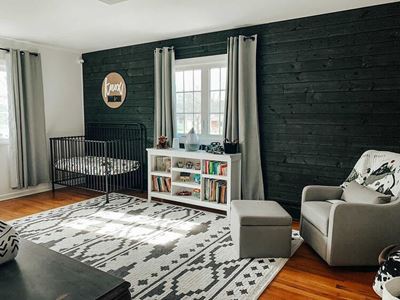 Shiplap offers more stability for wall décor. This nursery accent wall was created with our Rustic Charcoal shiplap.
Transitional with age
Instead of covering an accent wall in a playful child's wallpaper, you might try adding shiplap and hanging a whimsical piece of art. Wall hangings are more interchangeable with age than a wall treatment. Families with children benefit from creating rooms that are more transitional than trendy because of the time home projects can take. Plan for the future in mind. This is exactly the reason behind creating this teen boy's room with our Timeless shiplap. The mom wanted to be able to turn it into a guest room once he moved out in a couple years.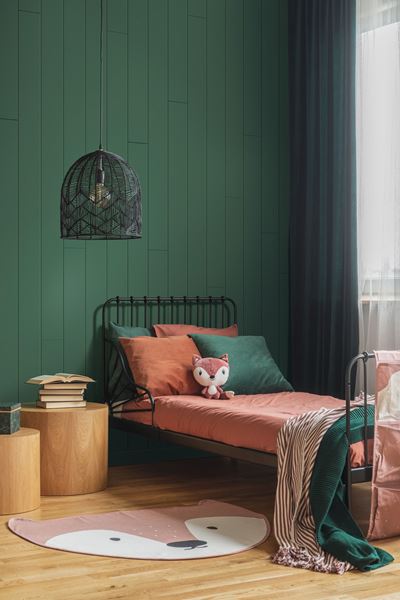 This room easily transitioned from a nursery into an elementary-aged child's room with a coat of emerald green paint on Timeless primed shiplap.
READY TO GET STARTED ON YOUR HOME PROJECT? FIND WHERE TO BUY.