Could your backyard be more inviting?
Posted 12/14/2021 by Amanda Hall
The backyard already had a patio with a grill. And for a slab of concrete out the back slider, it was fine. But it certainly wasn't the most comfortable place to hang out with friends, and the homeowners wanted to change that. They wanted to convert their backyard into a space that felt more like an outward extension of their living room.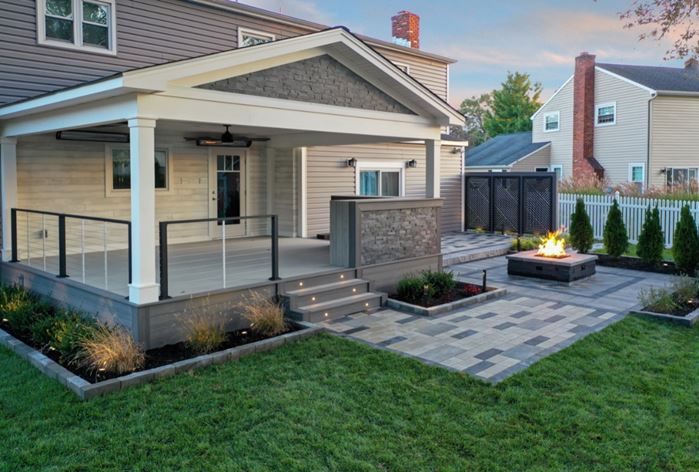 So, in addition to redoing the existing patio and putting in a built-in gas fire pit, the plan called for a covered deck with a finished ceiling, infrared heaters, lighting, a ceiling fan and a television. It's something Sean Collinsgru has been doing a lot more of these days.

"Clients really want something that's going to feel like a warm, intimate, inviting space, kind of like a halfway point between being inside the house and outside in the yard," said Collinsgru, owner of Premier Outdoor Living, a design-build firm in South Jersey, near Philadelphia.
As his company began doing more finished exterior ceilings, Collinsgru came across our UFP-Edge prefinished wood products. Real wood can be a wonderful way of bringing an indoor feel outside, so our real wood products have become a top choice for Premier Outdoor Living.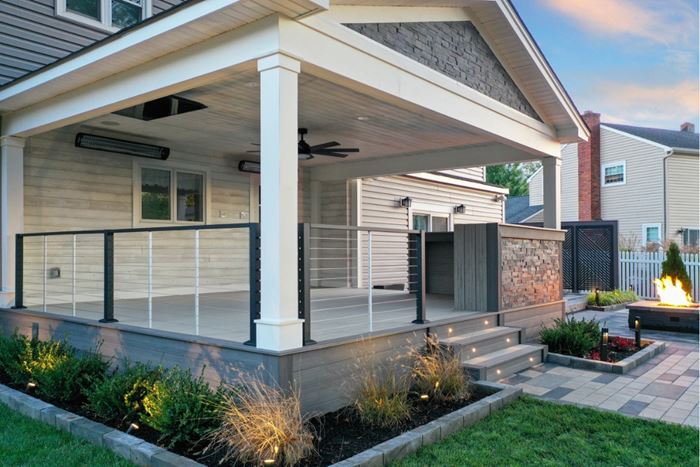 In this particular project, Collinsgru was asked to make the covered Deckorators deck look and feel "like you're stepping into another room." Crews converted an existing window into a door to provide direct access from the inside of the home. They also replaced the existing exterior siding beneath the roof of the covered deck with a natural wood material that's designed for outdoor use yet has the aesthetic characteristics of a beautiful interior wall.
Reaching backyard goals with Thermally Modified Wood Cladding
Because the siding would be exposed to the weather, Collinsgru went with the Thermally Modified Wood Collection. The hot new wood cladding undergoes an innovative, all-natural heat and pressure treatment that makes it stable, lightweight and rot- and insect-resistant for stellar long-term outdoor performance. The preservation process also makes the boards less susceptible to seasonal expansion and contraction.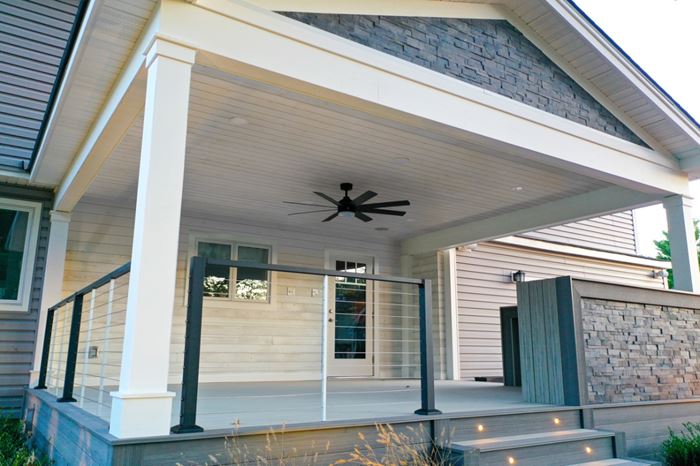 Sean Collinsgru used Thermally Modified Wood Cladding in the Glacier color for the exterior wall and ceiling of this covered Deckorators deck in New Jersey. 'It's prefinished and it has the tongue-and-groove profile so we can use very minimal exposed fasteners,' he said. 'Once we're done and it's up and installed, that's it. There's nothing else to do.'

Thermally Modified Wood Collection is perfect for outdoor ceilings, too, so Collinsgru used the same material on the ceiling of the covered deck to tie the whole room together.

"We wanted to be able to differentiate the back wall underneath the roof instead of having just the siding on the back of the house, to help distinguish it from being a regular old deck to more like an outdoor room," Collinsgru said. "But there is some rain exposure on that back wall.
"UFP-Edge Thermally Modified Wood Collection was the perfect choice. It has all the benefits of some of the other UFP-Edge products where it's a really nice, tight tongue-and-groove product and the ends are matched. And you can use it in a lot more applications, especially if it's going to be something that's multifaceted with the same material in different places with weather exposure."
Features of Thermally Modified Wood Cladding
Here are a few more of the main features of this innovative wood cladding:
Prefinished On-Trend Colors
The prefinished wood cladding comes in several on-trend colors, which eliminates the need for painting on site. It also is available in a natural look in two different wood species. "We wanted to give (the ceiling of the covered deck and the wall) a little bit of character because everything else was very modern, so we went with the Glacier color, which is a little bit of a rustic white, almost a whitewash," Collinsgru said. "Because it's butting up to a lot of solid white trim, we wanted it to tie in with that and not be too much of a stark contrast, but we wanted it to have more texture and warmth."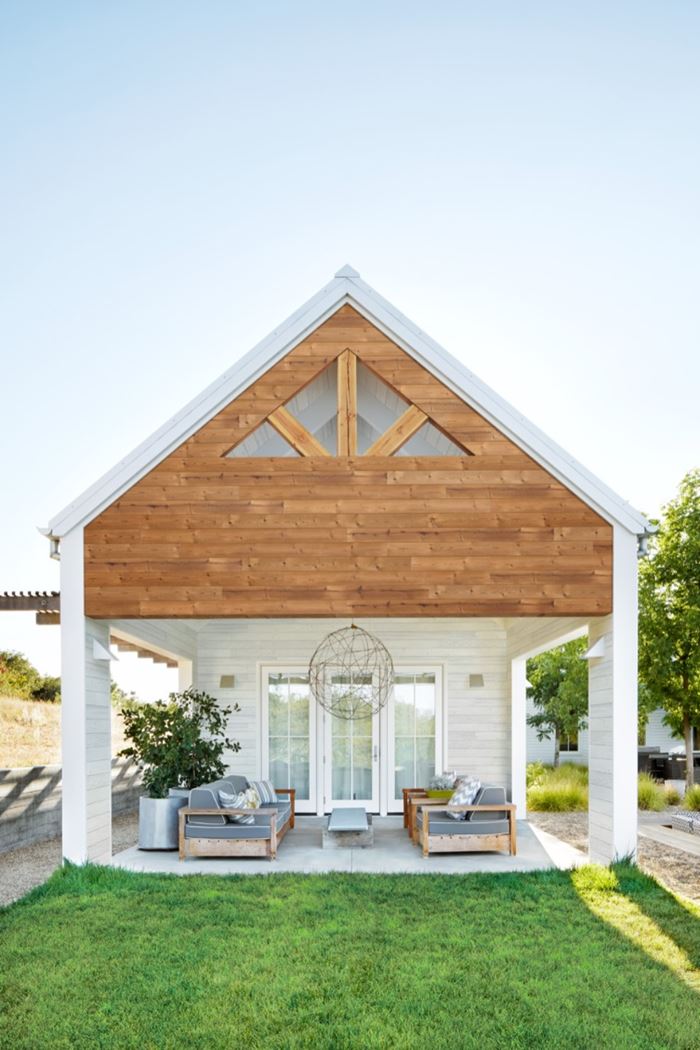 This outdoor patio shows a mix of Thermally Modified Natural Wood Cladding and Thermally Modified Glacier Wood Cladding.
Two-tone Look
The two-part finishing process for the wood cladding results in a two-tone look that you can't replicate, enabling you to see some of the wood grain through the finish. "Achieving that finish with a regular, unfinished pine board would be very difficult to do," Collinsgru said. "It gives you that unique look that really has to come from the manufacturer."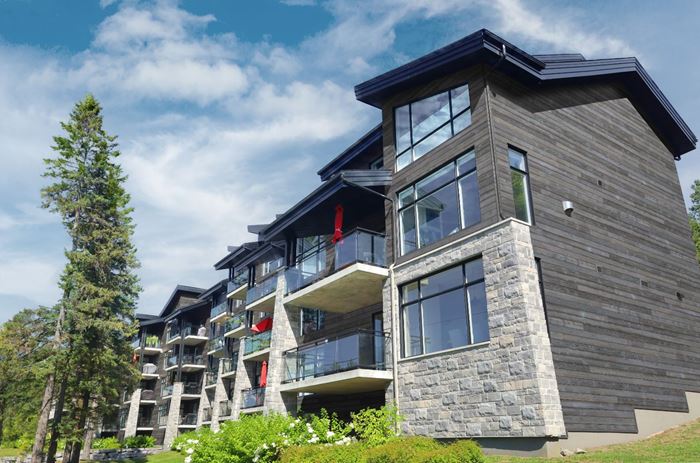 This multi-family features Thermally Modified Wood Cladding in the prefinished Wood Smoke color.
End Matched Boards
Each Thermally Modified Wood Collection board features a tongue-and-groove connection to the next board not only horizontally but also on the ends so that they seamlessly connect lengthwise, too. The end matching saves time on the job and results in less waste. "It's definitely a lot easier not having to split over top of a ceiling joist," Collinsgru said. "You can kind of let the seams fall where they do because they're locked together like that."
Multiple types of applications with this new wood cladding
Exterior siding and ceilings of covered porches and decks are just two of many high-performing applications of the Thermally Modified Wood Collection, which is available in lengths of up to 16 feet. The product is ideal for other exterior applications such as trim, fascia and roof soffit, too.

Thermally Modified Wood Collection also comes in shorter lengths to provide a unique aesthetic for interior applications such as an accent wall, ceiling, kitchen island or fireplace surround.
"Really, we like to just kind of see which ways we can use materials in new ways," Collinsgru said. "I could see us using Thermally Modified Wood Collection for privacy walls or the front of a bar top that we build into the deck.

"We've used a ton of other products from UFP-Edge and have had a lot of success with them, so we pick the manufacturers that we trust. They have a lot of different options to fit whatever kind of style we're going for."
READY TO START A SHIPLAP PROJECT? FIND WHERE TO BUY.