'Home office is reality now.' Make the most of it!
Posted 6/16/2021 by Amanda Hall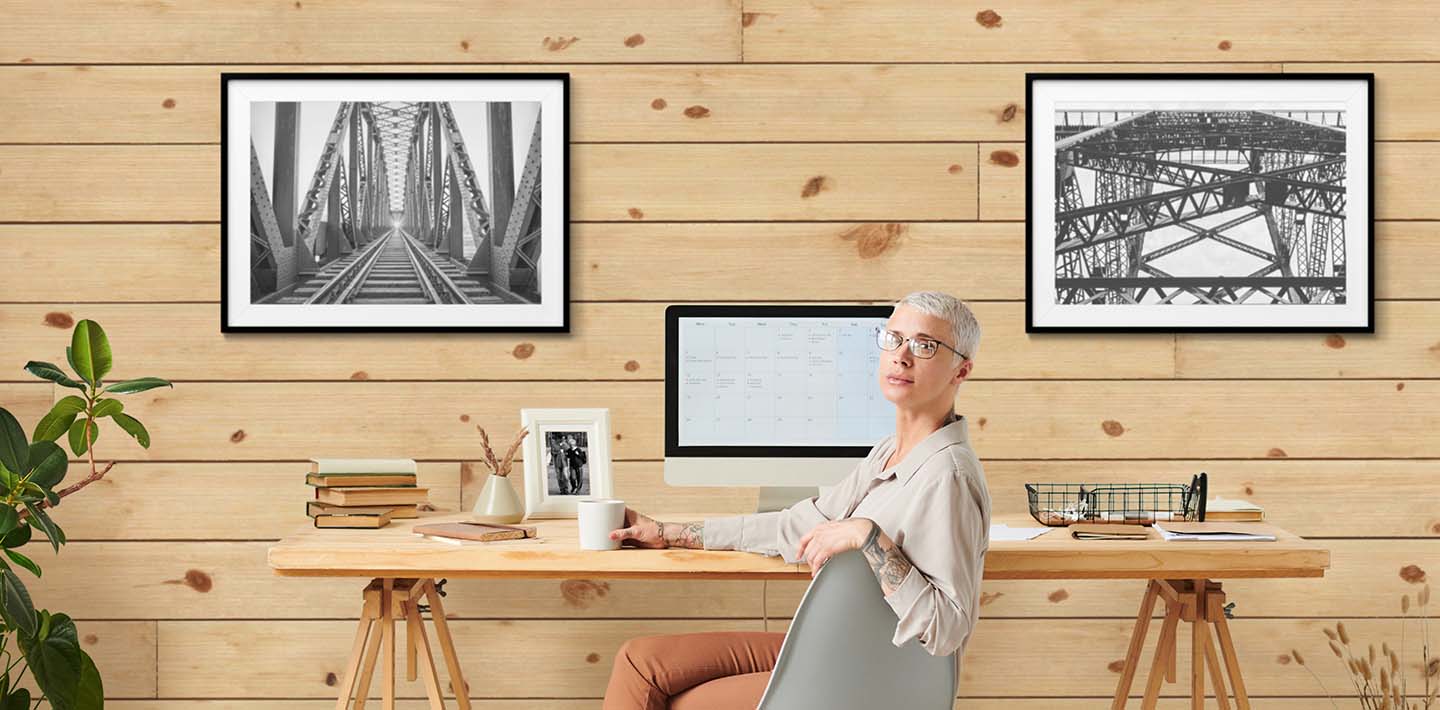 Rustic Collection shiplap is an easy install pattern board that gives character and a sense of permanence to your home office. Each shiplap board comes prepainted in a variety of colors or natural (unfinished).
Last year, Milissa Morgan Ching's family started building their "forever home." Then, the COVID-19 pandemic left both her and her husband – like millions of people across the country – working remotely. Now, their forever home has morphed into a forever home office.

Ching works out of a guest bedroom. Her husband's gaming room has become his place of business. Even their young son's playroom has been converted to an "office" for their dog during the workday, so she doesn't run roughshod over the rest of the house.

"Home office is our reality now," said Ching, who's working remotely for a Seattle-area municipality while her husband will be working from home permanently. "I have a giant Murphy bed on the wall behind me."
Not that Ching minds the change of plans. She's also owner and principal designer of SnoValley Studio, a design, décor and photography firm. Even though they just moved in this spring, Ching already is getting an opportunity to remake some of their space.

Next on her DIY to-do list: an accent wall behind the desk in her husband's makeshift home office. She's planning to use the same Rustic Collection Charcoal shiplap that she put on the wall behind the homemade surf shack bed in her son's bedroom.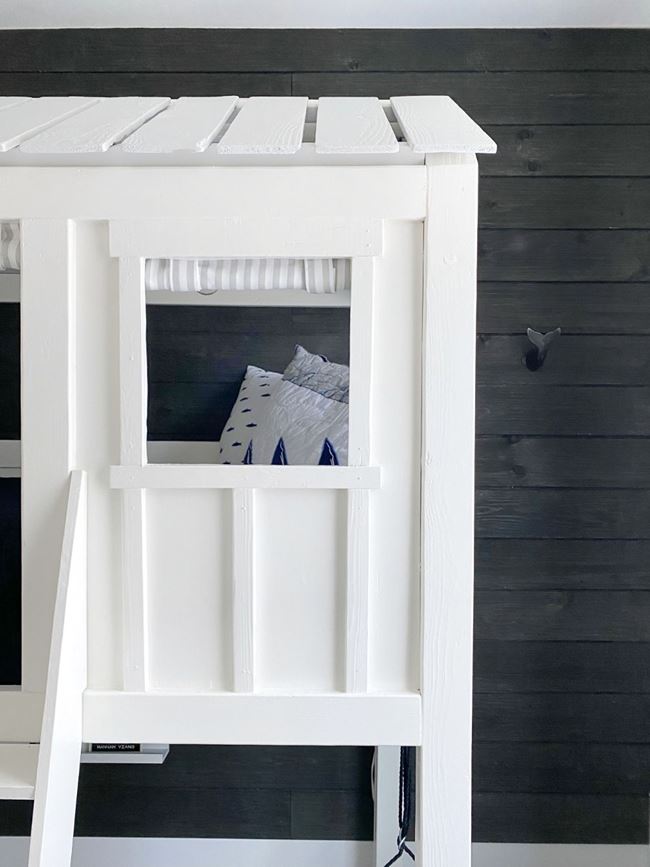 "Adding that texture just made my son's bed pop off the wall and added a subtle visual interest to the space," Ching said. "Then my husband was like, 'I definitely want that same rustic shiplap in my home office.'

"Especially for people on video calls, shiplap is a nice way to create a backdrop for the space and to give the room less of that I'm-in-my-house-all-day-long look."
While many people have returned to the workplace over the past several months, surveys find that more than half of American workers are still working remotely. And even by the end of the year, it's expected that nearly half of the workforce will remain out of the office. Some, like Ching's husband, may continue to work remotely indefinitely.

The situation presents a challenge: How to make your home workspace a place you enjoy spending several hours a day.
Last year, many people set up shop on the dining room table, and that was fine on a temporary basis. But as the pandemic lingered and the time for returning to the office kept getting pushed back, creation of real home offices surged.

Although some high-end projects have added square-footage to accommodate a new room, most home offices have come from turning spare bedrooms, little nooks and even underused closets into workspaces. In fact, creating a "cloffice" has become one of the more popular work-from-home solutions that has emerged during the pandemic.

Making a dedicated office space can be as easy as clearing out a closet, sticking a desk in it and going to work. But many people also are adding creature comforts that give both form and function to a home office. From built-in desks and bookcases to wall treatments such as the shiplap accent wall in Ching's home, people have taken steps to add character and a sense of permanence to their home workspaces.
At first glance, rustic shiplap might not seem like a good fit for Ching's minimal, modern-looking new home. After all, the material often gets used in homes with a rustic farmhouse vibe. But Ching sees the prepainted product as a great option.

The rustic shiplap installed horizontally added a lot of depth and texture to her son's bedroom, which otherwise is a standard shoebox with one window and a closet. And going with prepainted Rustic Charcoal shiplap aligned with her home's monochromatic color scheme.

Ching liked the bedroom project so much that she then put rustic shiplap, oriented vertically, in a small kitchen pantry to add visual interest.

"Sometimes in small spaces you can open them up by going vertical," she said. "When you do a vertical installation and then add horizontal shelves, it creates a really nice visual break in the space and gives it some character."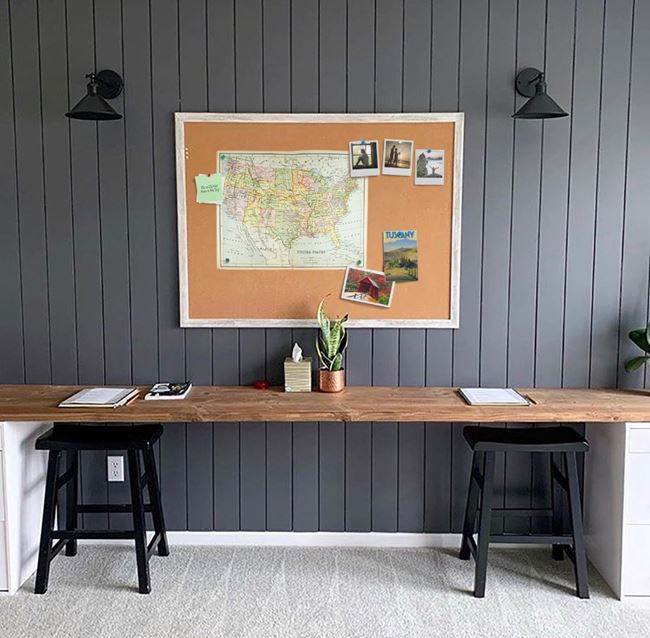 This home office duals as a homework station, showcasing our Timeless primed shiplap that's been painted a dark gray.

After the pantry is finished, Ching plans to move on to the shiplap accent wall in her husband's home office. They just have to decide whether to install the boards horizontally or vertically.

For horizontal applications, Ching uses a brad nailer to drive 18-gauge nails through the rabbeted edge of the shiplap into the studs beneath the drywall. For a vertical shiplap installation, she first hangs thin pieces of wood, or furring strips, horizontally across the studs. That provides a backing that she can nail the shiplap into.

"People always say shiplap's going to go out of style and I don't think it can. It's such a timeless look," Ching said. "When I think about my favorite places, whether it's the mountains or the beach, shiplap is always a constant theme.

"It's definitely a fun way to dress up spaces, especially offices."
READY TO START YOUR PROJECT? FIND WHERE TO BUY.