7 Ways to Add Shiplap to Your Staircase
Posted 3/9/2021 by Amanda Hall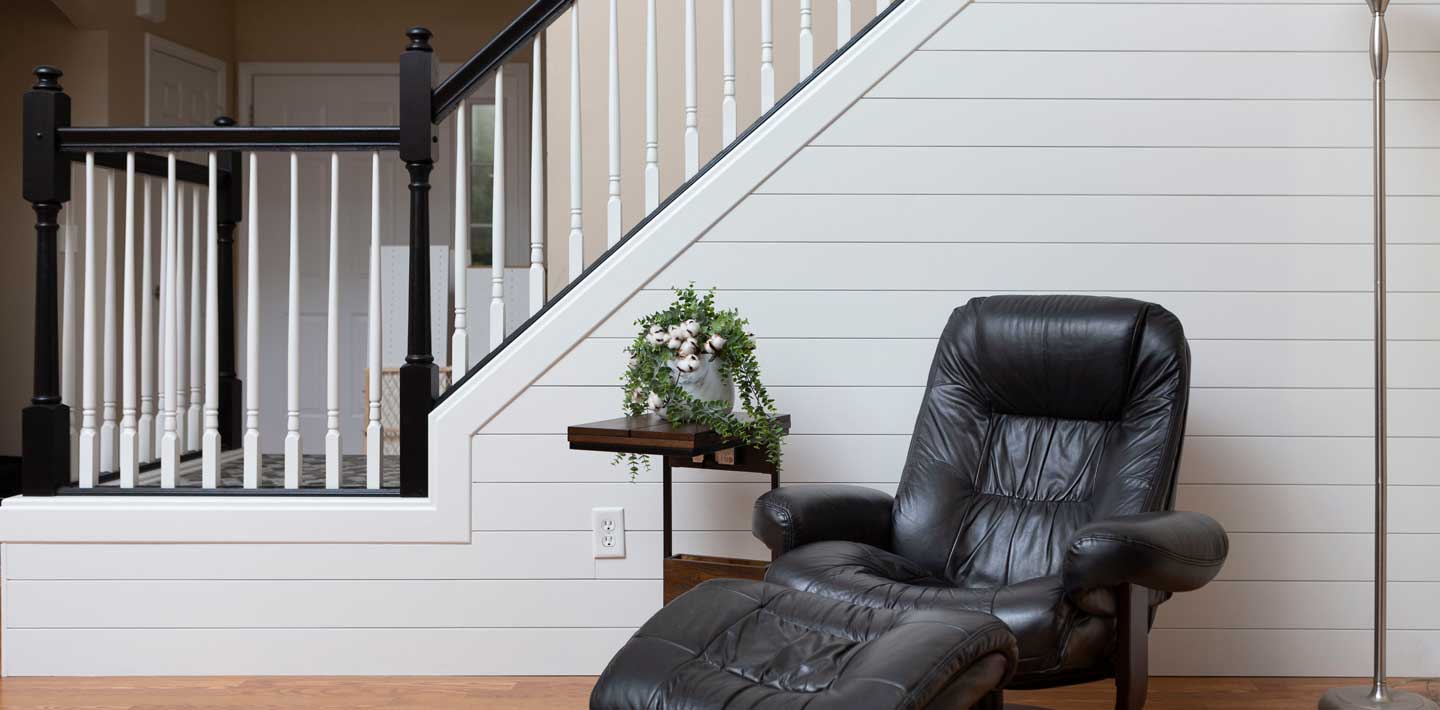 Your entryway is the introduction to your home, and it shapes your guests' first impressions. This area should be both welcoming and functional. In many homes, a staircase is likely one of the first things that guests see when they come through the door. Stairs are not just a conduit bringing you from one space to another, they can play a role in your home's overall design.

Adding shiplap to your staircase creates subtle detail and design in an entryway space. The clean lines of the shiplap draw your eyes into the home and encourage further exploration. There are multiple ways to add shiplap to your staircase as well as a variety of styles you can choose from to complement your home's aesthetic.
1. The Modern Farmhouse Staircase
In our collaboration project with Palm Grove Farmhouse, this modern farmhouse showcases our Timeless Farmhouse White shiplap installed all the way up the stairs in a horizontal application. The white shiplap was the perfect contrast to the warm wood and black metal lights, the three most common materials in a modern farmhouse.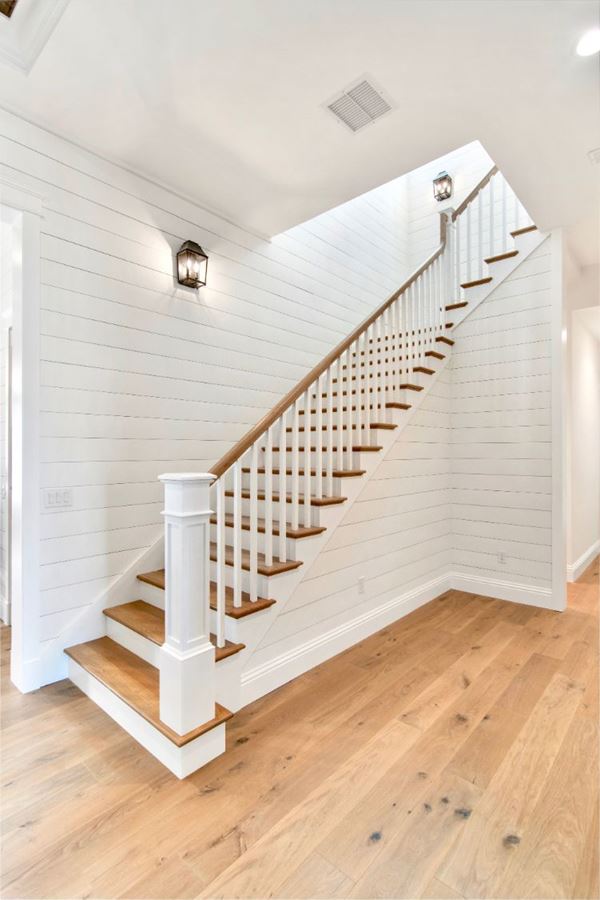 This staircase features our prepainted Timeless Farmhouse White shiplap.
2. The Charm of Rustic Shiplap
This home paired our Rustic Collection Dark Brown shiplap with our Timeless Farmhouse White shiplap for a juxtaposition of both texture and color. The rough sawn Rustic Collection shiplap and dark metal railing brought a sense of depth and weight that contrasted well with the bright whites within the home.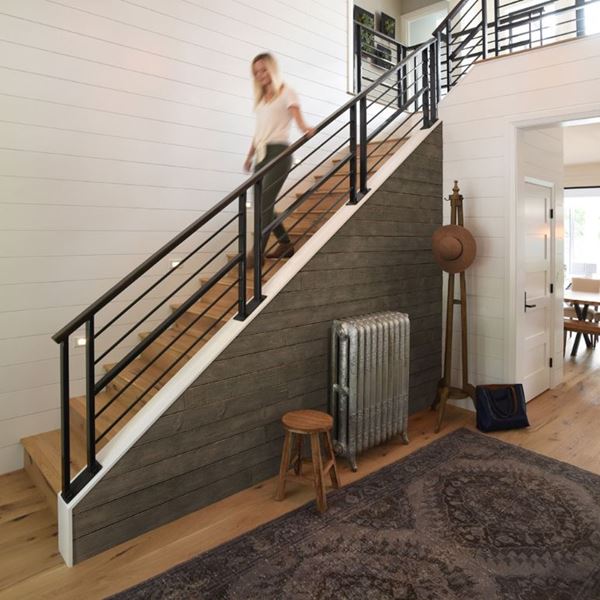 Add rustic charm with our prepainted Rustic Collection shiplap available in a variety of colors.
3. Go Dark and Moody
Go dark with our Timeless Midnight Black shiplap for a deep and moody look. Interior trends are shifting towards darker contrasts. The trick to creating beautiful dark spaces is making sure the space is well lit.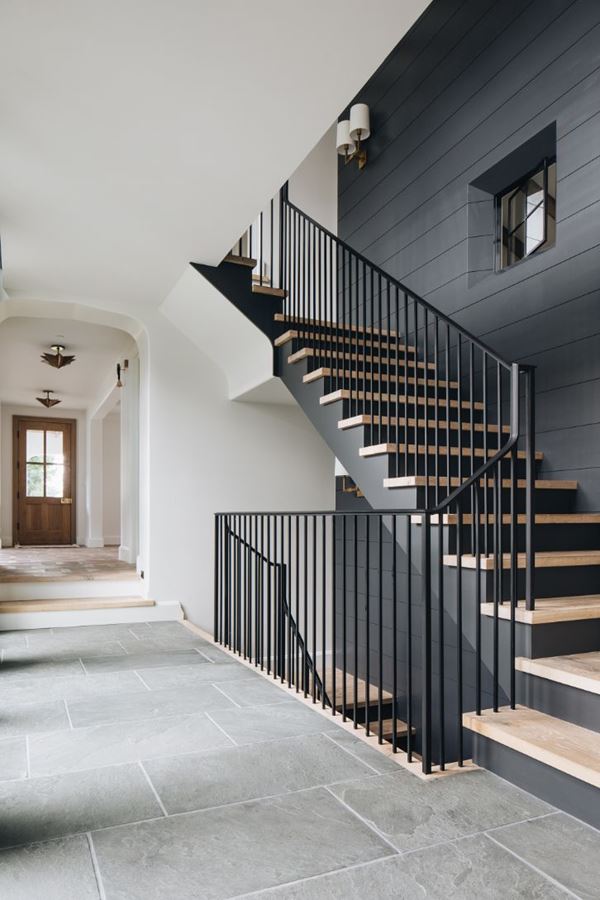 Designed and built by Grand Tradition Homes. Try our prepainted Timeless Midnight Black shiplap or our Rustic Collection Charcoal shiplap for a dark contrast.
4. Try a Pattern
Experiment with angles by adding a diagonal pattern for added interest. Add a bench to create a seated area for character and functionality.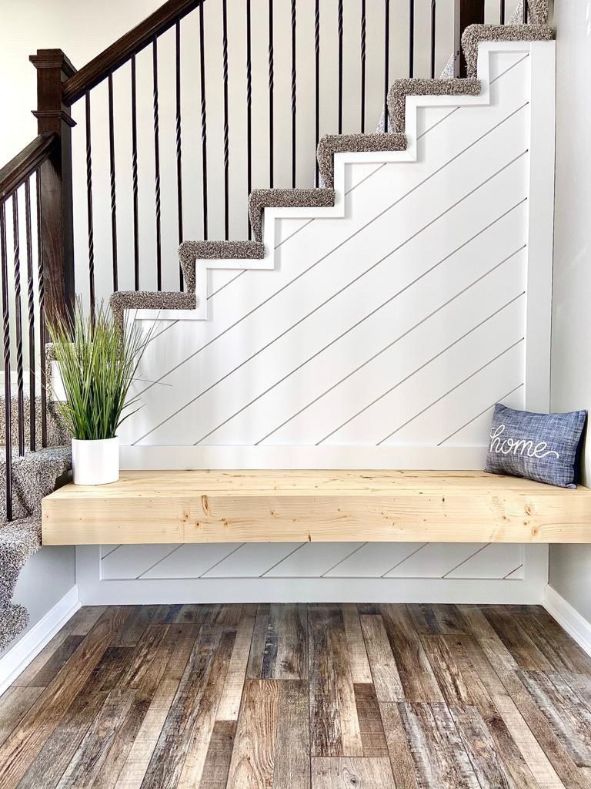 Quaid and Co builders used our Timeless Farmhouse White shiplap to create this unique diagonal pattern.


5. Upscale Your Stair Riser
As seen on Fixer Upper's final season, add flair to your stair riser with a shiplap pattern.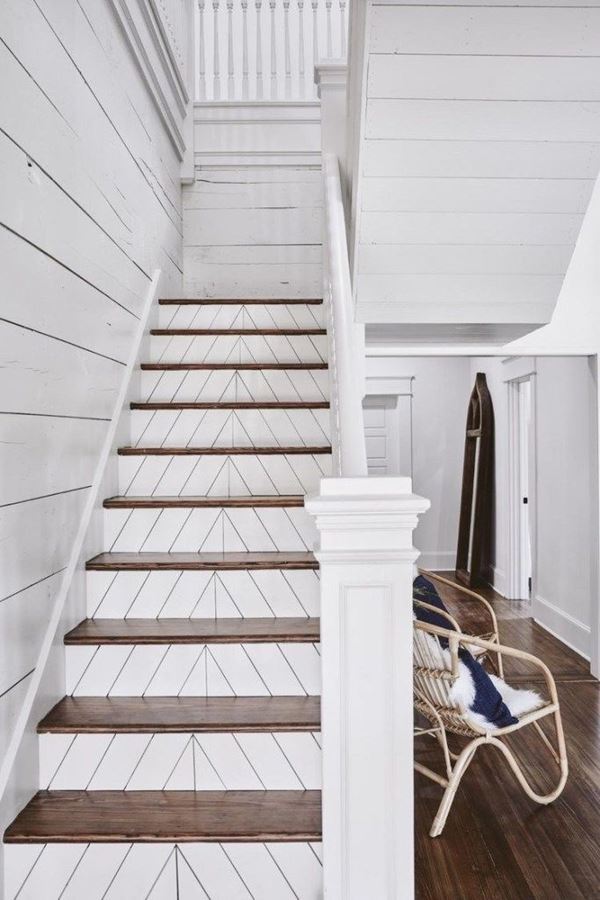 Practice your geometry skills with our Timeless Farmhouse White shiplap to recreate this design by Chip and Joanna Gaines.
6. Add Contrast with Color
To add contrast to your shiplap staircase, add a different colored stair tread and/or railing.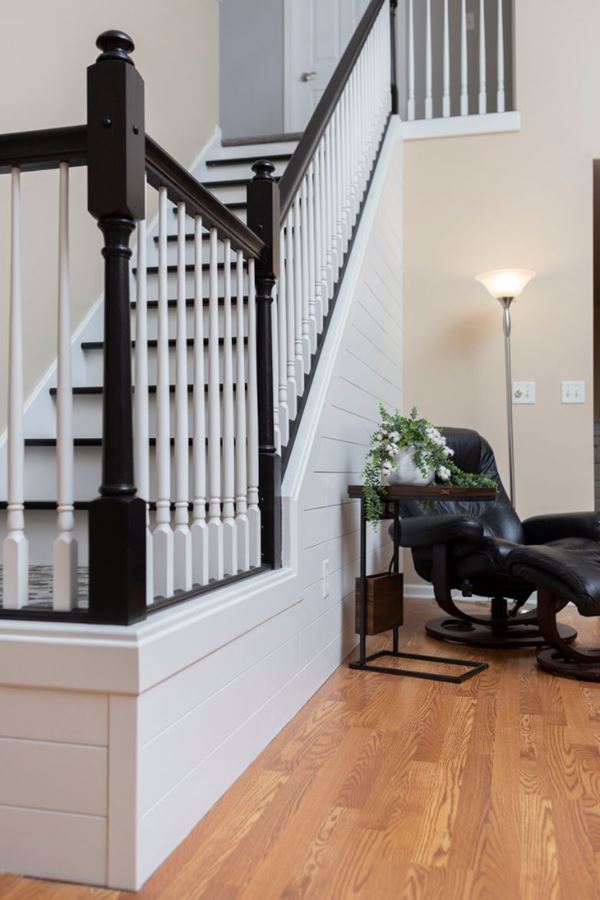 Get this look with our Timeless Farmhouse White shiplap or buy our Timeless primed shiplap and paint the color of your choice.

7. Stairway Reading Nook
Your staircase may be the perfect place for a reading nook. The designer unified this space by adding shiplap to the nook and stairway walls.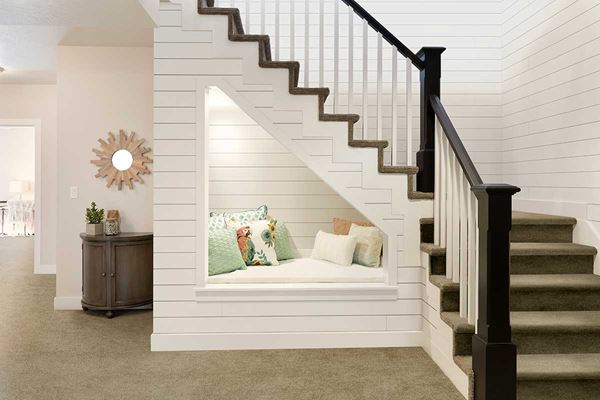 This stair cubby features our prepainted Timeless Farmhouse White shiplap.

READY TO START YOUR HOME PROJECT? FIND WHERE TO BUY.