Creating the Perfect Modern Farmhouse: A Shiplap Collaboration with Palm Grove Farmhouse
Posted 5/13/2020 by Amanda Hall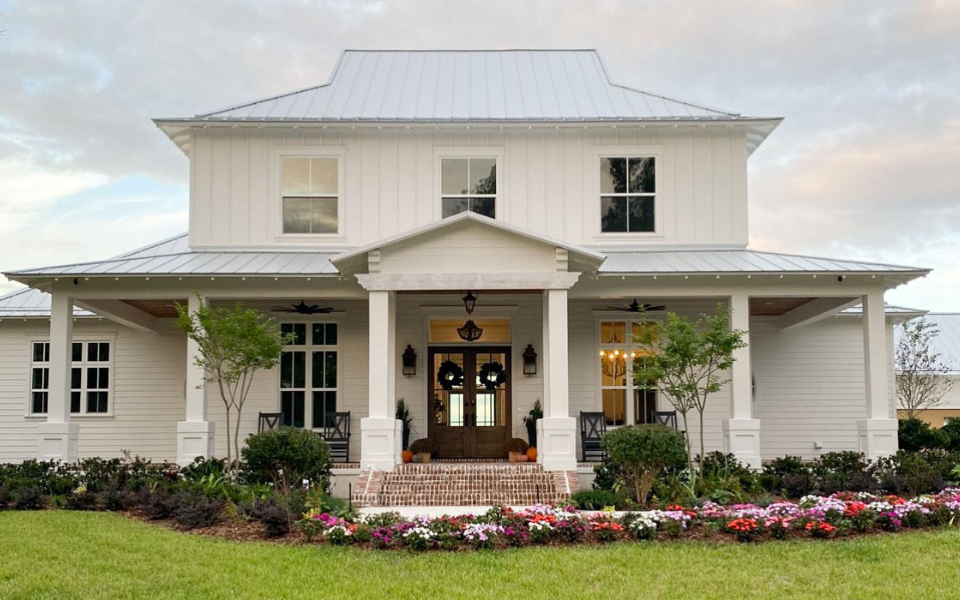 The Modern Farmhouse Dream
We teamed up with interior specialist, Stephanie Wilson from Palm Grove Farmhouse, to showcase some of our stunning shiplap pattern boards. Stephanie and her husband bought a plot of land in Vero Beach, Florida and couldn't wait to build the modern farmhouse of their dreams. Stephanie worked with their builder to make her design ideas come to life.

Check out the entire project from start to finish to see how this beautiful modern farmhouse took shape.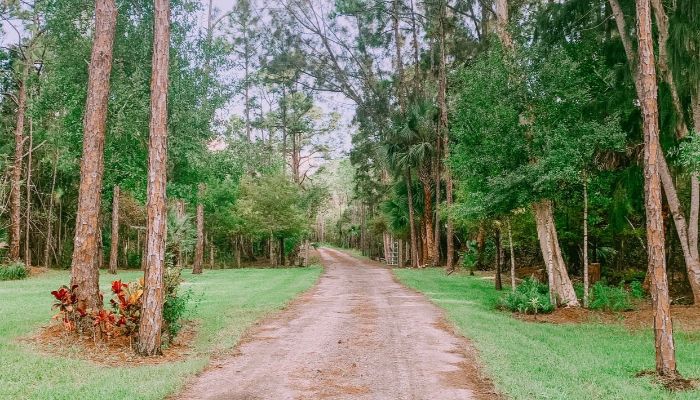 The entrance to Palm Grove Farmhouse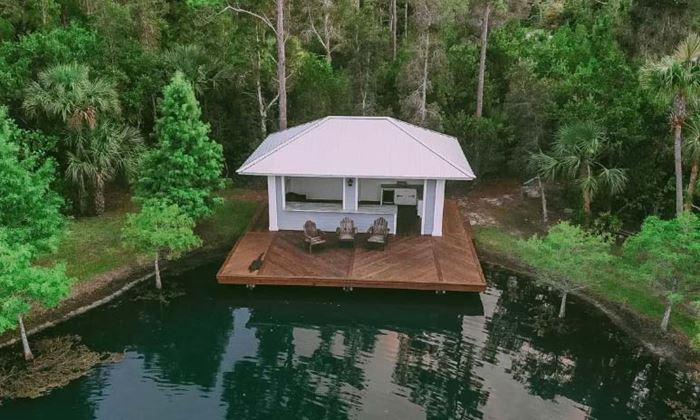 Part of their land includes a pond and pool house– a great spot for relaxation.
The build in progress.
Why Shiplap?
Shiplap goes with a modern farmhouse like butter goes with bread. It's one of the details that makes the style unique. In a classic modern farmhouse, you'll see applications of smooth white shiplap, but that's not the only type of shiplap that works with that style. Stephanie decided on pairing two of our most popular shiplap collections for a look that really pops.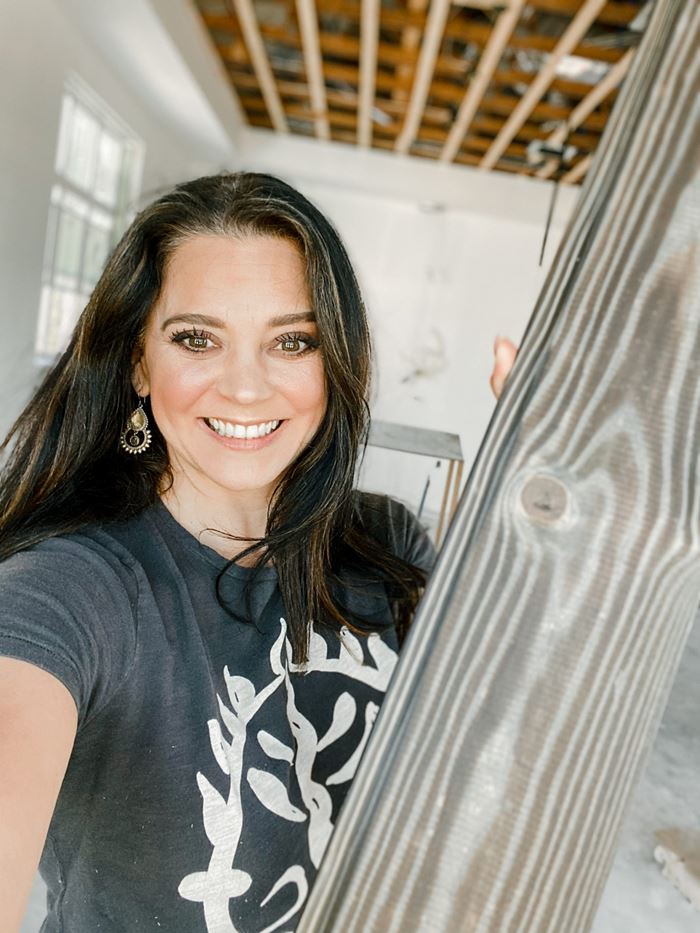 Stephanie selected our Timeless Farmhouse White, Timeless primed, and Charred Wood Ash Gray shiplap styles for her home.
She said she instantly fell in love with our Charred Wood Ash Gray shiplap for "its unique texture and organic feel without having to mess with any stain."
If you're looking for quality shiplap with shortcuts on painting and staining, our prepainted options save on both time and money.
The Modern Farmhouse Shiplap Transformation
Shiplap was installed several different areas of their home including their great room, kitchen, foyer, master bedroom, and pool bath.
Great Room
They first began installing shiplap in their Great Room. They started off by building beautiful square ceiling inlay frames to house the Charred Wood Ash Gray shiplap. The white framing with the contrast of the textured gray shiplap made the ceiling really pop.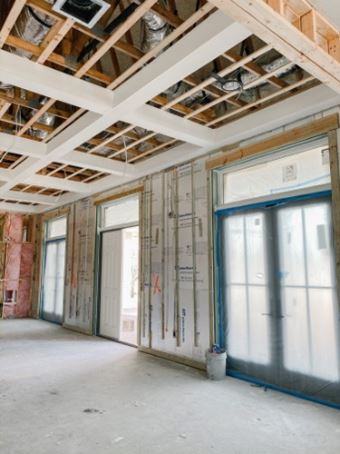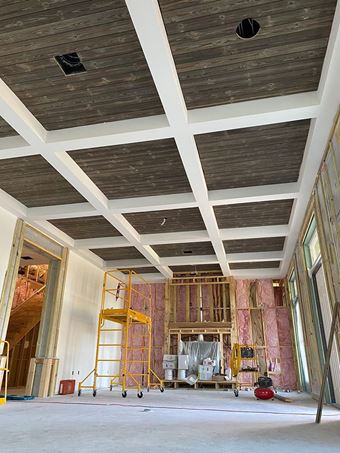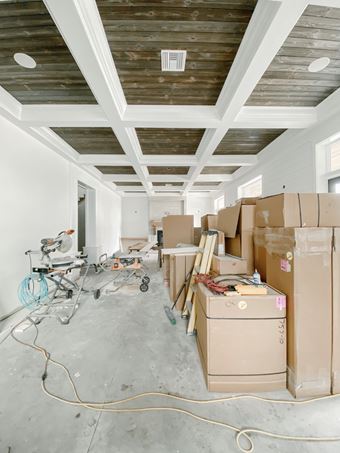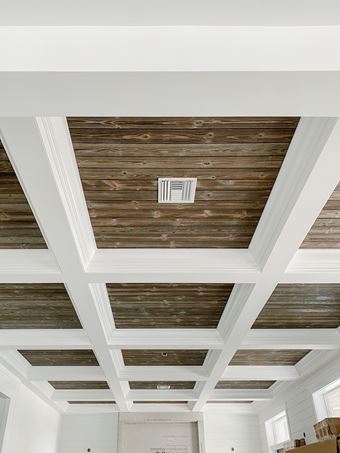 The tray ceilings with our Charred Wood shiplap turned out beautifully! It was a perfect contrast to the white walls and it complemented the other wood in the home.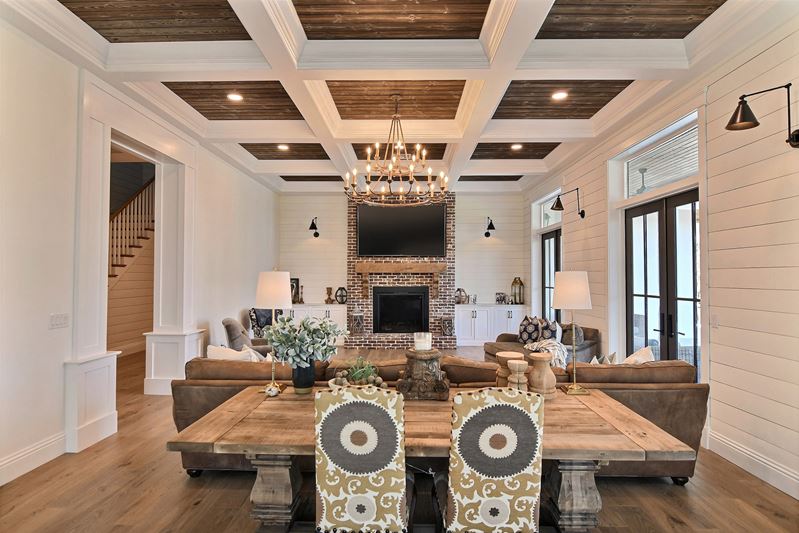 Foyer
In their foyer area, they added ceiling inlays like their Great Room for added consistency and style with our Charred Wood Ash Gray shiplap. The walls were dressed in 1x8 Timeless primed shiplap and painted white.



Staircase
The walls along their staircase were the same 1x8 Timeless primed shiplap.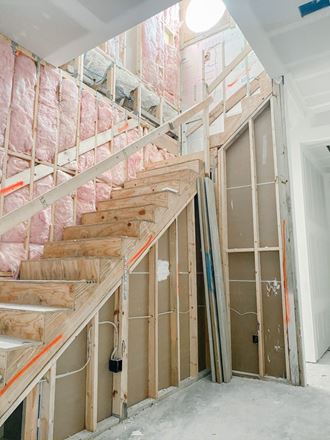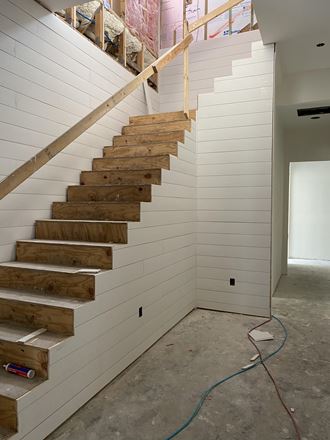 The staircase ended up looking very nice with the crisp and clean lines of our Timeless shiplap. Paired with the warm wood flooring and stair handrails, it was another area in the home with beautiful contrast.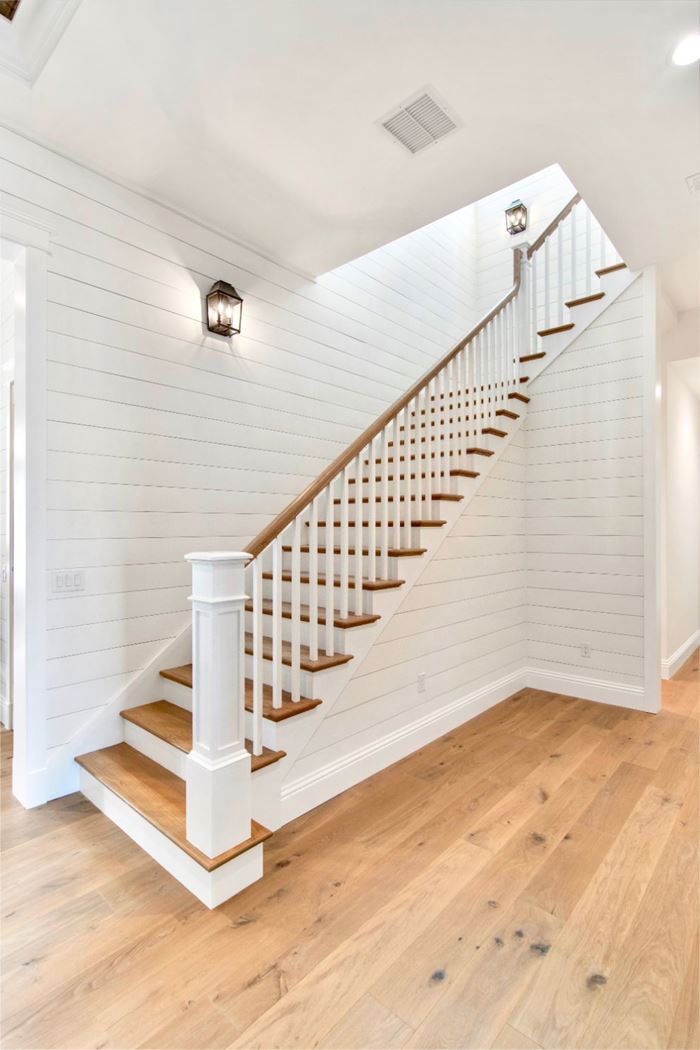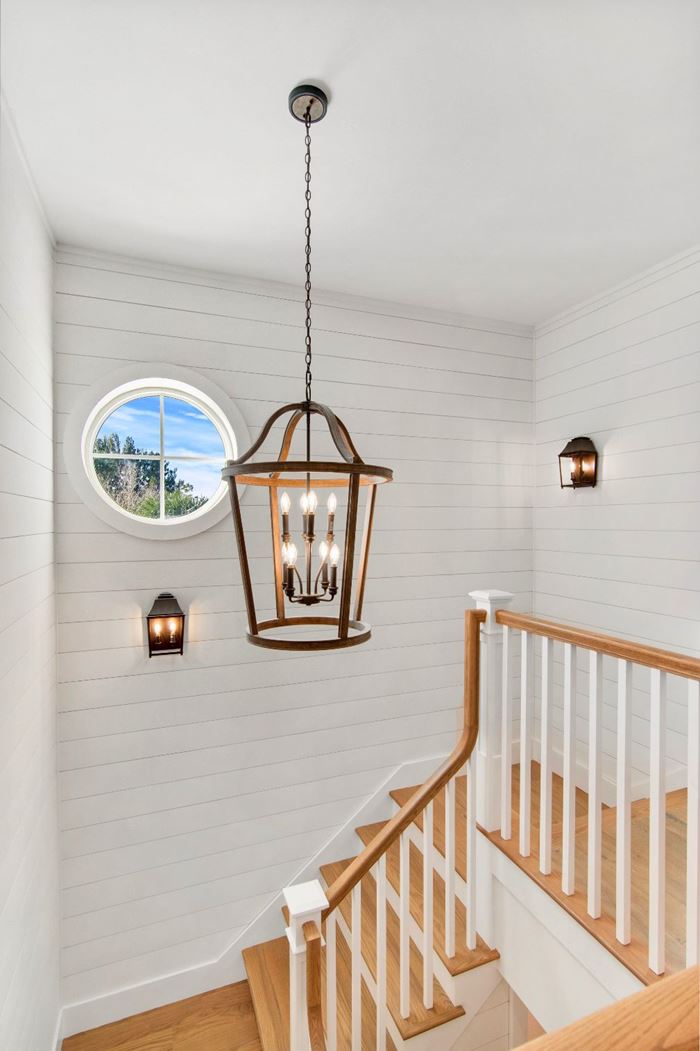 Kitchen
The kitchen ceiling tray was also built with our Charred Wood Ash Gray shiplap.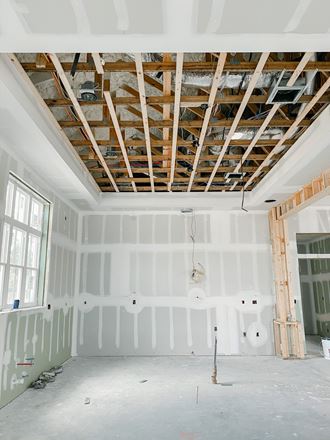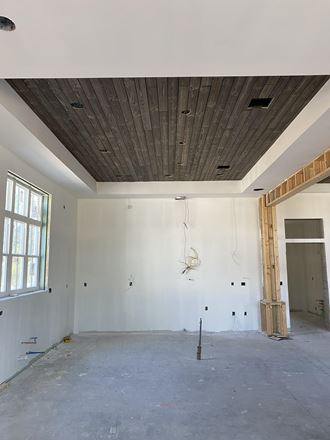 The kitchen turned out to be quite the showstopper with our Charred Wood shiplap––another beautiful contrast with added character to complement the fresh white everywhere else.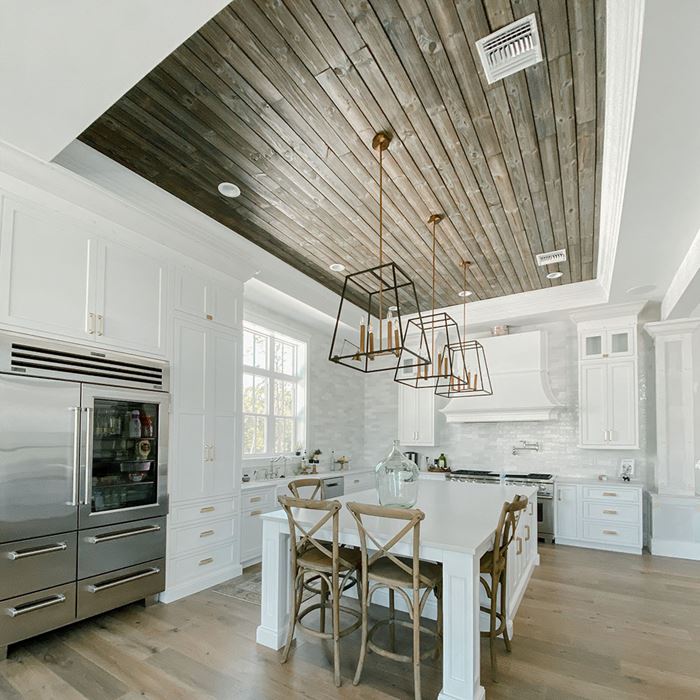 Morning Room
Their morning room was connected directly to their kitchen and they decided on Timeless Nickel Gap Shiplap for the walls and Charred Wood Ash Gray Shiplap for the ceiling inlay.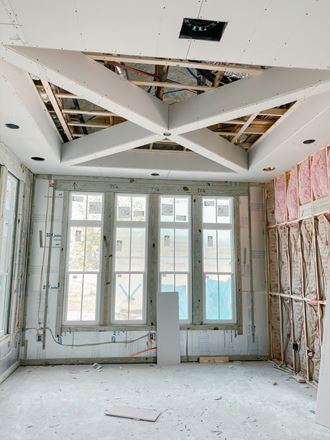 Stephanie said this was one of her favorite rooms in the house and we understand why.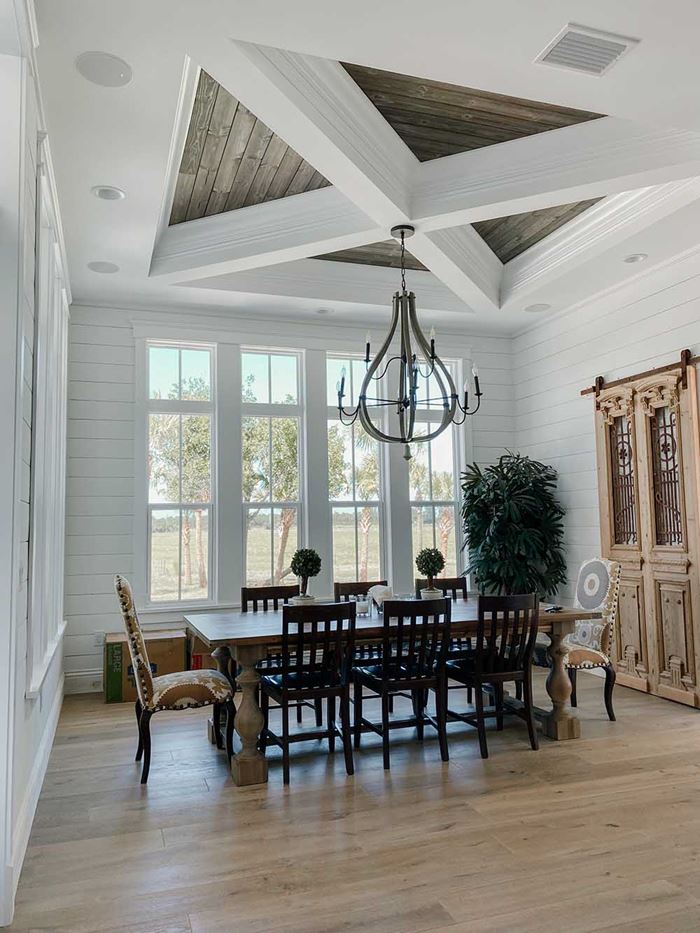 Master Bedroom
In the master bedroom, they decided on a vaulted ceiling with our Charred Wood shiplap.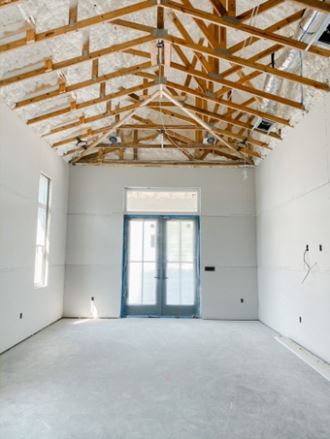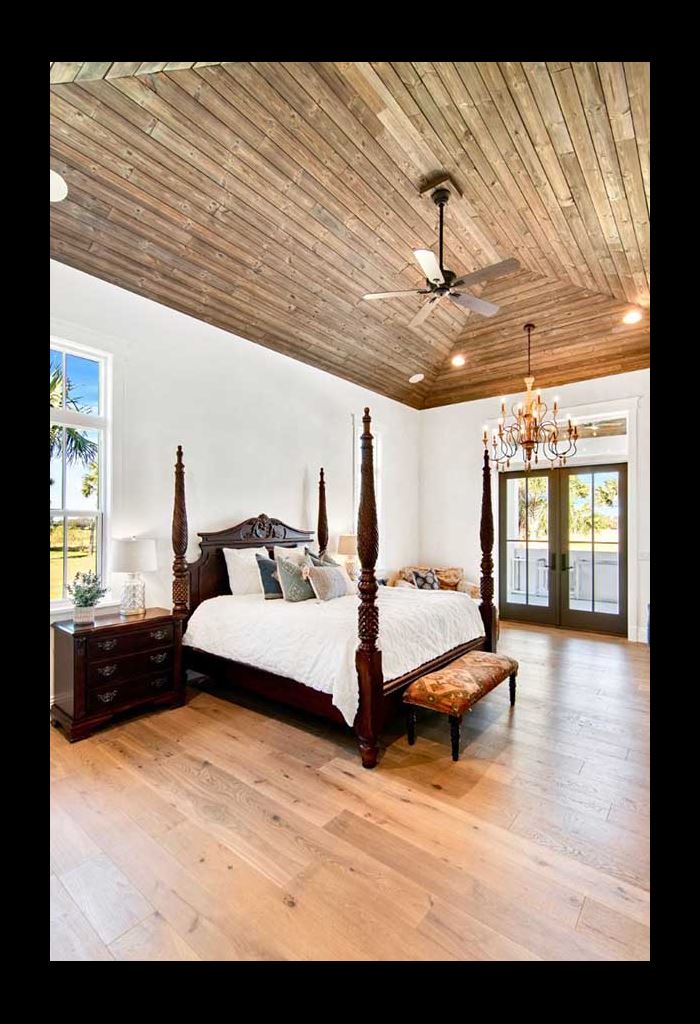 Pool Bath and Powder Room
Their pool bath and powder room took on similar looks with the beloved Timeless Nickel Gap Shiplap on the walls and Charred Wood Ash Gray Shiplap on the ceiling.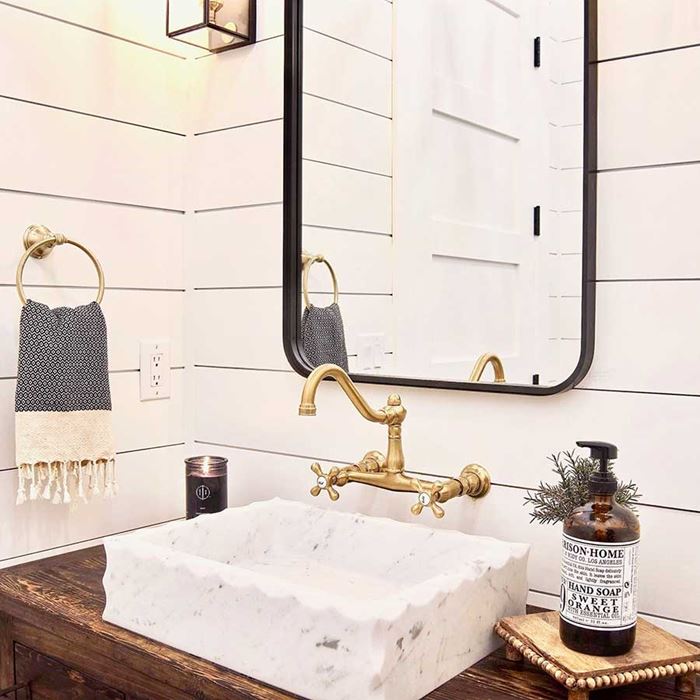 The power room sink and vanity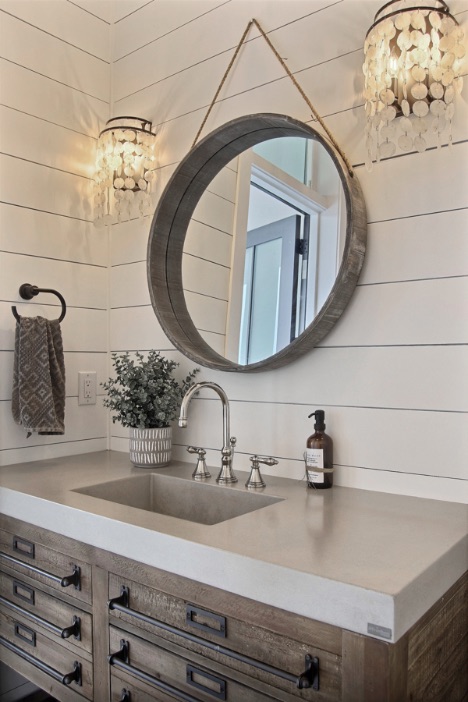 The pool bath sink and vanity

The consistency of design throughout their whole home created an iconic masterpiece. It was a pleasure to work with Stephanie as she and her husband created a legacy home for their family in a classic modern farmhouse style. We hope this project with Palm Grove Farmhouse inspires your home projects!