Easily Cover Popcorn Ceilings With Shiplap
Posted 2/8/2021 by Amanda Hall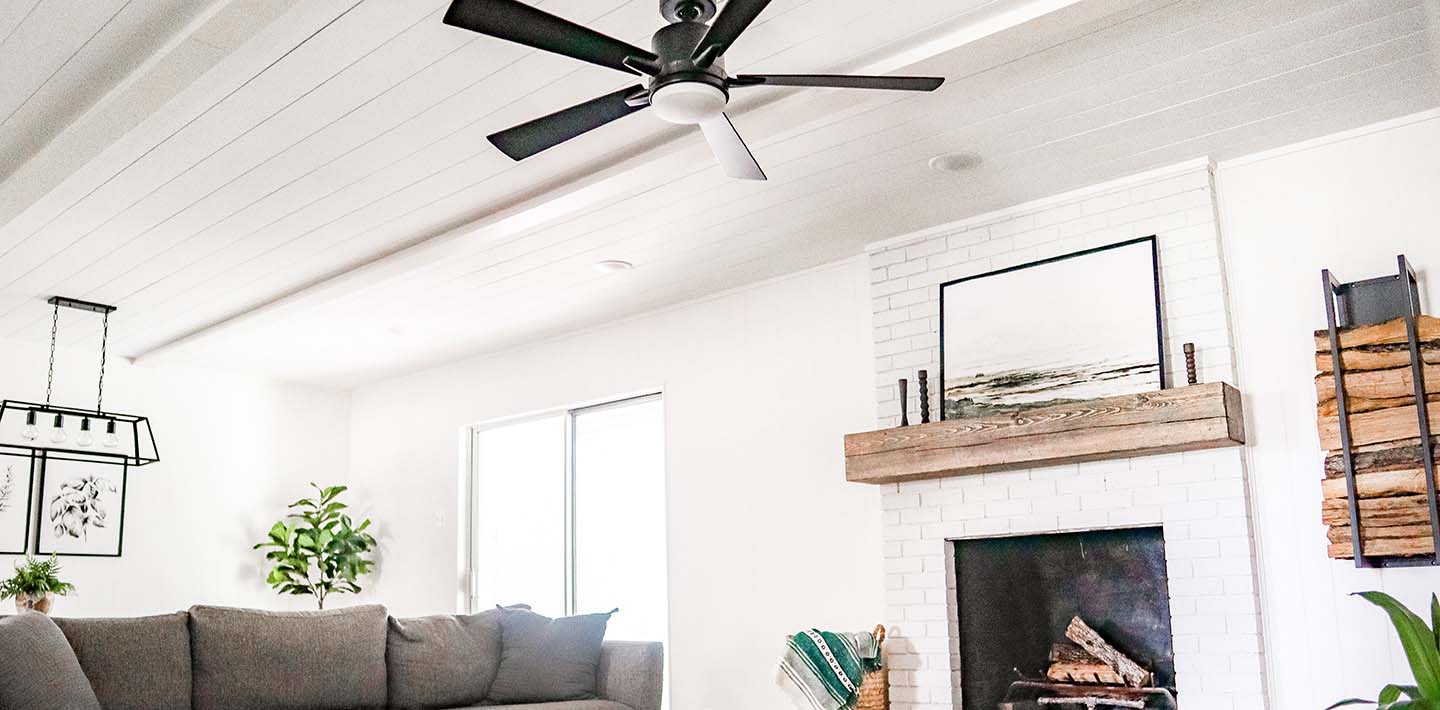 Our prepainted Timeless Farmhouse White shiplap transformed the look of this previously outdated room.
Upgrade your popcorn ceilings with shiplap for a modern look
We partnered with Shelby Coleman and Michelle Wallace from Farmhouse Living who offer e-designs to clients through their online decorating consultation service. They love interior decorating, converting homes into spaces that fit the lifestyle and aesthetic of their clients. We partnered with them in their 1960's ranch, transforming their house into a home with our shiplap.
This mother-daughter design duo wanted to incorporate a more modern look by brightening up their living room and kitchen spaces with shiplap. Popcorn ceilings were very popular around the time this home was built, designed to hide imperfections and create noise-canceling effects, but today they are quite outdated. Shelby and Michelle wanted a ceiling treatment they could install over their original ceilings without having to scrape off the popcorn texture, which is a laborsome task. They decided the easiest way to cover their popcorn ceilings was with our prepainted Timeless nickel gap shiplap.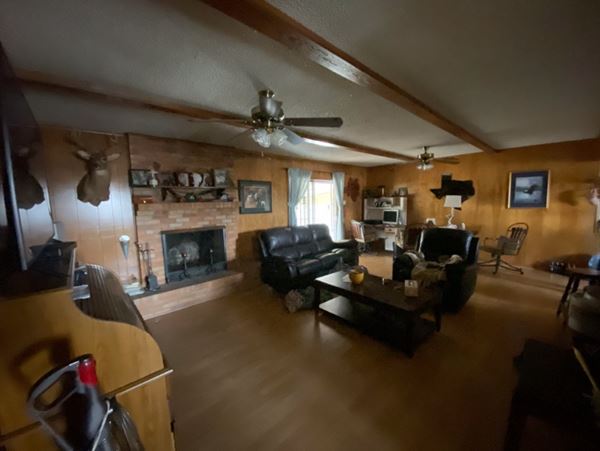 This was the original state of the living room. Notice the popcorn ceilings between the wooden cross beams.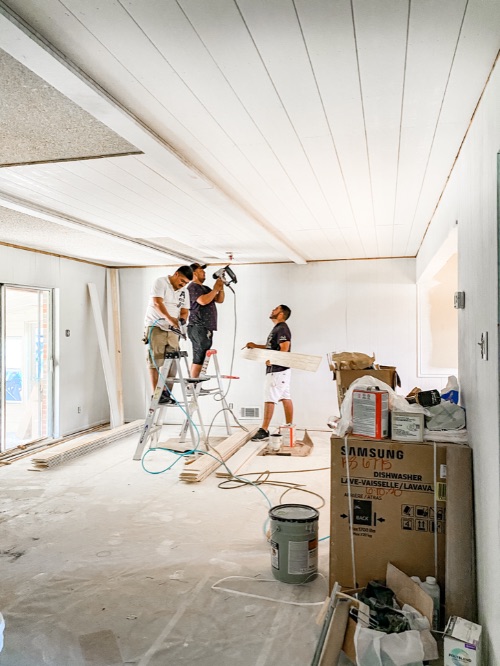 The shiplap being installed directly on top of the popcorn ceilings.
The benefits of installing shiplap over popcorn ceilings
Shiplap ceilings make a room feel taller
Installing shiplap ceilings makes any room feel taller. After their shiplap install Shelby said, "It felt like the ceilings were two feet taller." This is because the shiplap lines draw your eyes up to the ceiling and give the illusion of added height. This can make all the difference in older homes with lower ceilings.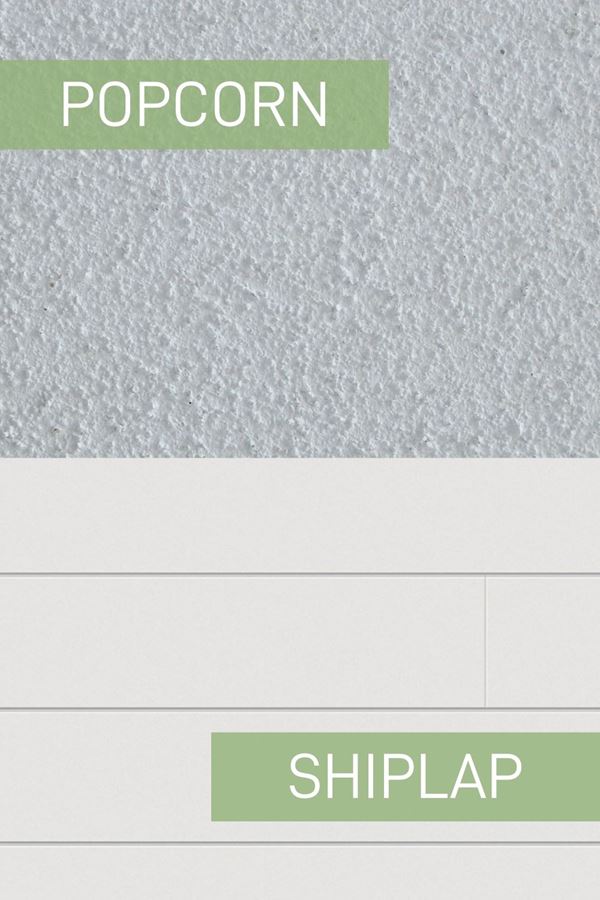 Ditch the outdated, frumpy popcorn texture and upgrade to a more modern look with shiplap.
Shiplap adds timeless character
Shiplap adds timeless character to blank walls and ceilings through texture, color, and clean lines. It brings a subtle dimensional layer that elevates the elements of the room's design. Depending on the look you want to achieve, we offer an array of varying shiplap styles that can complement the interior style. Adding shiplap to a ceiling opens up another area for design and can complete the look. Many people forget that ceilings are essentially the "fifth wall."
Shiplap works with almost every design style
Whether you are designing a coastal, modern farmhouse, traditional or blended-styled home, shiplap works in the majority of homes. "It's a detail that works pretty well transitionally, so you can use it in a lot of different style homes," said Alison Sall, an interior designer in Holland, Mich. Shiplap is not limited to one style and we're seeing it in a variety of homes. It's becoming more of a staple than a trend.
Shiplap is less mess
Scraping a popcorn ceiling is time-consuming and messy. Avoid pesky paint dust in your hair and install shiplap boards right over the bumpy patches–no scraping necessary. Depending on the area you are calculating to cover, a shiplap ceiling can be installed in a day's work, whereas removing a popcorn ceiling will need to be done in several sessions. The huge time-saver with our shiplap is that it comes prepainted so there's an added step we've done for you.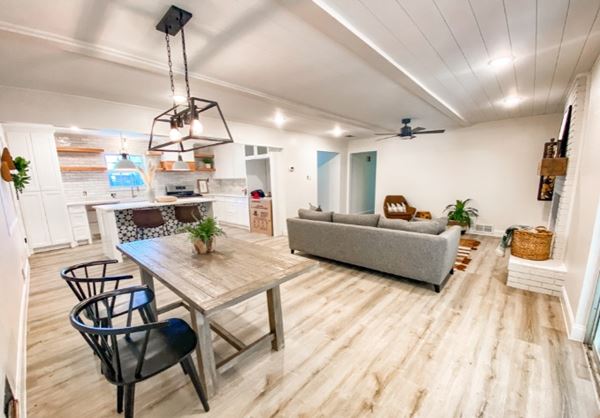 Shelby and Michelle used our Timeless Farmhouse White shiplap to cover their living room and kitchen ceilings.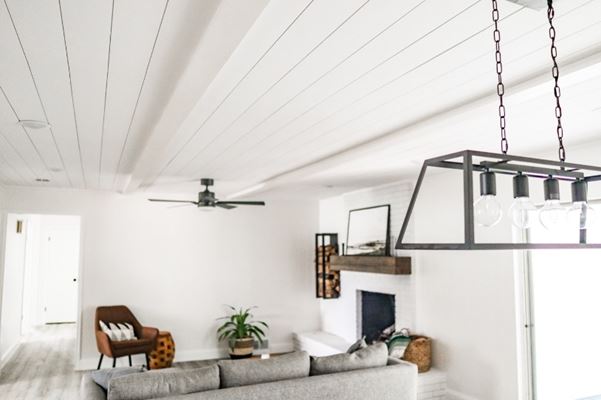 Making the walls, ceilings, and fireplace all white made the previously dark, dimly lit room much brighter.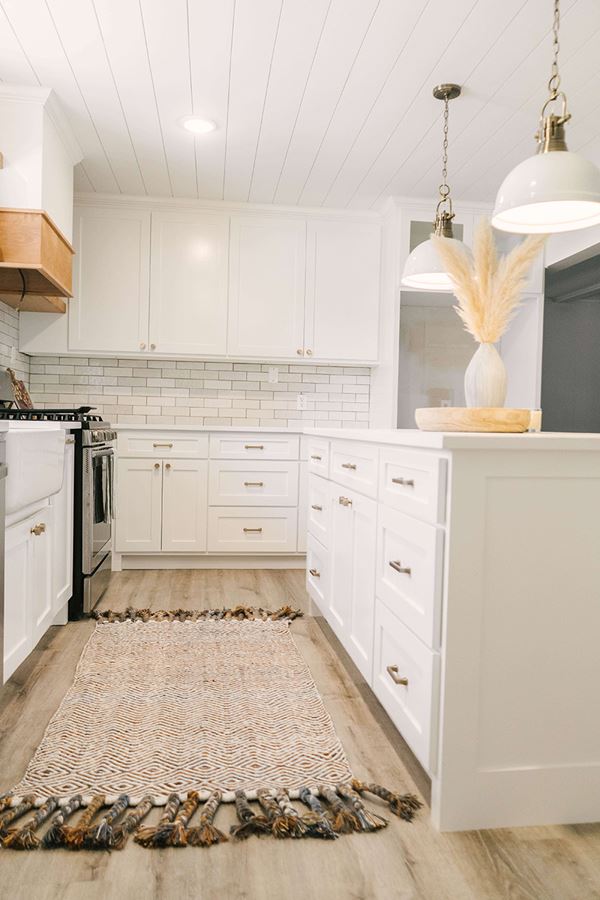 The shiplap ceilings in the kitchen brought in a new texture that complemented the tile and wood flooring.
More Shiplap Ceiling Inspiration
The Charred Wood Ash Gray shiplap in these ceiling trays make a statement in this modern farmhouse. The dark wood grain is a beautiful contrast to the white trays and walls.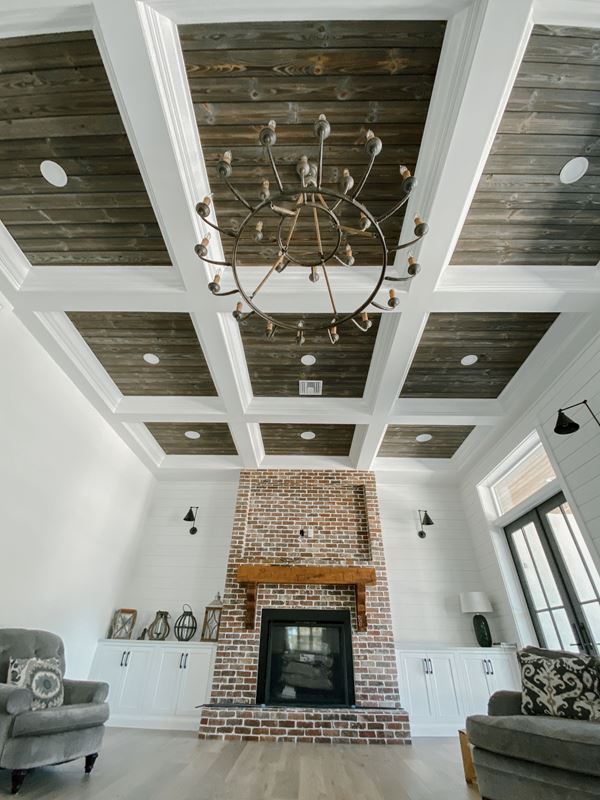 This ceiling features our prepainted 1x6x8 Charred Wood Ash Gray shiplap from our collaboration with Palm Grove Farmhouse.
The Charred Wood Smoke White shiplap in this transitional home created unity in design and completed the look of the room.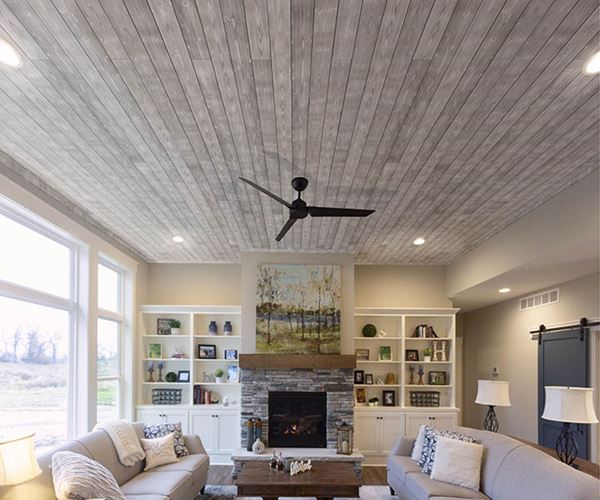 This shiplap ceiling features our 1x6x8 Charred Wood Smoke White shiplap.
If you have popcorn ceilings and you are looking for a modern look, shiplap ceilings will upgrade your home with class and it's easy to install. Looking for more information on how to install shiplap? Check out our product pages.
READY TO GET STARTED ON YOUR HOME PROJECT? FIND WHERE TO BUY.