'Hot' new wood cladding is perfect match for what's trending in home exteriors
Posted 10/4/2021 by Amanda Hall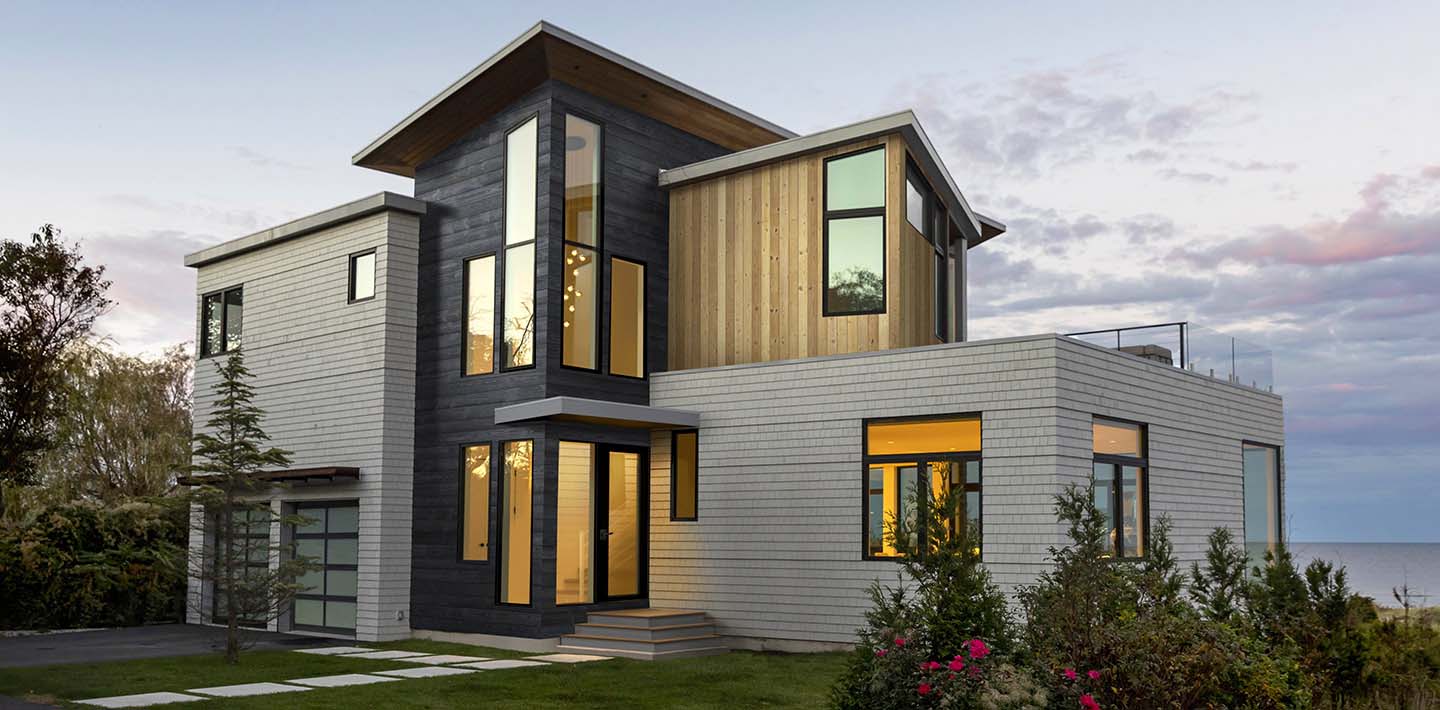 Homeowners no longer have to settle for second best.
Vinyl siding remains one of the most popular exterior cladding materials in many parts of the country, in large part because it's generally more durable than wood and requires less maintenance. But truth be told, many architects and homeowners would prefer wood siding if only it were more practical.
An all-natural wood cladding that performs


Well, the rich look of real wood now is more attainable than ever with our Thermally Modified Wood Collection. The wood cladding goes through an innovative, all-natural treatment process involving heat and pressure. The thermal modification permanently alters the wood fiber at a cellular level, stabilizing and strengthening the boards for years of great-looking durability.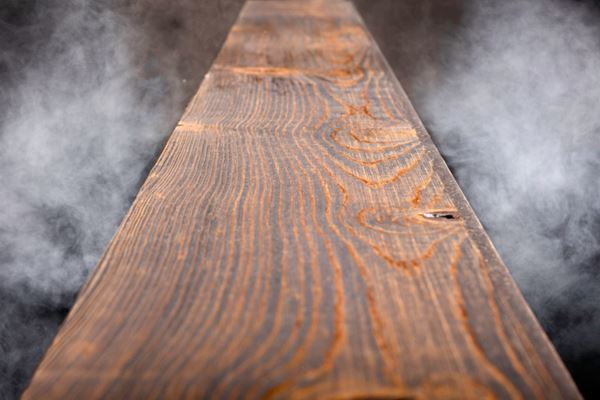 "This process makes the wood less vulnerable to shrinking and seasonal expansion and contraction cycles," said Chris Fox, category marketing manager with UFP-Edge. "What's more, it resists rot and insects for long-term performance. The UFP-Edge Thermally Modified Wood Collection is wood cladding of the future that will give your home great curb appeal."
What is thermally modified wood? It's a hot item, literally! The process involves heating the wood to 320 degrees in an oxygen-free environment, without the use of chemicals. Nitrogen is infused to retain some moisture and prevent wood shrinkage. But as the heat rises, the sugars in the wood are removed and that reduces the moisture content to a very low level.

Low moisture makes the cladding less susceptible to insects and decay and also less vulnerable to expansion and contraction. In fact, Thermally Modified Wood Collection has the highest Class 1 durability rating for timber and comes with a 20-year limited warranty. As a result, thermally modified wood cladding is an environmentally friendly product that adds unmatched beauty to your home for years. All wood cladding will need some maintenance because of its nature, but it will vary depending on the amount of UV exposure.
Top features of thermally modified wood cladding:
- The low moisture content makes the wood lightweight and easy to work with. Plus, the tongue-and-groove interlocking pattern allows for smooth installation on interior walls and ceilings as well as exterior siding applications, with fewer exposed fasteners.
- Not only does the wood's composition change through the thermal modification process, but the appearance takes on a deeper, richer color that looks like stained wood.
- Thermally Modified Wood Collection cladding comes pre-finished in a variety of on-trend colors including Timber Ridge, Glacier, Lost Trail, Big Sky, Wood Smoke and Back Country, or in a classic natural or Hem Fir with a clear coat finish. See why buying prefinished siding has an advantage.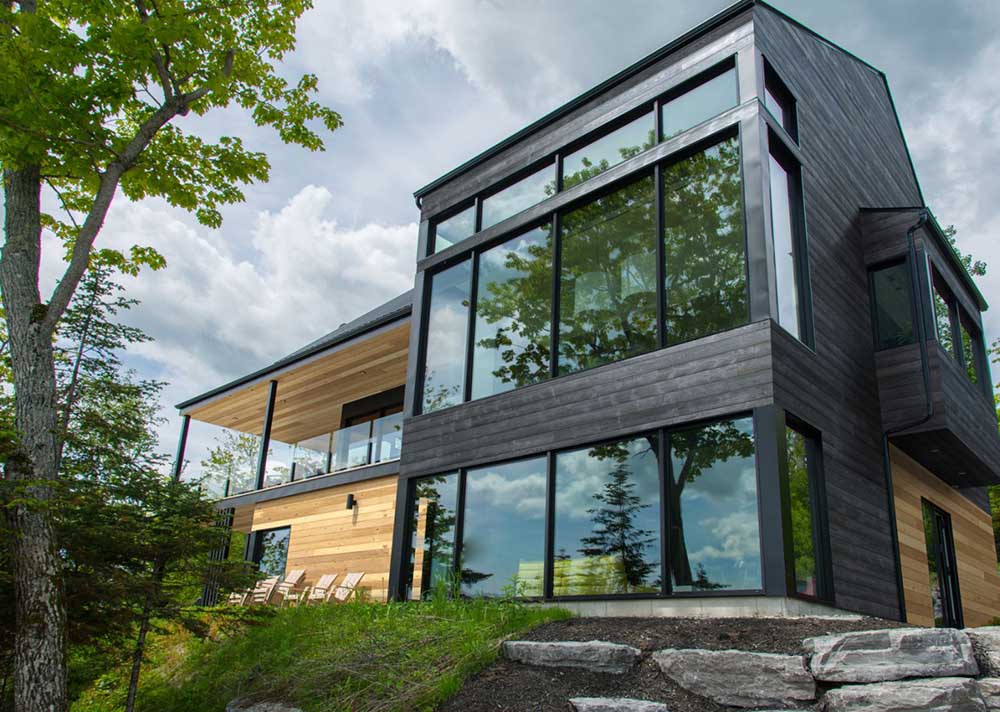 This mountain home retreat is covered in Thermally Modified Wood Cladding in Timber Ridge and Natural colors.


Thermally Modified Wood Collection fits with home exterior trends
The Thermally Modified Wood Collection is a perfect match for emerging home exterior trends. For example, thermally modified wood cladding can be used to create a contrasting color that provides much more visual interest than a monochrome exterior. You could even use two different colors of thermally modified wood cladding.
Likewise, thermally modified wood cladding can be used to complement existing siding and create a façade of mixed materials that's unique to your home. "The home interior has always been considered a place of self-expression," Fox said. "We're seeing a similar thoughtfulness and focus being put into the exterior.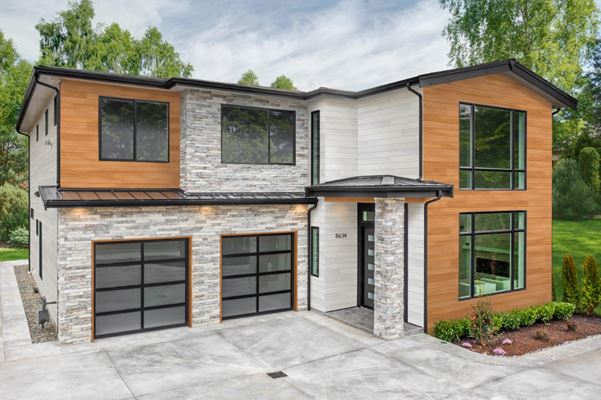 This modern home features brick accents alongside Thermally Modified Wood Cladding in Glacier and natural VG Hemlock.
"Gone are the days of mono-material, single-colored homes. Today, home designs are getting more creative with a wide variety of materials, color contrast and the specific use of shapes and lines."
Calculate How Much Wood Cladding You'll Need
The American-sourced and American-made Thermally Modified Wood Collection comes one inch thick and six inches wide in lengths of eight to 16 feet. You can use the Coverage Calculator here to figure out how many kits you'll need to complete your project.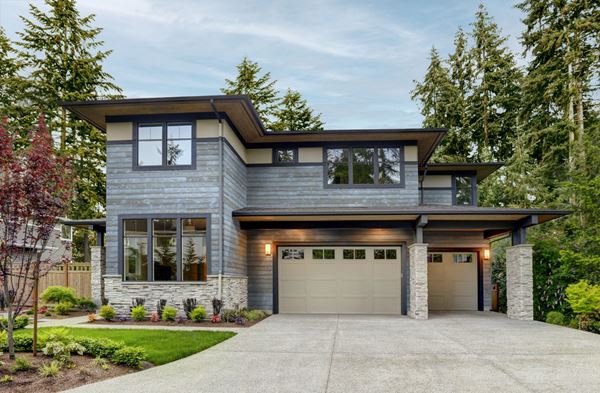 Modern home featuring two-tone, prefinished Thermally Modified Wood Cladding in Big Sky.
READY TO START YOUR NEXT PROJECT? FIND WHERE TO BUY.