Shiplap Accents Create 'Elegant Tattoo Parlor' Vibe For Ny Taco Shop
Posted 12/8/2022 by Amanda Hall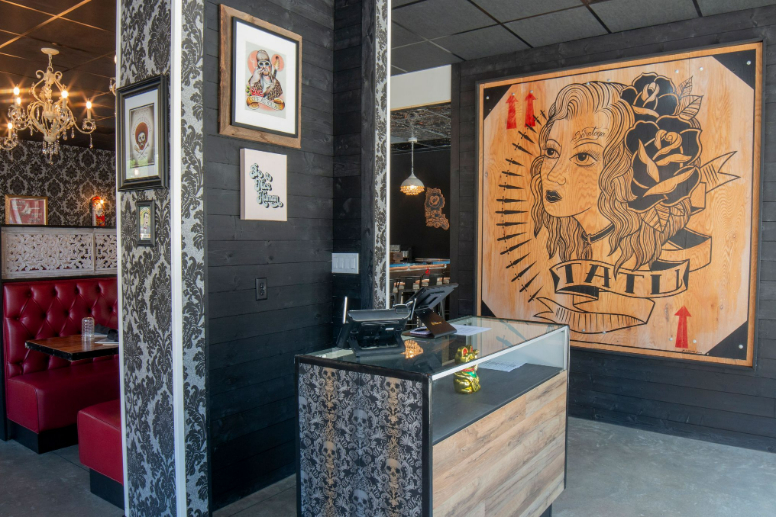 It's not often that you can go to a museum or gallery and see the work of tattoo artists. Even less often, of course, that you can enjoy a delicious meal at the same time. At Kareem NeJame and Jennyfur Spaulding's new restaurant in upstate New York, you can do both. Tatu Tacos & Tequila pays homage to the ancient Mayans who were pioneers in both tattoos and tacos. The eatery serves cuisine from Mexico's Yucatán Peninsula in a new building with an "elegant tattoo parlor" décor.
"Mayans were one of the first civilizations in history to start recording stories by using ink on their skin," said NeJame, chef partner of the restaurant that operated the past two years in Saratoga Springs before opening in downtown Troy, just north of Albany. The Yucatecan dishes at Tatu received rave reviews in Saratoga Springs. Yet, as much as the food does, the look of the new restaurant charms the senses. The 2,600-square-foot, street-level space features a modern Gothic vibe with vintage damask wallpaper, black leather seating and black shiplap as a backdrop for tattoo art.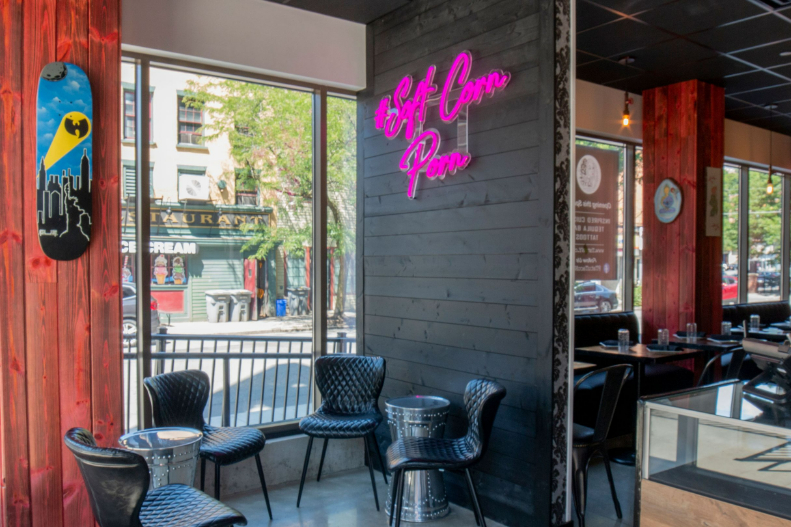 Murals created by tattoo artists hang on walls accented with Native Woods Nightfall shiplap, which NeJame and Spaulding also have installed around the main bar area, behind the host stand and in other areas including a "#SoftCornPorn" feature wall where guests snap Instagram pics.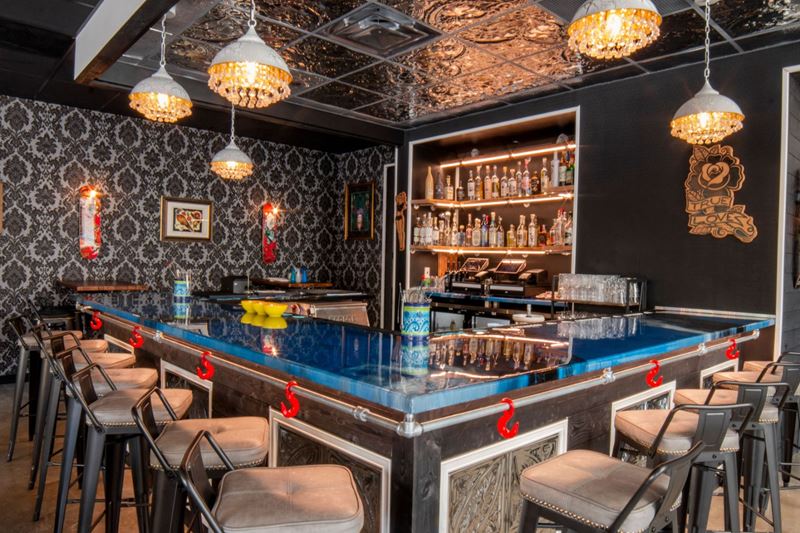 "I love the texture and the feel of (Native Woods Shiplap). I love how you can see the natural wood grain," said Spaulding, design partner for Tatu. "It's so versatile. It could be modern. It could be urban. I wanted something that was neutral for me to put artwork on, and I thought the black would go good. I just love all the different color choices."
Native Woods is the newest addition to our shiplap and pattern that also includes Timeless Nickel Gap, Charred Wood, Rustic, and Thermally Modified Wood collections. The new tongue-and-groove wood cladding makes a stunning impression on walls, ceilings and select covered exterior applications such as soffits and porches. The wood planks come pre-finished in a variety of on-trend colors – or in a natural tone – and in varying lengths between 8 feet and 16 feet.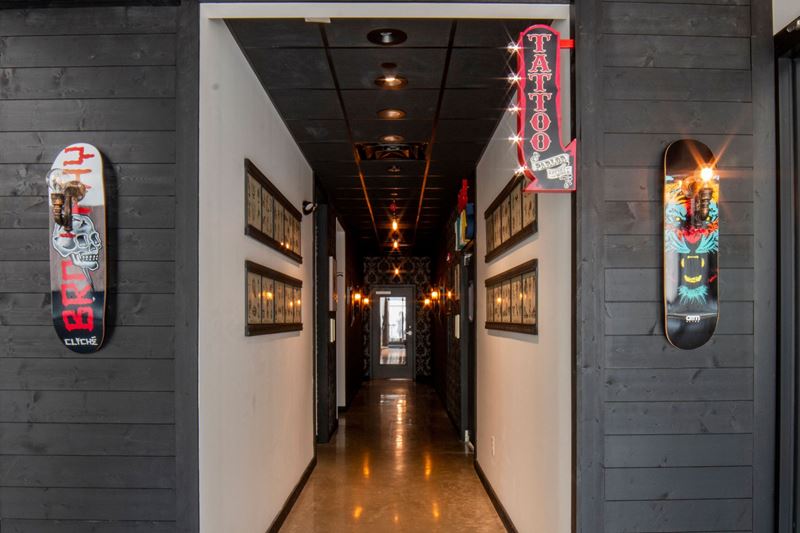 "The charm of Native Woods shiplap is in the native knots and grain of the wood," said Chris Fox, category marketing manager for UFP-Edge. "Each board features a unique woodgrain pattern beneath a smooth surface. The interlocking board pattern allows for a consistent nickel gap reveal and a secure installation with fewer exposed fasteners. And because every board is end-matched, installation requires fewer cuts for less waste."
Spaulding and NeJame first came across our diverse selection of UFP-Edge shiplap when designing the original Tatu in Saratoga Springs. They found it at Ace Hardware and loved the different color palettes and the feel of the wood. You can also find UFP-Edge products at home improvement stores such as The Home Depot and Lowe's. Search our where to buy to find a location near you.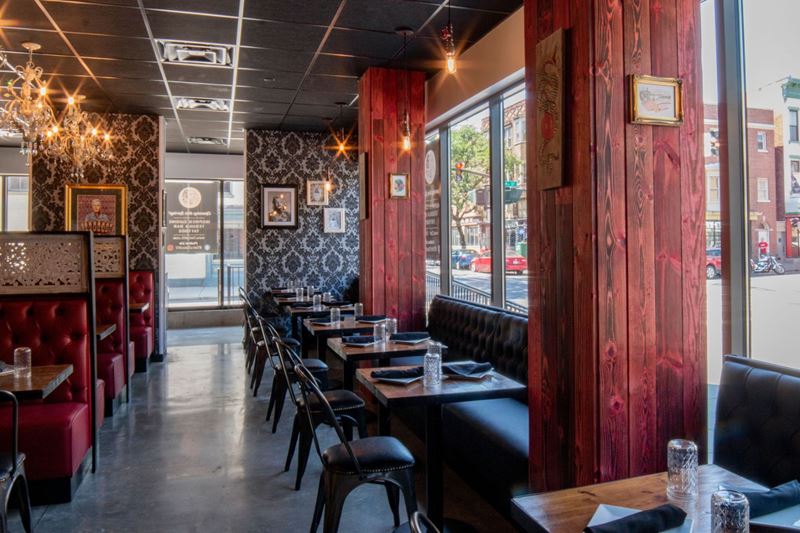 The original Tatu featured our Charred Wood shiplap, and Spaulding and NeJame used a custom version of that same product, in Lava Red, to wrap the columns of their new space in Troy. Then, for the primary wall treatments in their new location, they opted to go with the newest addition of Native Woods shiplap.
In both cases, Spaulding and NeJame did much of the shiplap installation themselves. The tongue-and-groove profile makes connecting the planks a snap."It's fairly easy to link together and put it up," Spaulding said. "The hardest part is measuring and knowing how to use the saw."
One shiplap installation tip from NeJame and Spaulding's experience: Let the planks sit in the room for a couple days before putting them on the wall.
"Once we got the shipment, we unpacked all of the wood and let it acclimate to the humidity and the temperature of the space before we or our carpenter started working with it," NeJame said. "That way, before anything went up, it was already in its semi-permanent state."

Ready to start your project? Find where to buy.