Front Porch Makeover: Make Your Ceiling Pop!
Posted 9/21/2022 by Amanda Hall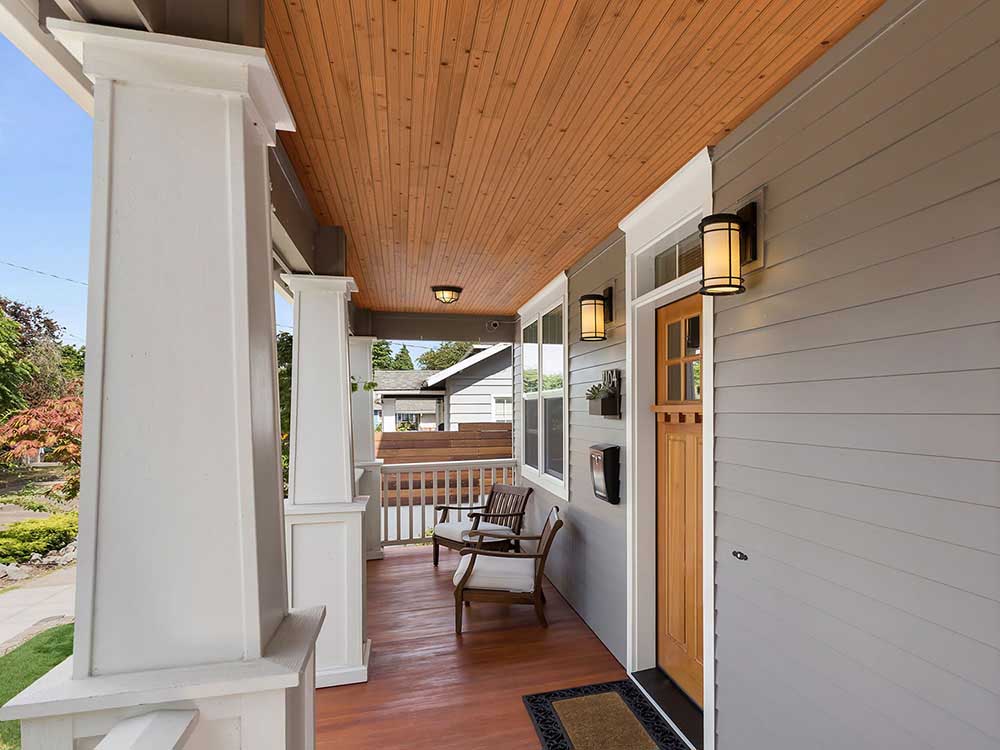 Native Woods shiplap prefinished in our Timberland color option gives this covered porch a striking appearance that complements the front door.
Ah, the front porch. What better summer pastime than to sit in your favorite chair and sip your favorite beverage while you watch the world pass by. Porch sitting has been part of American culture for generations. In the days before air conditioning and television, an evening on the front porch was the way to cool off during the heat of summer and strike up conversations with neighbors walking down the street.
Trends in residential architecture changed through the decades, of course, as technological innovations altered the way we spend our time and made the front porch less a part of our lives. Yet still today, two-thirds of new homes nationwide are built with front porches. And in parts of the South, it's closer to 90%.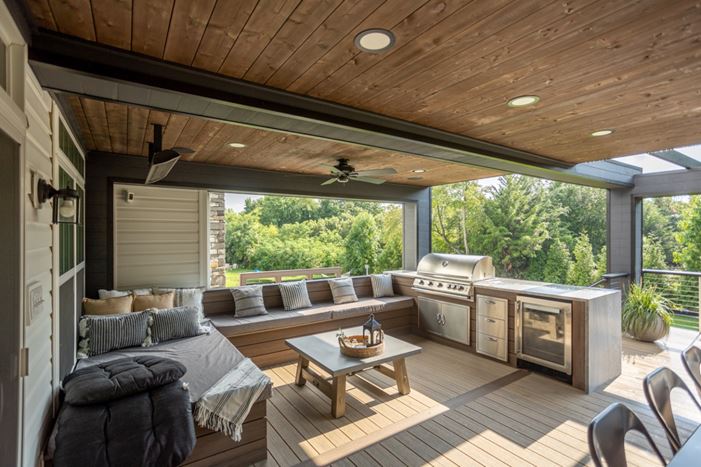 Whether you live in a new home with a front porch or a 100-year-old home where the original owners would have spent lots of time out in a rocking chair, if you're lucky enough to have a covered sitting area outdoors then you should give it the love it deserves!
One way to make your front porch feel more like an outdoor living room is to update the ceiling. In fact, it's a DIY project that you could tackle now so you can enjoy it for the rest of the summer.
Here are four materials you can use on the ceiling to make your front porch really pop: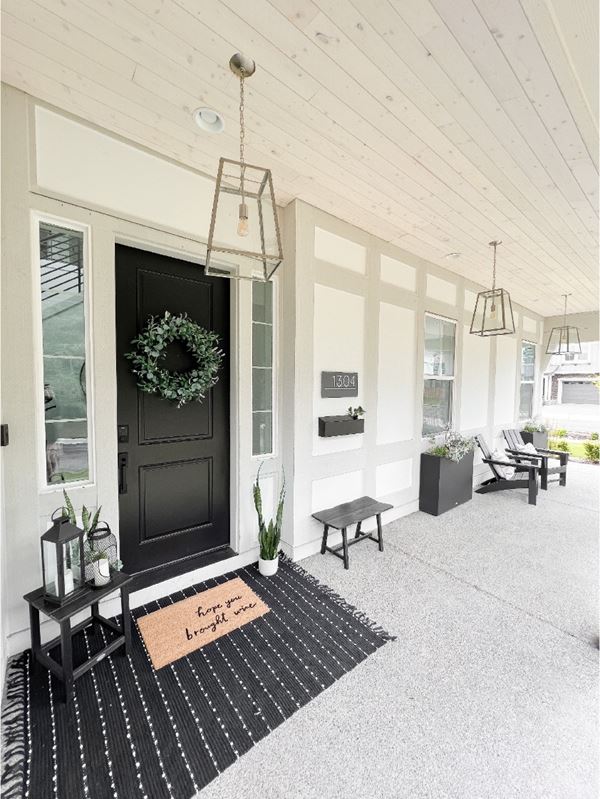 Each board of Native Woods Shiplap features a unique woodgrain pattern with the charm of native knots beneath a smooth finished surface. The interlocking pattern of the wood cladding provides a consistent nickel gap reveal that makes a stunning impression on covered exterior applications such as a porch.

The tongue-and-groove profile results in a secure installation with fewer exposed fasteners. And because every board is end-matched, installation requires fewer cuts for less waste. You can also save time by choosing from nine prefinished color options, so there's no painting necessary.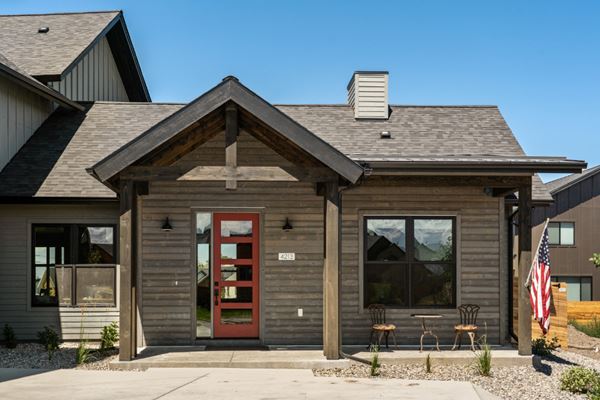 The Thermally Modified Wood Collection boosts curb appeal and ensures long-lasting, low-maintenance performance. The beautiful wood cladding is made from an innovative thermal modification process that both stabilizes the wood naturally with heat and steam to make it less vulnerable to seasonal expansion and contraction and also makes it resistant to rot and insects.
Like the Native Woods shiplap, the tongue-and-groove interlocking pattern of Thermally Modified Wood makes for easy installation. And the boards come in a variety of on-trend prefinished colors such as Wood Smoke, Back Country, Big Sky and more.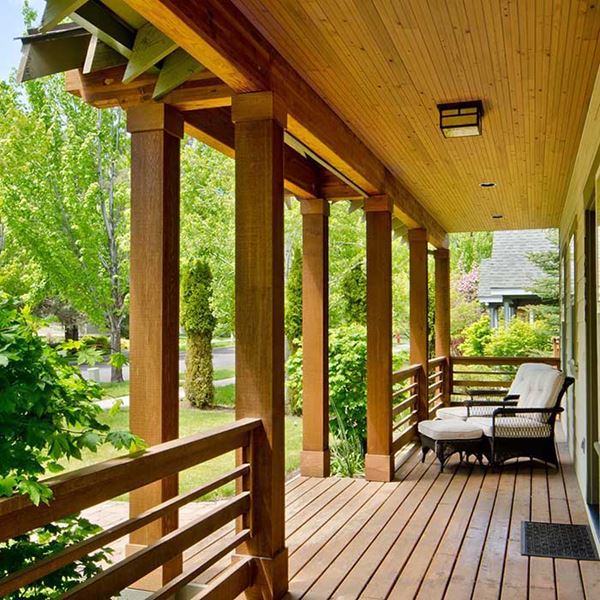 For a natural wood look with a unique texture, there's beaded ceiling boards. The boards are crafted with a tongue-and-groove profile and milled with a center "bead" or semicircular ridge that runs down the face, adding visual interest to your porch.
The Beaded Ceiling boards are thicker than traditional bead board, providing a durable and low-maintenance application. And if you like the texture but want some color, you can paint or stain the boards without any special preparation.
Another great option to update the ceiling of your covered porch is Eased Edge shiplap which is made of the highest-grade lumber available with precise profiling for a uniform appearance. The beveled edge on each side of the boards leaves a consistent groove pattern that creates a clean, crisp and timeless look and feel.
Ease-Edge shiplap is a great alternative to regular shiplap for a more contemporary look. The boards are designed with an eased edge on the top and bottom of each board, providing a sleek, modern finish. The boards can be painted or stained in any color you choose. And they're easy to install.
Eased Edge shiplap can be installed horizontally or vertically. And it comes with a natural wood tone or primed and ready to be painted whatever color you like.
We offer an array of natural pattern boards with a variety of finishes and species.
Ready to start your project? Find where to buy.