7 ways to boost your home's curb appeal
Posted 11/12/2021 by Amanda Hall
Yes, curb appeal is the No. 1 way to make your home more attractive to prospective buyers. But it's not only for making a good first impression. Curb appeal is also about giving your home a fresh spark by making it look and feel a little sexier.
After all, giving your home a makeover is something to do for yourself, not just for the next person who will buy it. Why wait to beautify your home until the last few weeks before you leave it?
Fortunately, home values have surged. And while that's great if you are in fact planning to sell, it's also a good thing if you're planning to stay put because most homeowners now have more equity. And that means greater financial ability to make exterior upgrades that you can enjoy while you still live in your home!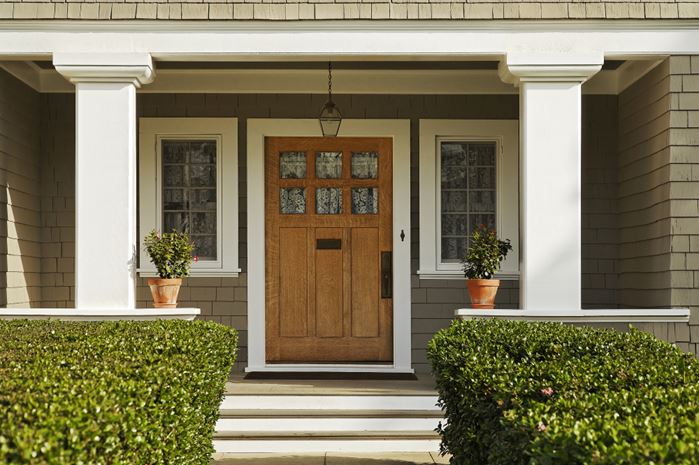 Update your front entry with primed trim and fascia.
Whether you plan to put your house up for sale or live in it forever, here are seven ways to give your home's curb appeal a boost:
1. Update the front entry
Of all the home improvements people make, a new front entry often brings the biggest bang for your buck. You don't even have to replace the door. Repainting the door or adding new trim can change the whole look of the front of your home at less cost.
With our primed trim and fascia, it's even a job you can do by yourself. These primed wood trim boards let you create stunning accents that dress up and protect the exterior of your home, providing years of low-maintenance beauty and enhanced curb appeal.
The same products can be used for the trim around exterior windows and garage doors as well. And because the factory-applied machine coat primer covers all six sides of the board, the trim is protected from the outside elements for durable, long-term performance.
RELATED: How To Choose The Right Exterior Trim For Your Next Project
2. Tidy up the landscaping
It should go without saying that a homeowner needs to keep the lawn looking nice, trim the shrubs and get rid of any weeds. Yet, it's also so easy to let those things go undone. It's like eating right or exercising – you know it's the right thing, but it's not always the thing you want to do!
Make a point of taking time to keep your outdoor space from getting overgrown. And while you're at it, look for areas where you can freshen up the mulch, plant some flowers for added color and edge your gardens or flower beds to keep them looking sharp. You could even put in some new steppingstones, landscaping rocks or raised planters. It's amazing how much the little things add up.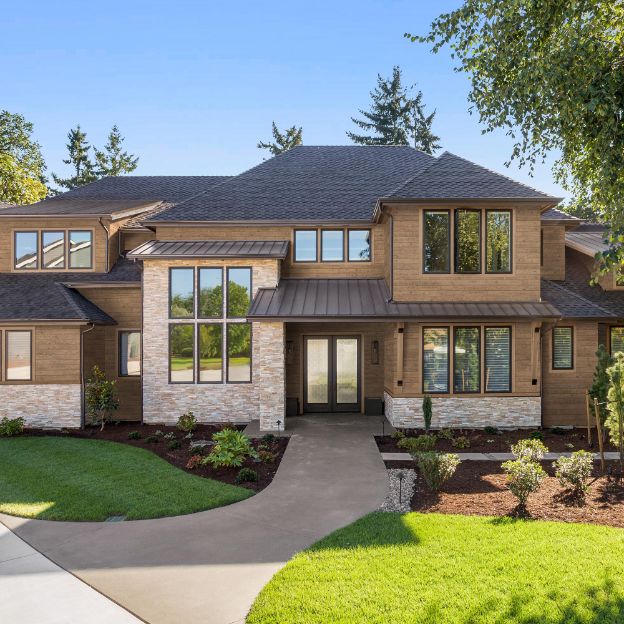 Accentuate the beauty of your home with a groomed yard. This mixed material home features Thermally Modified Wood Collection in Lost Trail.
3. Spruce up your exterior décor
In addition to maintaining your landscape, be sure to keep your outdoor décor fresh and up to date. And have fun with it.
Any items that stay outside for more than a couple months may need a thorough cleaning, which takes some elbow grease. But who doesn't enjoy picking out a cute new sign for the front door? Or some new seating and pillows for the porch?
4. Make your porch really pop
If you're lucky enough to have a covered sitting area then give it the love it deserves. One way to add some pizzazz is by updating the ceiling with square-edge shiplap.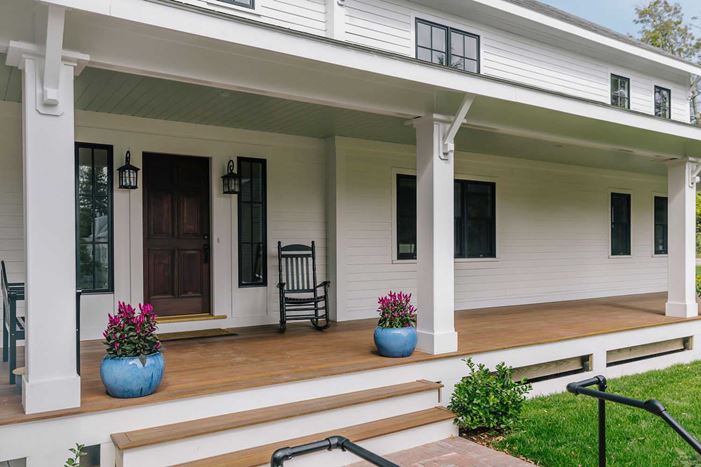 Perfect for exterior applications when sealed or painted for long-lasting protection, the wood boards feature a nickel-gap reveal between planks that adds eye-catching texture and dimension. You can install the shiplap on your porch ceiling horizontally, vertically or in any unique pattern you choose!
RELATED: A Guide To Understanding Common Wood Siding Patterns
5. Give your home a fresh face
You're not stuck with the look of your home's exterior. Many kinds of siding can be painted a different color to give your entire house a new vibe. You don't have to be stuck with the same old style, either.
There's beauty and charm in our wood siding options. Each exterior cladding piece is meticulously crafted for both functionality and to enhance the beauty of the home. With several profiles, prefinished colors and wood species to choose from, you can give the outside of your home just the right personality to match the people who live inside it!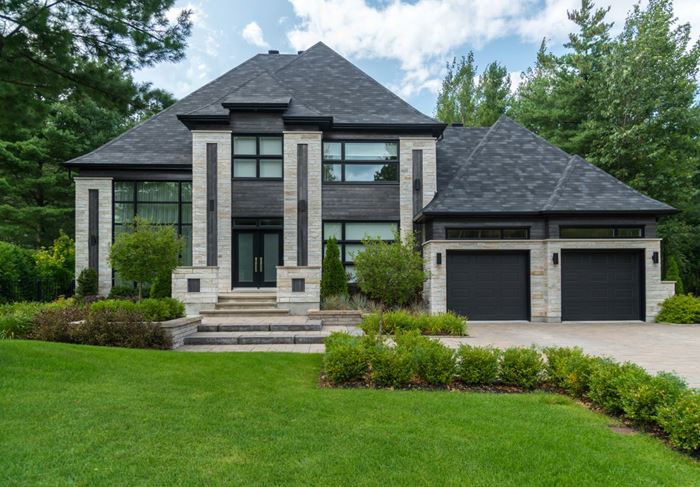 This modern exterior features Thermally Modified Wood Collection in Timber Ridge.
6. Let there be light
Solar lighting, string lighting, step lighting, spot lighting, up-lighting, downlighting…whatever kind you prefer, just let the outside of your home shine!
Exterior lighting not only makes your home stand out among your neighbors, but it also improves your nighttime experience of living there by providing aesthetic beauty, improved safety and increased function of your property after dark.
Use Native Woods shiplap or Thermally Modified Wood Collection as a covered porch or soffit application.
7. Add some special touches
Sometimes it's the little things that make the biggest difference, that draw your eye to something you've maybe never even considered before. That's the case with using Thermally Modified Wood Collection cladding.
An innovative heat and steam treatment stabilizes the wood naturally, making it less vulnerable to seasonal expansion and contraction and at the same time resistant to rot and insects for long-term performance. And with the option of a natural look or several on-trend prefinished colors, the easy-to-install tongue and groove cladding makes a stunning impression on select covered exterior applications such as porches and the soffits underhanging your roofline.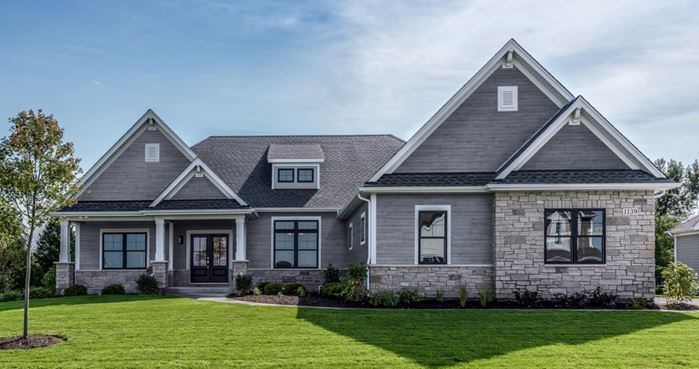 This home features Thermally Modified Wood Collection in Big Sky. See more prefinished options.
READY TO START YOUR PROJECT? FIND where to buy.