Check Out the Ceilings on These Gorgeous Custom DreamDecks
Posted 2/15/2023 by Tyler Thayer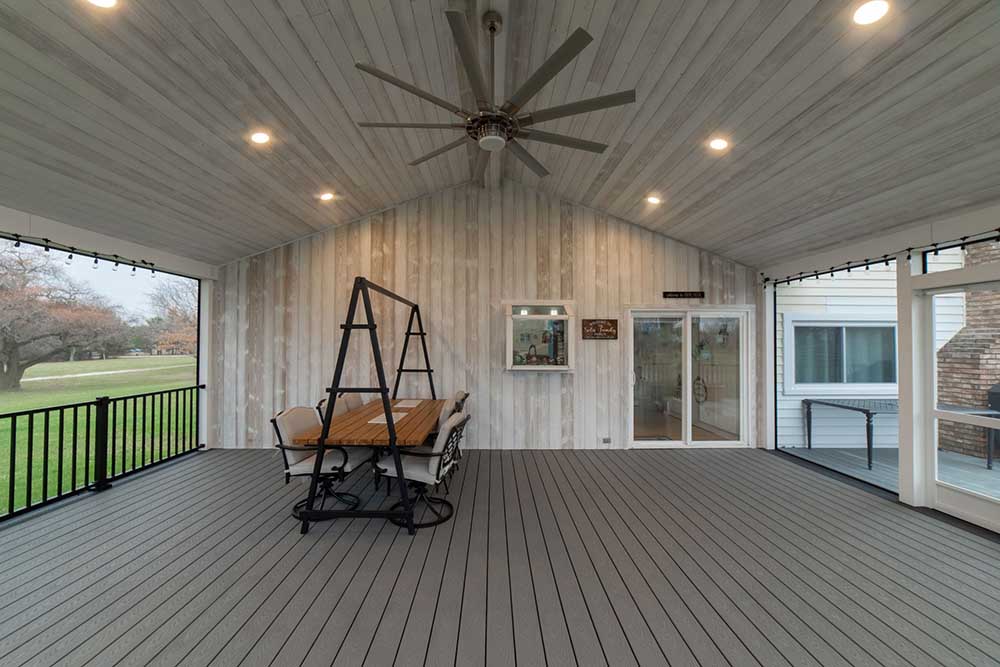 The custom deck builder has been using the great-looking and easy-to-install wood cladding on ceilings, underdecks, and accent walls in their recent projects in northeast Ohio and East Tennessee.
"We've really gotten away from staining pine or cedar and are just using this prefinished product," Brown said. "Anyone that ever expresses interest in a wood ceiling, I show them this and they fall in love with it."

Take a look at these four gorgeous DreamDecks projects using Thermally Modified Wood Collection:
1. CATHEDRAL CEILING PAVILION FEATURING THERMALLY MODIFIED WOOD NATURAL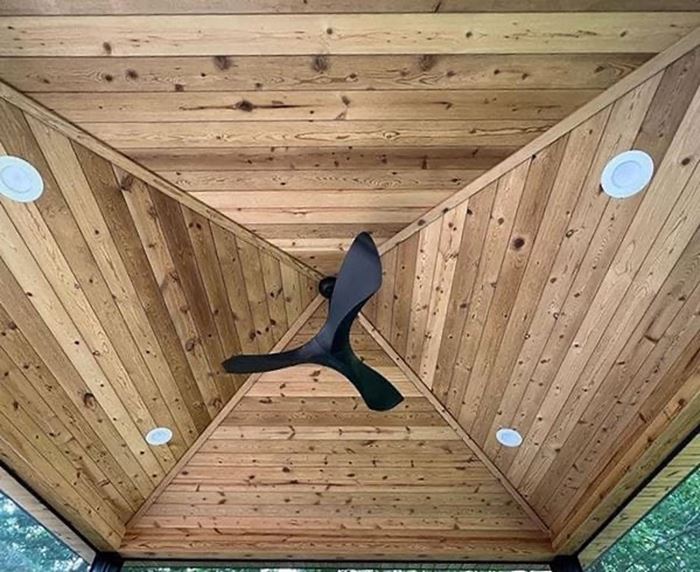 When the client's budget allows, DreamDecks likes to add a few special touches to the custom outdoor living areas they build. That was certainly the case with this screened-in pavilion in the backyard of a home near Cleveland. Brown's team built a cathedral ceiling and finished it with natural Thermally Modified Wood Collection planks.

The natural wood grain shines through and the tongue-and-groove profile of each board creates a striking nickel gap reveal.

"It's a cool product," Brown said. "Super unique. It just stands out from everything else. It pops."
2. COVERED BACKYARD PORCH FEATURING THERMALLY MODIFIED WOOD GLACIER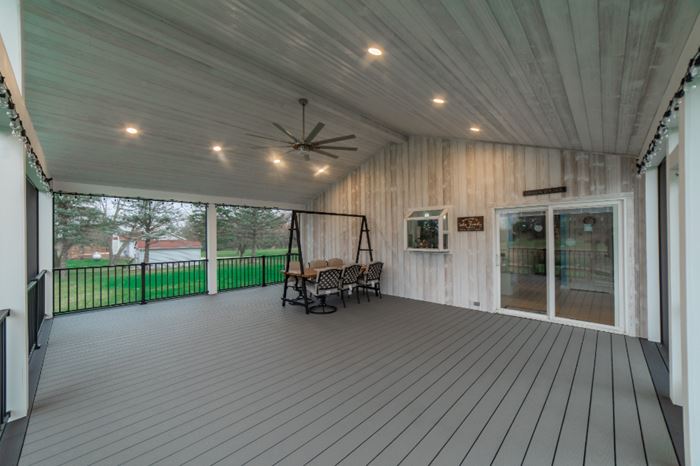 The Thermally Modified Wood Collection comes in a variety of on-trend, prefinished colors including Glacier, which DreamDecks used both on the cathedral ceiling of this screened-in porch and on the exterior wall of the house to create a cohesive space that feels more like an outdoor living room than just a deck or patio. As you can see, the wood grain shows through the color, too.

"We like coming across a product like Thermally Modified Wood that really does set a space off and define it," Brown said.

The premium wood siding comes in 6- or 8-inch widths at lengths of up to 16 feet. In this project, DreamDecks installed planks with 6-inch widths on the ceiling and planks with 8-inch widths on the wall.
3. DECK AND STAIR UNDERSIDE FEATURING THERMALLY MODIFIED WOOD NATURAL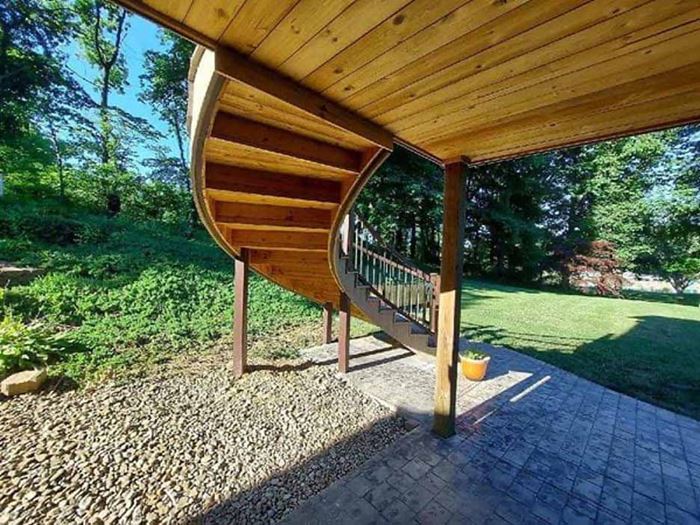 Thermally Modified Wood Collection was the ideal product for the underside of this deck, creating a nice outdoor living space on the patio below. Brown's team also built a curved staircase between the two levels and trimmed out the back side of the steps with Thermally Modified Wood.

"That was really cool to be able to blend all the finishes, from the ceiling to the underside of that curved staircase" Brown said. "I really love the versatility of it. It really allows us to be creative and use our craftsmanship."
4. ROOF GABLE ACCENT FEATURING THERMALLY MODIFIED WOOD NATURAL
The most recent DreamDecks project featuring Thermally Modified Wood Collection involved building a roof over an existing patio. Brown's team created a brilliant focal point for the room by closing off the gabled end of the roof and highlighting it with Thermally Modified Wood Collection natural shiplap.

"That's where the TV is going to go," Brown said. "Whether the project is large or small, we can use UFP-Edge Thermally Modified Wood Collection and add a little creativity to things."
Aside from the aesthetic benefits that customers appreciate, Brown loves how easy it is to work with our Thermally Modified Wood Collection. There's no need to stain the boards on site since they come pre-finished in a variety of on-trend colors. And far fewer cuts are needed.

Because the boards are end matched with a tongue-and-groove edge on each side, they connect together easily for a speedy installation.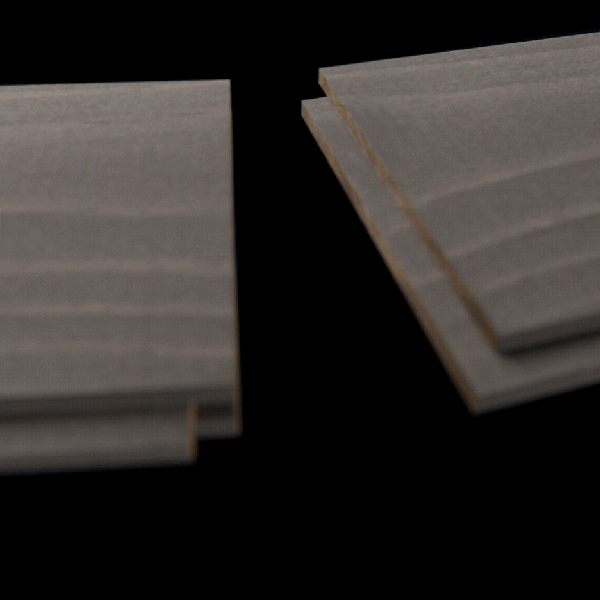 "Essentially, you don't have to break a joint on a joist," Brown said. "You literally can run a full board and no matter where it ends, you can pick up the next and run with it. You're not having to call out a specific length and wait for the cut when you have longer runs."

Another benefit with the Thermally Modified Wood Collection is the innovative, all-natural heat and pressure treatment process it goes through. Thermal modification stabilizes the wood, making it more durable than typical wood siding and less vulnerable to rot and to seasonal expansion and contraction.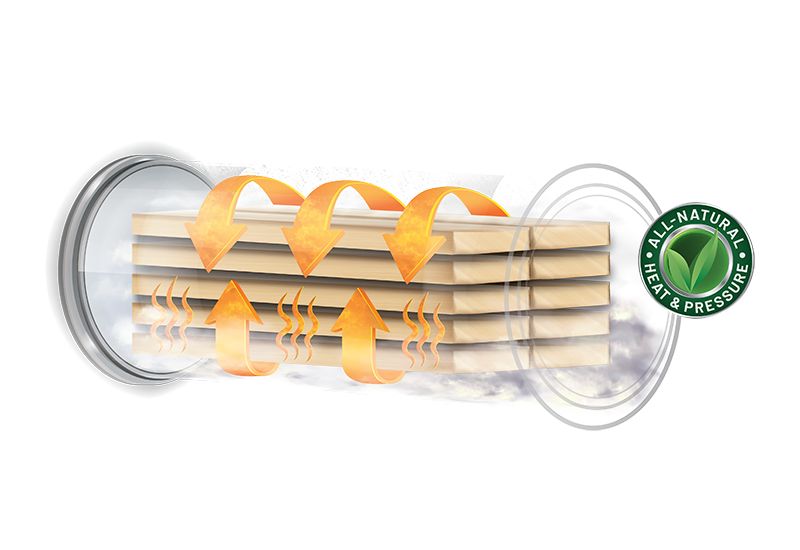 "We're in northeast Ohio. We've got those climate swings where you've got the hot summers and then really cold winters, so we need a product that can withstand that," Brown said.

"Not only are we going to give you a natural wood ceiling, but it's also going to be protected. That's big. It's kind of like insurance that we're able to offer."
Ready to start your project? Find where to buy.