How UFP-Edge 'really changed the game' for this dock & deck builder
Posted 5/27/2022 by Amanda Hall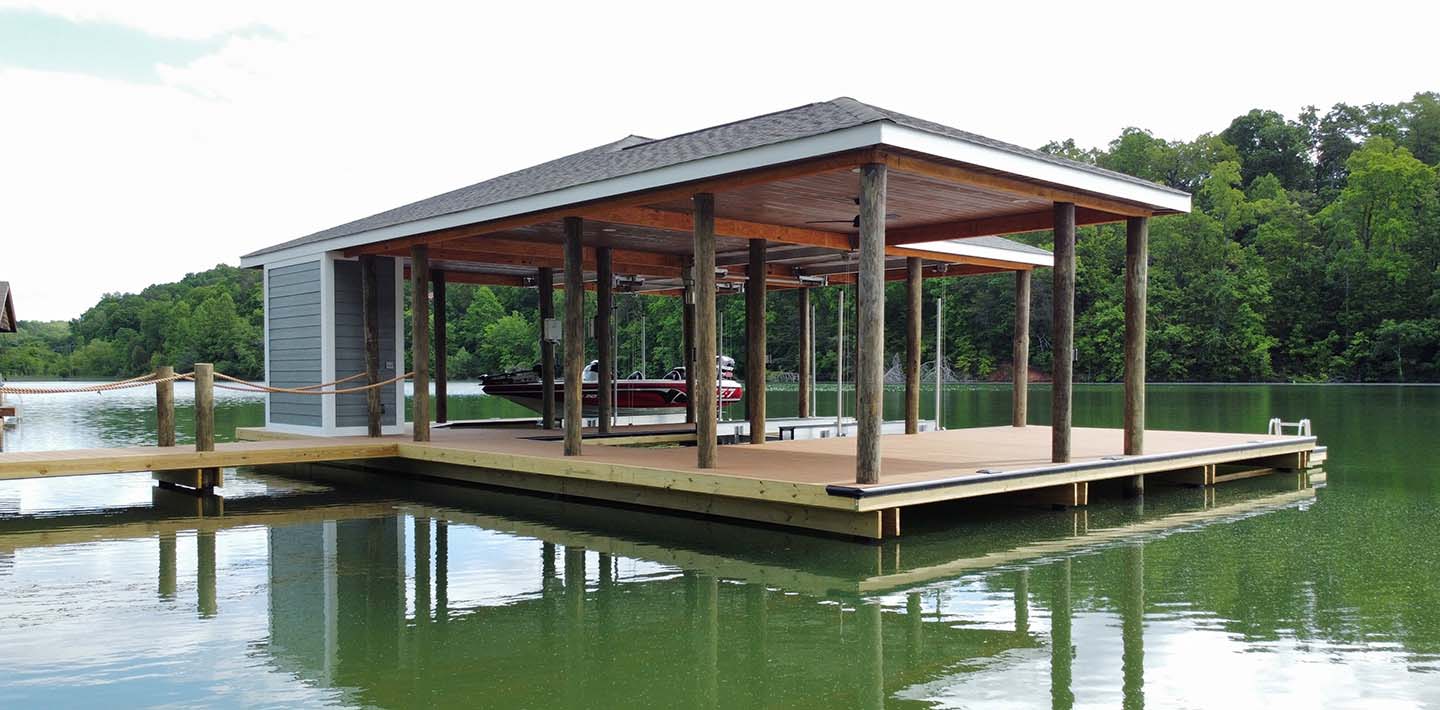 Unlike a lot of things these days, the price of lumber has actually come down over the past couple months – so much so that regular wood might seem at first glance to be the most cost-effective material for the covered docks that Jason Varney builds in Knoxville, Tenn. But whatever the price of lumber – which was 40% higher in March than it is now – Varney's Dock & Deck crews have to take time on the job site to stain regular wood with a couple coats. And they have to take time to put the wood boards on drying racks before installation. And they have to take time to cut the boards to size so that the fasteners hit the roof joists.
All that labor can add up for Varney and swell costs for his customers, too. So, the premier installer of covered docks and decks now has started using our new Thermally Modified Wood Cladding. It may appear to be more expensive upfront than regular wood, but the pre-finished wood boards ultimately save both time and money while providing superior, long-lasting performance.
"It's a win-win," Varney said. "We're winning because I've gained a day of time back and the customer is winning because they're getting a much better product and end result, and it's actually cheaper.
"UFP-Edge really changed the game for us."
Here are three reasons Thermally Modified Wood Collection is a more cost-effective, higher-quality product for projects such as the covered docks built by Varney:
Thermally Modified Wood Collection is more stable than regular wood


Covered docks that house boats and other water sports equipment are built in a wet environment that threatens the long-term integrity of the wood. "Think of it as a sponge," Varney said. "That's exactly what happens with wood. It will actually absorb the moisture and grow."
That movement in the wood can cause fasteners to loosen and docks to buckle. On the other hand, the Thermally Modified Wood Collection is less vulnerable to shrinking and seasonal expansion and contraction because the boards are stabilized with a natural heat-and-steam treatment process.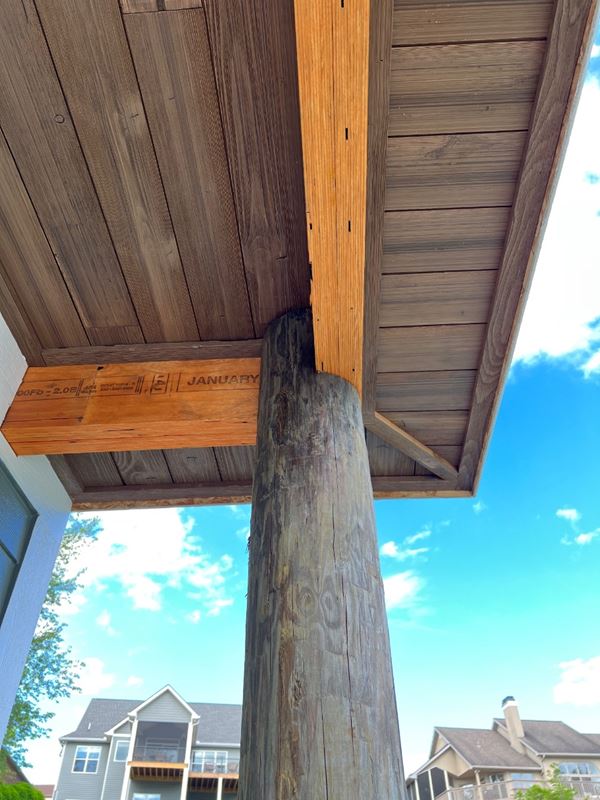 Thermally Modified Wood Collection is more durable than natural wood
In addition to stabilizing the boards, the innovative thermal modification process makes this product more resistant to rot and insects. Customers get the sought-after look of real wood without the downsides.
"It's very similar to working with regular wood because it is just regular wood," Varney said. "But when you thermally modify it, you make it a much more stable product where it doesn't rot, and it doesn't have the insect damage."


Thermally Modified Wood Collection saves time and

money because it is a pre-finished product

Contractors can just install the boards – which come in a variety of on-trend colors – and be done. And because the board profiles are end-matched, the tongue-and-groove goes all the way around the outer edge for easy end-to-end connection.

There's no need to paint, stain or cut boards to end on a joint, which eliminates a lot of the waste factor that can be as high as 15% with regular wood. "The advantage is you're getting a pre-finished material," Varney said. "We don't have to do anything else to it."

RELATED: The Top 5 Benefits of End Matching

The covered docks that Varney builds really are better described as a house for your boat that doubles as a covered living area out over the water. In essence, they're an extension of the home to the waterfront, so they should incorporate the best possible material. Our Thermally Modified Wood Collection is now Dock & Deck's go-to product, both for covered docks and the underside of decks when there's visibility from below. Varney may pay more upfront for the thermally modified wood, but it's the same cost or even cheaper than regular wood after accounting for labor.


"I'm getting a better product and we don't have to spend the labor to finish it," he said. "By using UFP-Edge Thermally Modified Wood, I've gained a day of time back. If we're doing 15 of these boathouses a year, we gain 15 days of work back."
From the customer's perspective, too, regular wood might seem like the most affordable material at first – until you realize it must be treated or stained right away. And then you'll have to stain it all again next year. And the year after that. And so on. That doesn't make sense in terms of time or money, especially when the Thermally Modified Wood Collection provides all the aesthetic benefits of natural wood in any of eight on-trend, pre-stained colors: Natural, Lost Trail, Wood Smoke, Glacier, Timber Ridge, Back Country, Big Sky and Vertical Grain Hemlock. You can see the grain of the wood through the stain, so the boards look good and provide exceptional performance at the same time.
"Because it's a natural product, it still continues to look natural," Varney said. "It still retains the look of wood, the feel of wood, the properties of wood."
Stop worrying about the fluctuating price of regular wood. Take that out of the equation and start taking care of your business and your customer the right way, right from the get-go with the Thermally Modified Wood Collection. Browse the right natural or prefinished option for your next project.

Ready to start your project? Find where to buy.