Save your kitchen table! Create homework stations for your kids
Posted 10/28/2020 by Amanda Hall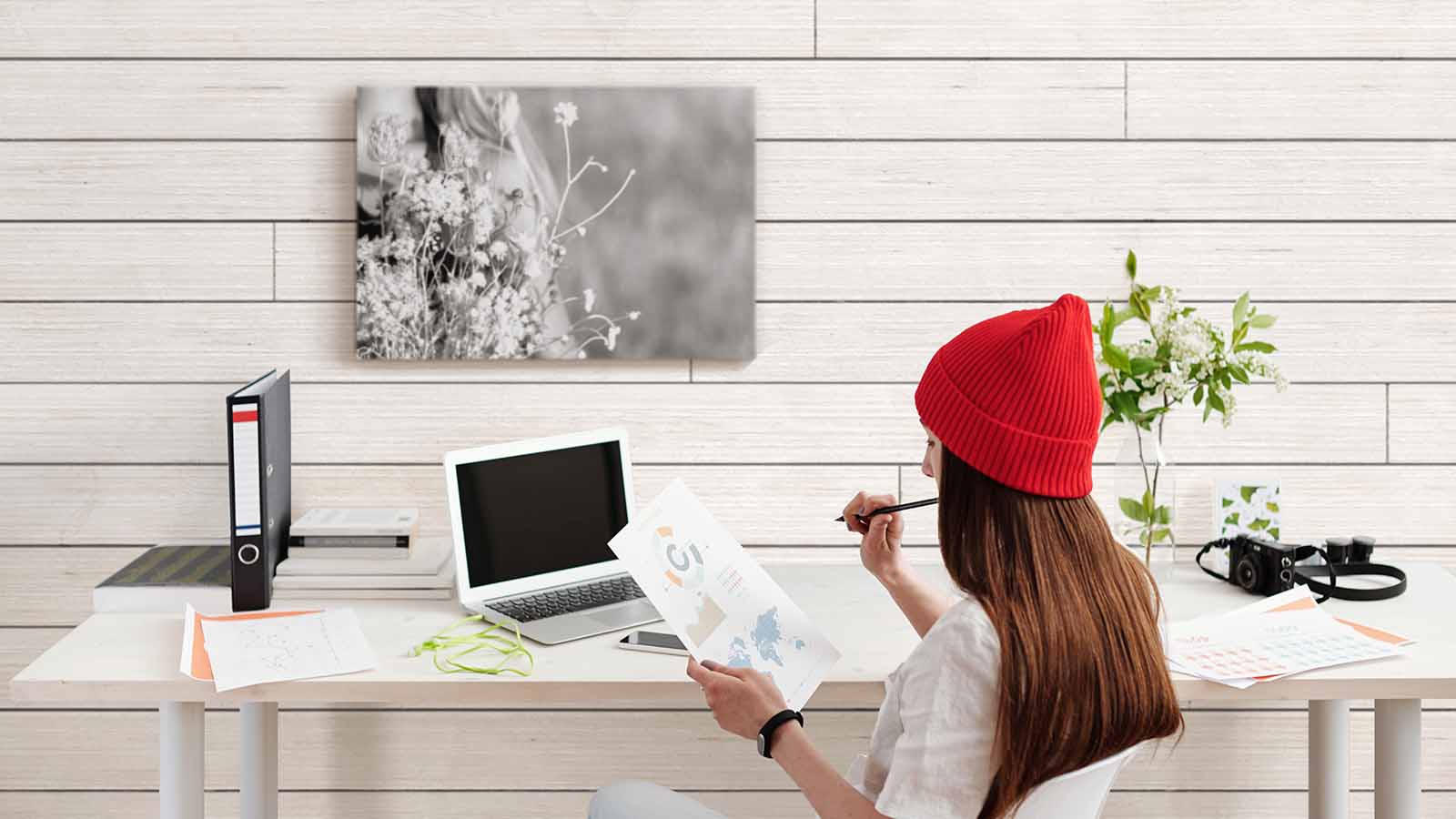 In its most basic form, a homework station can consist of a simple table and chair, but additional features such as a shiplap wall make the station look and feel like a natural part of your home. This homework station features Rustic Collection White shiplap installed horizontally.
Minimize distractions, Create space for active learning
Binders and books spread over the kitchen table like pots and pans, with backpacks occupying the chairs. A child absent-mindedly taps a pencil on an unfinished math assignment as he peers into the next room where the television flickers.
If you have school-aged kids, you may have seen this scene. Maybe it's even part of your daily routine! Lacking a better option, the kitchen table tends to be where the kids plop down all their folders and worksheets when they have homework to do.

But just because modern American families use the kitchen table for dinner together less than ever before doesn't mean that it's the best place for kids do their homework.

For one, it's distracting to study in the middle of the busiest part of the home where siblings and parents are going about their normal business. It also can be annoying for the rest of the family to create a quiet zone in a part of the house that's supposed to be the prime location for conversation and interaction.

Not to mention all those books and papers make a mess of the kitchen. And the last thing kids want to do after completing a taxing homework assignment is clean it all up!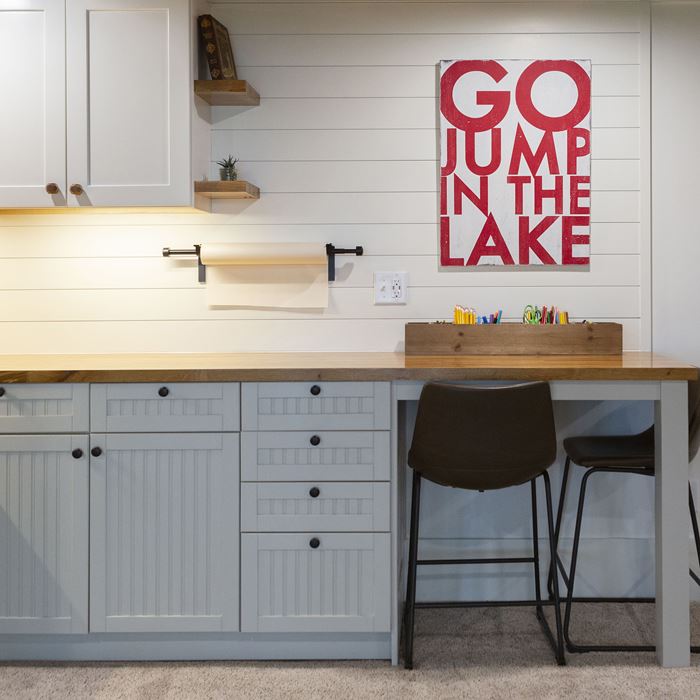 A homework station with a supply caddy full of pencils, markers and other items ensures that your child has the space and tools needed to complete schoolwork from home. This homework station fits at the edge of a kitchen counter with a crisp, clean backsplash made of Timeless nickel gap shiplap.

Here's an idea to reclaim your kitchen table while making a better study space for your kids at the same time: Create dedicated homework stations, away from the distractions of family life.
What's a homework station
It's a physical space in your home that's devoted to schoolwork, where kids can build positive study habits by sitting down at a work surface instead of lounging on the couch with a computer in their lap. It's also a permanent space where all the necessary school supplies are neatly stored and organized in a supply caddy, in drawers or on shelving. With a homework station, there's no need to track down pencils, paper and other supplies needed to complete assignments, then zip them back into a backpack when the schoolwork is done. It's all right there and it can all stay right there because that's exactly what a homework station is for. You won't ever have to clear the homework station to make room for dinner or family game night.
Where can you create a homework station?
Think of it as a home office for kids. If you already have a home office, maybe it's as simple as putting a little desk in there for those mini-me's to mimic mom and dad at work. Otherwise, any nook in your house could work – a corner of a common area, a bench in the hallway, a desk in a bedroom or even a converted closet. The point is that it's a space, preferably a quiet space with less foot traffic, used exclusively for schoolwork. Just like you might use a home gym for workouts or a playroom for playing with toys, a homework station is for doing homework. To visually set your homework stations apart and, at the same time, tie them into the design of the rest of your home, install our shiplap on the walls behind the workspaces.
What to keep in mind?
Make sure your homework stations have enough lighting either overhead or on the work surface because even young eyes need good light in order to see well.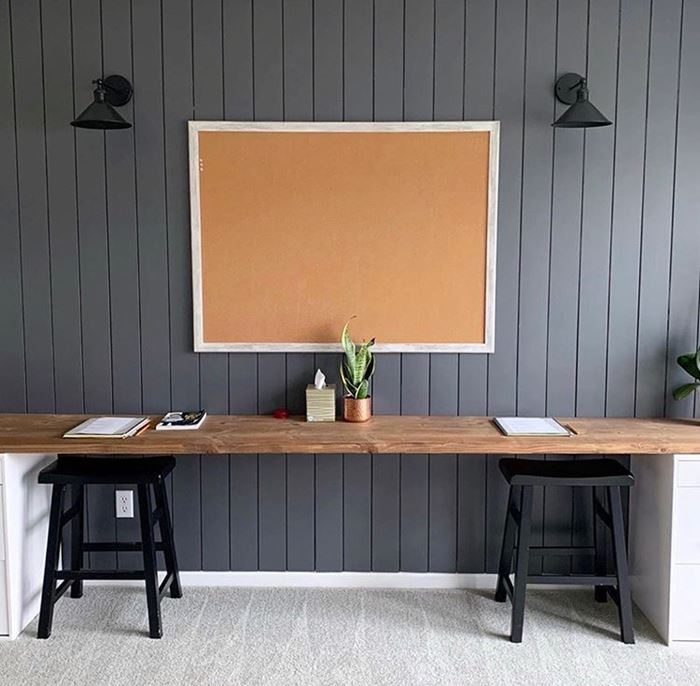 Having a dedicated space for studying increases engagement and productivity. Create a structured space like this with smooth primed Timeless nickel gap shiplap and paint it the color of your choice.
Good seating that promotes a healthy posture is important, too. After all, some of those assignments can make your kids fidgety enough without having to wiggle around to get comfortable. Also, having a supply caddy or shelving to store school supplies is vital for giving your kids access to the tools they need to get their work done. It goes a long way toward helping your kids stay organized and manage their time.
How to finish it off?
Even if your kid says they don't mind a simple table and chair in an unfinished part of the basement, that setting may not be the most conducive to high-quality schoolwork. Spruce it up with some attractive wall coverings and customize the work area with personal items that give your child a sense of ownership of the space. For example, an easy DIY shiplap project gives a homework station a sense of permanence and communicates to your child that their education is a priority.
Shiplap accent walls are the perfect way to create a physical space for a homework station that's distinct and separate from the rest of your home. You can choose from colors and styles that complement your home design, whether you prefer the distressed look of reclaimed wood characteristic of the Rustic Collection, the sleek lines and smooth surface of Timeless Nickel Gap, or the unique flair of Charred Wood shiplap.
READY TO GET STARTED ON YOUR HOME PROJECT? FIND WHERE TO BUY.