2021 'Colors of the Year' on ultra-smooth shiplap
Posted 4/9/2021 by Amanda Hall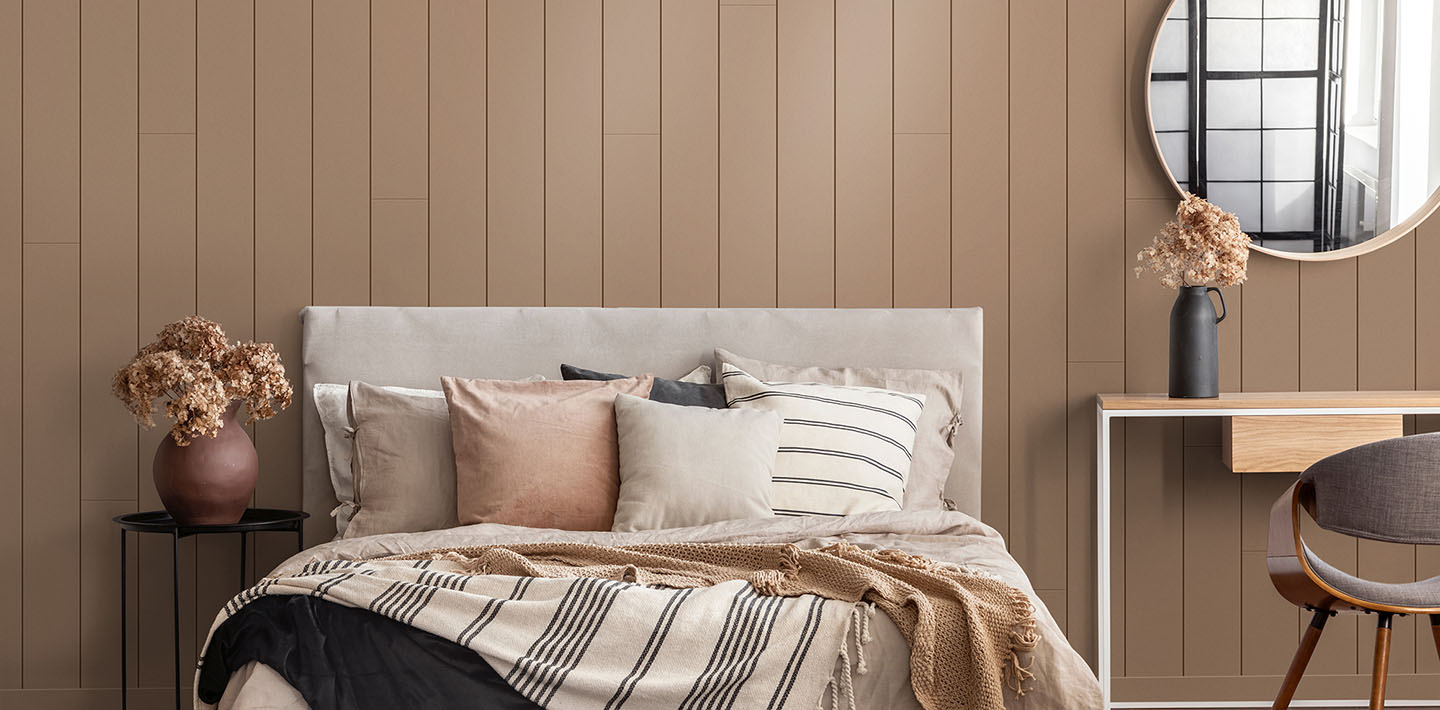 A living room wall between two tall, narrow windows was the perfect place for Randy Baiza to mount his television. Only one problem.
"I don't like the idea of a TV just floating on the wall," said the Austin, Texas-based interior designer. "That drives me insane."

His solution? Frame out the space by covering the wall in UFP-Edge ultra-smooth Timeless Nickel Gap shiplap Baiza also added an electric fireplace and cut out a slot for a wireless speaker. Then, he painted the shiplap white to contrast the black elements, making the whole wall really pop.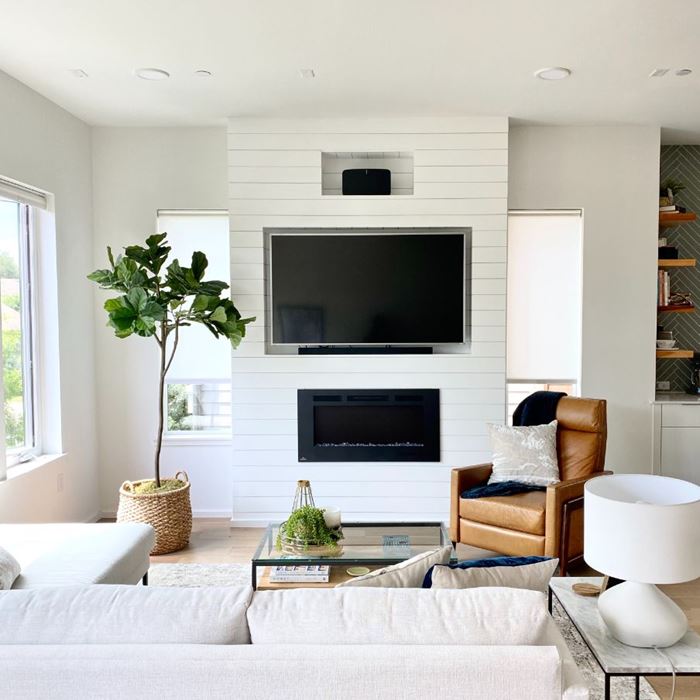 Baiza loves the white shiplap (and so do his Instagram followers). But as he eyes a remodeling of his powder room on the same floor, he now has a different vision in mind: vertical shiplap, painted a dark color.

"White is still the preferred color for shiplap, but I am starting to see people painting a lot of things black or a charcoal gray," said Baiza, founder of Baiza Interiors. "That's what is super popular right now.

"We're seeing a lot of warm colors being used. I would want to do a darker color (in my powder room), maybe even the Urbane Bronze."
Urbane Bronze is the 2021 Color of the Year from Sherwin Williams. And it looks great with the smooth clean lines of Timeless Nickel Gap shiplap. Timeless Nickel Gap comes prepainted in a variety of colors including Farmhouse White, Midnight Black, Cavalry Blue and Granite Gray. Or you can buy it primed and ready to paint whatever color you like.
Top 2021 Colors of the Year Painted on UFP-Edge Shiplap
Every paint manufacturer selects its own Color of the Year. Here's a look at our primed Timeless Nickel Gap shiplap painted in a few colors of the year for 2021: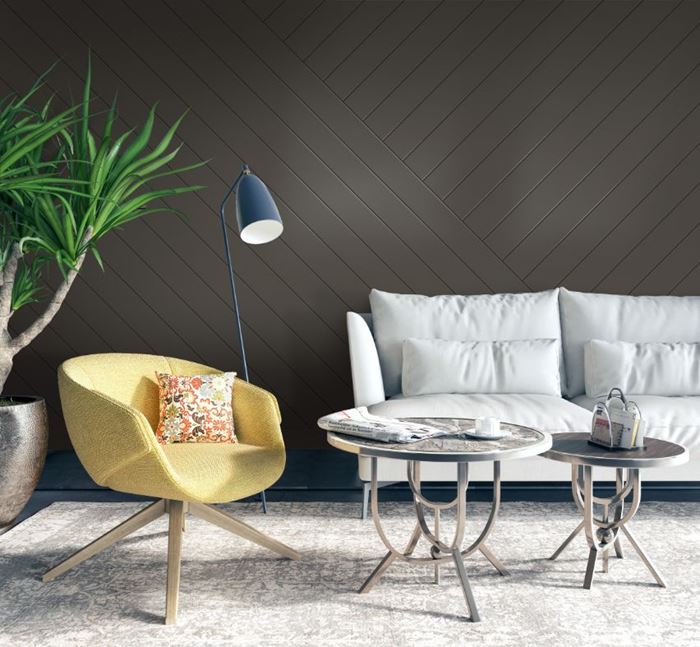 Urbane Bronze, Sherwin Williams
Dark or moody tones are gaining popularity right now to create cozy, warm spaces, said Randy Baiza, an interior designer based in Austin, Texas. "I really am seeing a lot of that bronzy color," he said. Note the intriguing diagonal pattern of shiplap installation that adds texture and makes the wall a focal point of the room.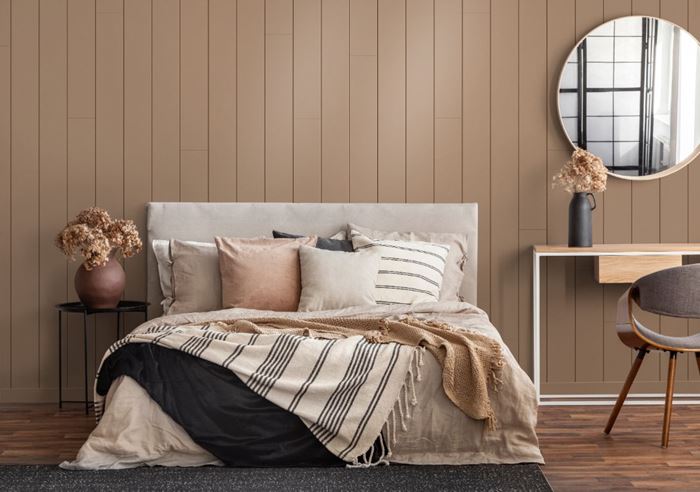 Sierra, Behr
One of 21 colors included in Behr's 2021 Color Trends Palette, Sierra fits the earthy aesthetic found in trendy Japandi designs that feature soothing, calming colors. For a vertical shiplap application like this one, first attach horizontal furring strips to the studs in the wall, then install the shiplap atop the furring strips.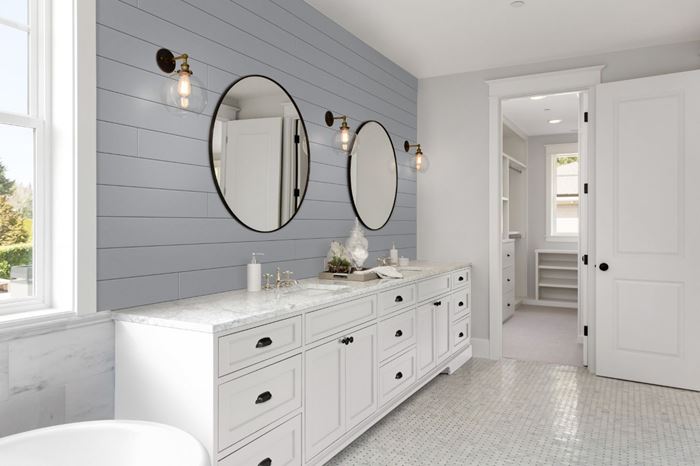 Ultimate Gray, Pantone
While warmer grays such as our prepainted Granite Gray Timeless shiplap are preferred by many interior designers, there's still room for cooler grays these days. Pantone actually selected Ultimate Gray as its co-Color of the Year alongside Illuminating, which is a warmer yellow. Baiza recommends variations of yellows and greens as pops of color in concert with a gray such as this one.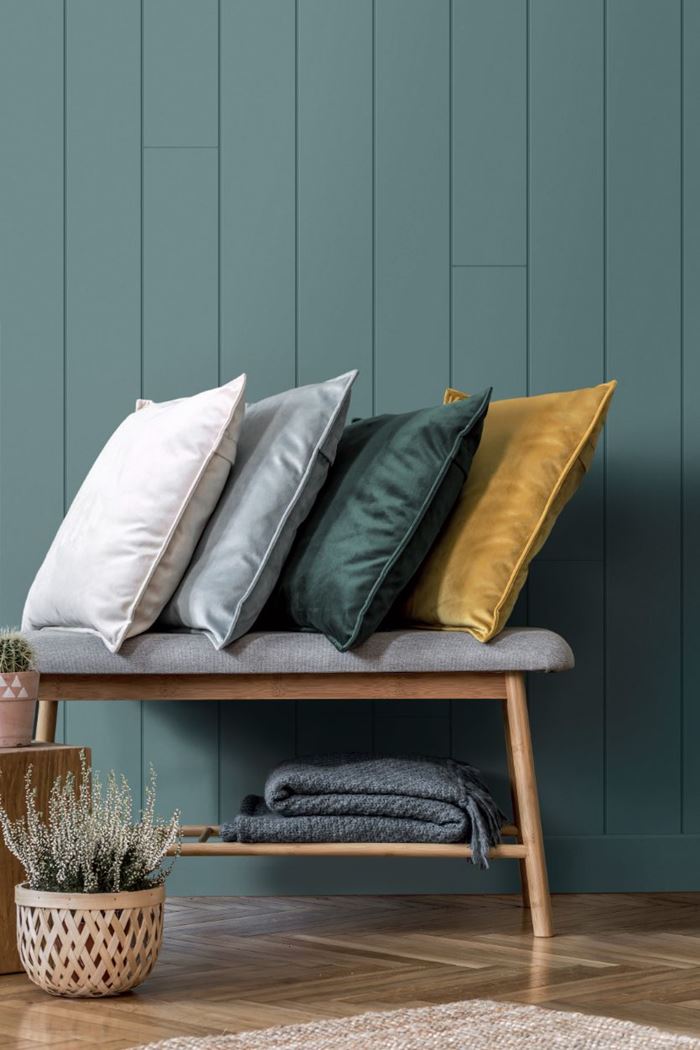 Aegean Teal, Benjamin Moore
Variations of this soothing hue also made Color of the Year from other paint manufacturers: Misty Aqua from PPG and Aqua Fiesta from Glidden are a couple others. Painting ultra-smooth Timeless Nickel Gap shiplap in whatever color you choose is the same process as painting a wall. You can buy the shiplap primed and ready to paint.
While "moody" colors are on the rise, so is more of a modern style of shiplap. Instead of the unrefined wood planks that burst onto the scene when Chip and Joanna Gaines popularized the farmhouse vibe last decade, the trend is shifting to more of a refined style with clean, crisp edges. Ultra-smooth Timeless Nickel Gap shiplap still alludes to that farmhouse vibe but creates more of a modern farmhouse look.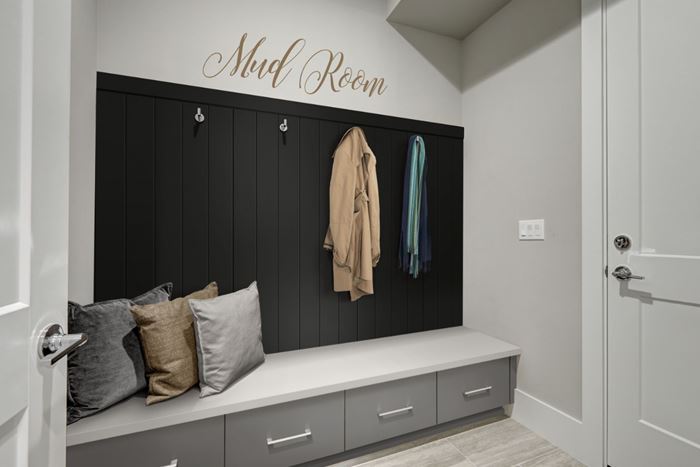 While white shiplap remains popular, dark colors such as Timeless Nickel Gap shiplap prepainted Midnight Black are becoming more common. Shiplap in a mud room protects the walls better than drywall.

People also are getting more adventurous with how they use shiplap, both in color and installation pattern.
"I think now people are trying to be a little more creative with it, trying to make a statement in a different way while still utilizing what's been working in the past," Baiza said. "Doing it vertical right now is the thing to do. I'm just seeing that so often.
Related: Horizontal or Vertical Shiplap?

"If you have a long, narrow entryway or perhaps a mud room, it would be great to do vertical shiplap there."
READY TO START YOUR HOME PROJECT? FIND WHERE TO BUY.