5 Popular Design Styles Shine With Shiplap
Posted 7/1/2020 by Amanda Hall
Rich dark-wood cladding in a white transitional kitchen. Scene-stealing black planks in a contemporary-style bathroom. Textural wood walls in an organic modern dining room. Whatever your style preferences, shiplap can infuse your spaces with additional panache.
"Shiplap is very versatile," says Stephanie Wilson, a design blogger in Vero Beach, Florida. "You can stain it, paint it, create patterns with it — the possibilities can be endless." Below are examples and ideas for boosting your own style with shiplap.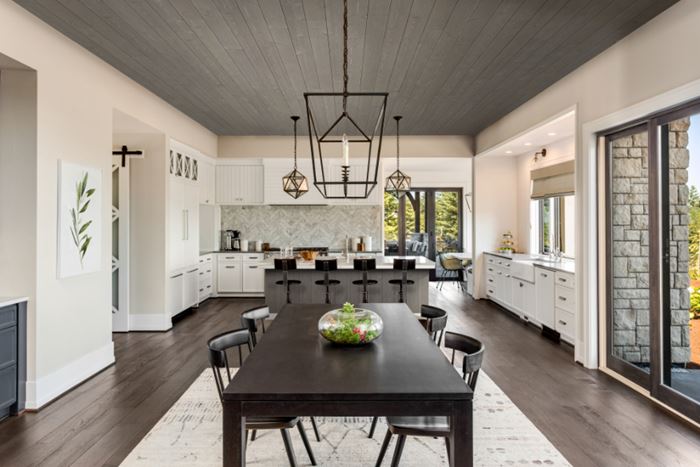 Make your kitchen pop by applying Native Woods shiplap to the ceiling and island.
1. Timeless Transitional
Old-school standards mix with streamlined shapes and crisp colors in this blend of classic and contemporary style. Add pairings of distressed shiplap in unexpected ways for eye-catching contrast. Choose a light neutral wood or white shiplap to pop against richly toned cabinets, or a charcoal or deep brown shiplap if the rest of your kitchen veers white.
Then "highlight one area as a focal point, such as the kitchen island," says Wilson, founder of
Palm Grove Farmhouse
and current builder her own home. "Clad the sides in dark shiplap and reflect the island's shape on the ceiling above," she says. "Doing so adds a pop of character in a white kitchen." A range hood clad with shiplap makes for an especially custom look.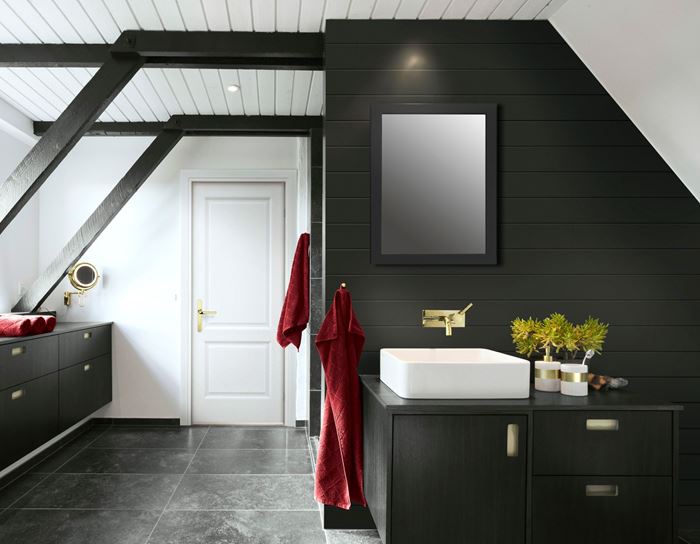 Enjoy a sleek, clean look with our Timeless Nickel Gap shiplap.
2. Contemporary Cool
Strong geometric lines and clean shapes with a pop of color are often found in contemporary-style spaces. Adding a smooth, knot-free shiplap can help spotlight the aesthetic's linear leanings and emphasis on angular forms.
For an even sleeker look, choose nickel gap shiplap — the planks have built-in spacing with enough room to slot in a five-cent coin. "Especially in contemporary spaces, it's all about how you apply shiplap to surfaces," Wilson says. Try a herringbone or chevron pattern, or come up with your own unique arrangement.
Then think about hues. "This style is also about simple colors," Wilson says. A black-and-white palette provides a bold, graphic backdrop. Or go with deep blue, a color that's been making waves at design fairs worldwide.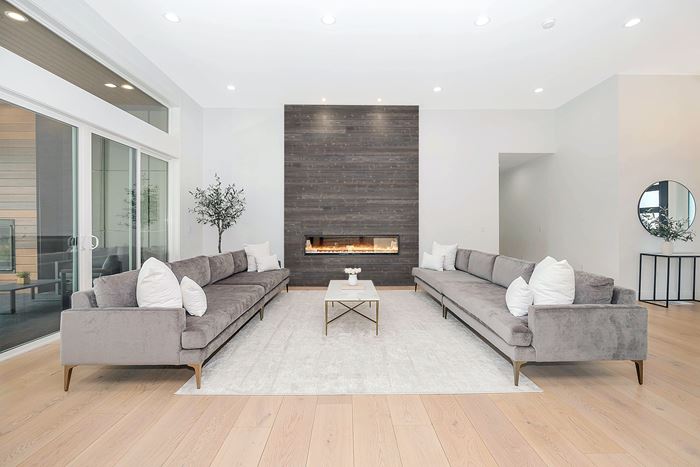 Embrace texture and the natural grain of wood with our Charred Wood shiplap.
3. Organic Modern
Since this style is all about integrating nature in its purest form, select shiplap that celebrates wood grain detail, Wilson says. Consider an accent wall of silvery charred wood shiplap - or even a full shiplap ceiling - for a textural look that brings the outdoors in.
The charred effect is created through a technique in which lumber is carefully burned to highlight the wood grain. A clear coat is applied to protect the wood while letting its original features shine through. "That makes it feel most like its natural wood state," Wilson says. Pair the material with softly curved furnishings, pale hues and plenty of natural light.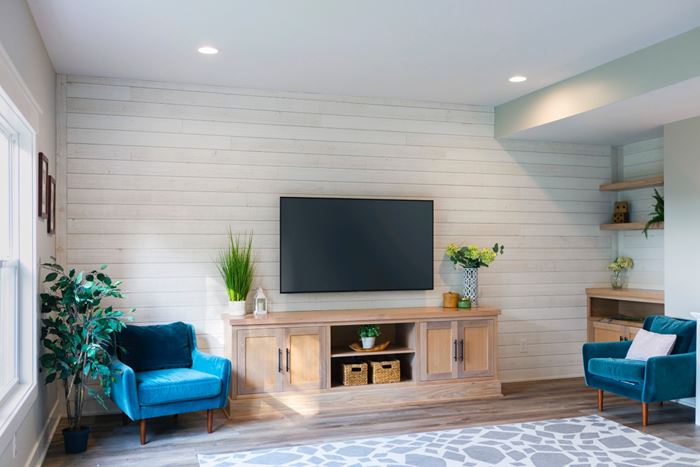 Create a cozy, rustic feel with our Rustic Collection shiplap.
4. Laid-Back Rustic
Textured wood is central to the cozy, down-to-earth feel of rustic style. Embrace the material with rustic barnwood boards. "Picture wood in a barn," Wilson says, where each plank has its own character and color, and select boards that mimic the look of industrial pallet wood. "It has more patina and age to it — it looks like it has a real history to it."

For a more modern take, select boards with squared edges. The crisp lines offset the planks' rough-sawn surfaces. This style pairs well with built-in benches and cabinetry, which help define architectural features.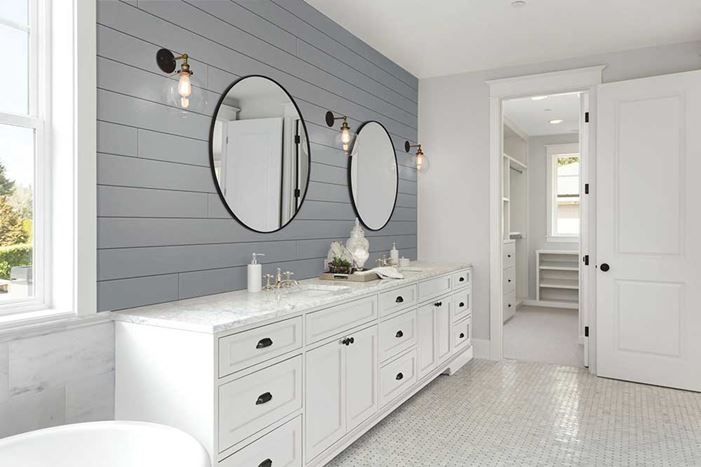 Get this classic look with our Timeless Nickel Gap shiplap.
5. New Traditional
In a traditional home, details dominate, making shiplap a perfect complement. "It's a very classic look," Wilson says. "It can have a more nostalgic feel that refers back to older times." Shiplap in these spaces stays in the timeless horizontal application, with smooth boards and crisp edges.
For a fresh update, try it in navy or gray-blue. Whatever aesthetic you claim, "there are so many ways to use shiplap," Wilson says. "Make a focal wall, do a whole fireplace, use it for wainscoting halfway up a wall. It's a piece of history that adds a timeless feel and character to any home."
READY TO GET STARTED ON YOUR HOME PROJECT? FIND WHERE TO BUY.