3 Ways To Freshen Up Your Bathroom
Posted 9/11/2020 by Amanda Hall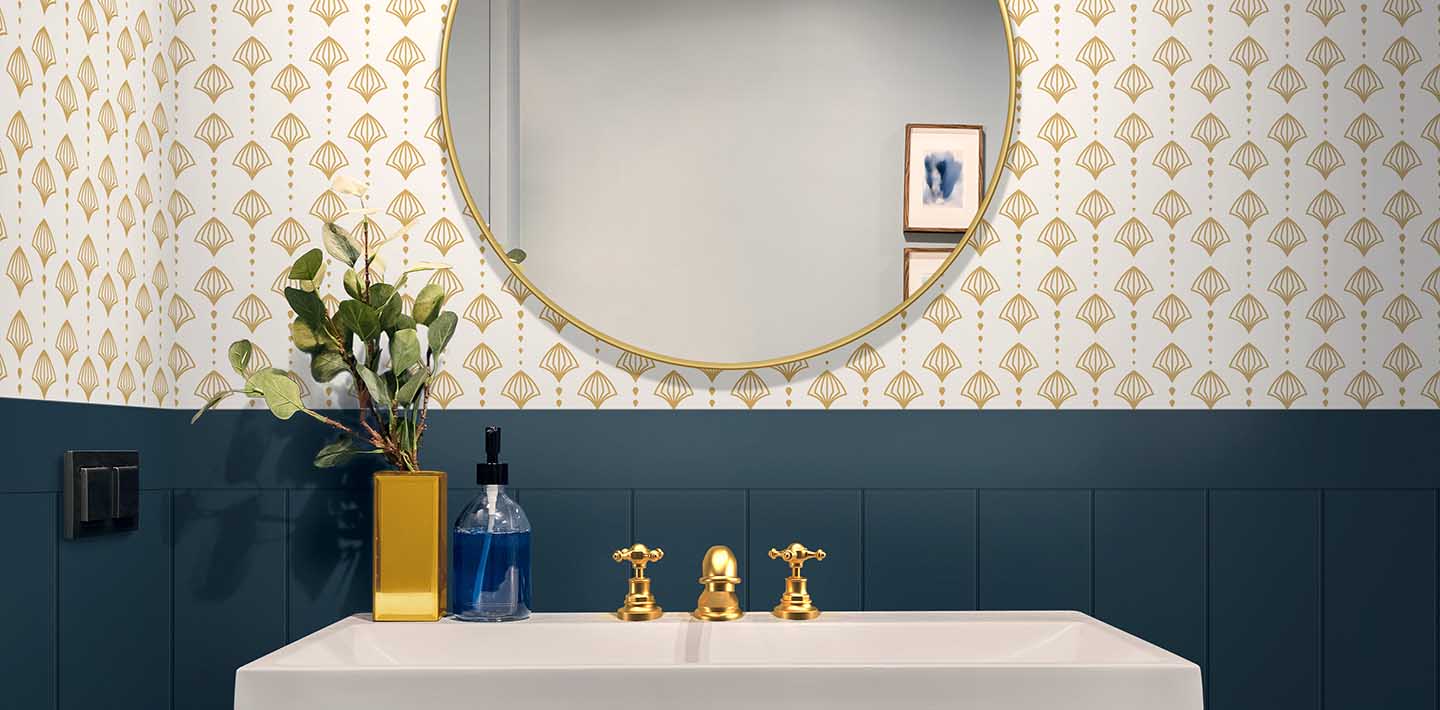 Test New Designs In The Powder Room
Because bathrooms are usually small places, they are fun areas to try out bold design choices. Bathrooms can become an experimental playground for your interior designs. You may try something in your bathroom and come to love it so much you want to try it in other areas of your home. The smaller space makes it budget-friendly and easy to redecorate if your eager to change things up. A guest bathroom or powder room is a great place to test a vibrant color, a patterned wallpaper, or textured wall paneling.
1. Get Vibrant With Color
Unless you have an eclectic style, you may not want to paint your entire living room emerald green, but a bathroom is the perfect place for a bold, vibrant color. A pop of color in your bathroom can brighten up the space and add character to a neutral colored home.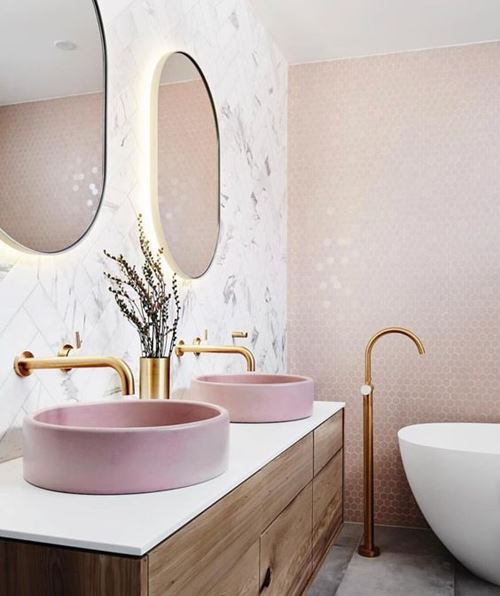 Add color by playing with colored fixtures like these pink wash basins.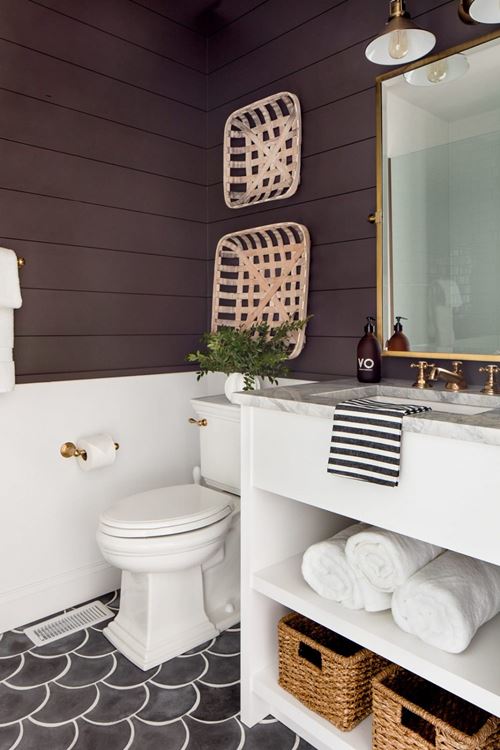 By Bria Hammel. Deep hues like this burgundy brown pair well with brass and gold fixtures. Paint our 1x6 Timeless primed nickel gap shiplap or install our prepainted Rustic Collection dark brown barnwood to get this look.
2. Pattern it up with wallpaper
Adding a patterned wallpaper on an area in your bathroom can be a nice way to add some color and dimension to a small space.
By Bria Hammel. This floral blue wallpaper adds pattern and color to this predominantly white bathroom.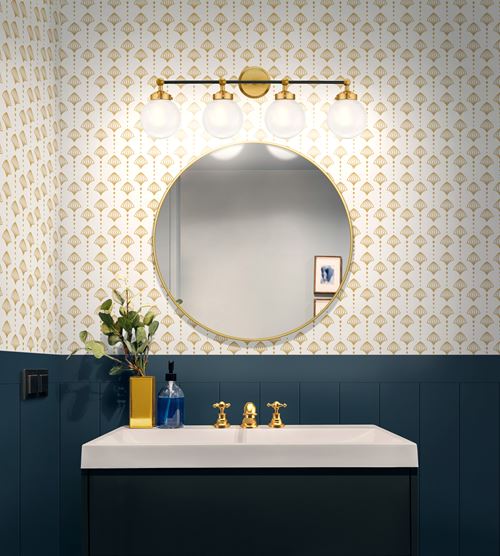 This Gatsby-like gold wallpaper complements the brass fixtures and pairs well with our Timeless Cavalry Blue shiplap.
3. Add Texture With Shiplap Wall Paneling
Another way to add texture and dimension to your bathroom is through wood wall paneling. Browse our shiplap styles for unique finishes like our wire-brushed Rustic shiplap that creates depth and style.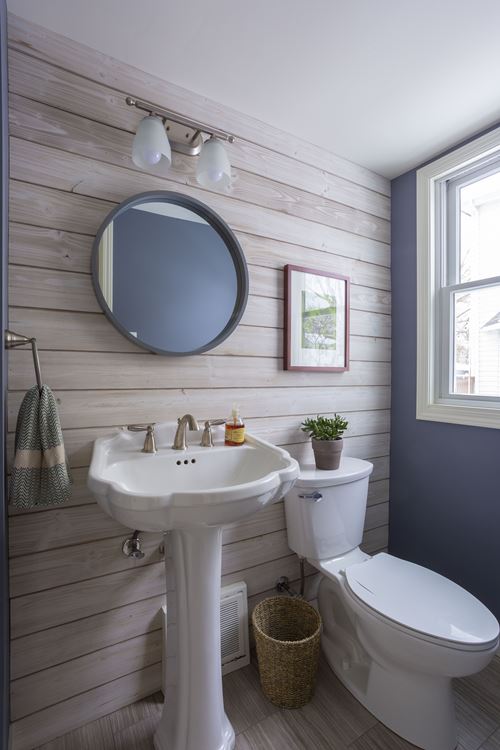 This Coastal bathroom features UFP-Edge Charred Wood Smoke shiplap.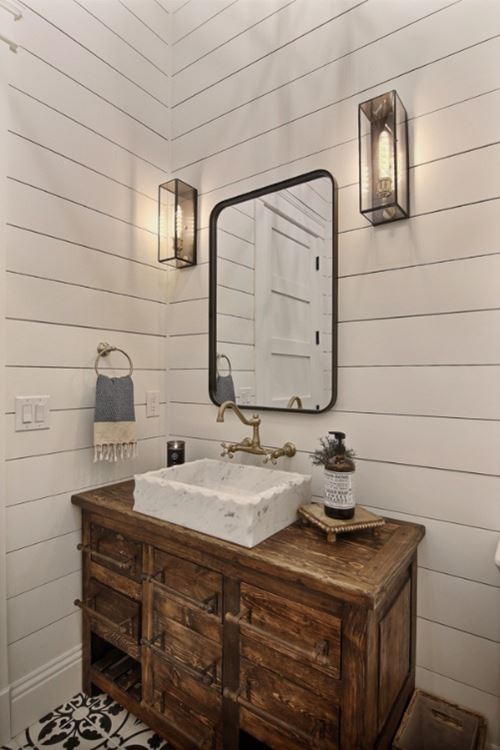 The bright white of our 1x8 Timeless Farmhouse White shiplap creates a clean, fresh look from floor to ceiling in this bathroom by Palm Grove Farmhouse.
These are just a few ways to brighten up your bathroom. Check out our gallery page for more ideas.
READY TO GET STARTED ON YOUR HOME PROJECT? FIND WHERE TO BUY.